Importance of Health Insurance
Considering the rising medical costs and a spurt of lifestyle diseases amongst Indians, having health insurance is necessary for every individual. A medical emergency, by definition, occurs unexpectedly and has a significant emotional and financial impact on the individual and their family.
Health risks and uncertainties are a part of life. One cannot plan and get sick at their convenience. What could be a better example of health's uncertainty than the COVID-19 Pandemic?
In the last year, the COVID-19 pandemic has drastically changed lives across the globe. People were struggling to get treatment, the high cost of healthcare facilities made people lose their lives, and many experienced their loved ones dying because of costly hospitalization expenses.
The national and global health agencies put a great emphasis on keeping the immune system strong during the COVID-19 outbreak. With this pandemic, many people have started prioritizing their health and are trying to follow a healthy lifestyle.
Many people in India are understanding the importance of having an effective health insurance plan. If we go by the records, as per MoS Finance Anurag Thakur, 30.22 cr lives were covered under health insurance between April and Sept 2020, compared to 17.83 cr during the 6 months in 2019. Also, he told the parliament that the health insurance coverage grew 69.8% in April-Sept.
**The Print
People often say that we are financially stable, why do we need to invest in Health Insurance? Well, with the continuous rise in the medical facilities in India, falling prey to any critical illness can lead and your family you financially handicapped.
For example: In a regular private hospital, the cost of an open heart surgery ranges from Rs 1.75 lakh to 4.25 lakh.
Having Health Insurance increases accessibility to quality healthcare, in govt as well as in the private hospital in particular where the high costs treatments remain a barrier for many.
How is Health Insurance Beneficial?
The following is a list of the possible effects of having a pre-existing disease on your health insurance policy.
Affordable way of Coverage

For buying a health plan, one needs to pay the premium either annually or monthly. The premium paid is affordable and offer peace of mind.

Covers the Hospitalization Expenses

A health insurance plan covers all the hospitalization expenses and ensures that you can concentrate on your treatment and not on the expenses.

Cashless Facility

Every Health Insurance company offers a list of empanelled hospitals, wherein one can avail of the cashless facility. This means that all the medical expenses will be borne by the insurance company.

Domiciliary Hospitalization

In a case where the patient is unable to visit the hospital due to his/her health condition or there is the unavailability of beds, the policy will pay for the domiciliary treatment.

No Claim Bonus (NCB)

NCB is a discount that a policyholder receives for every claimless year. It helps to reduce the payable premium (by a certain percentage) at the time of renewing the policy or offers an increase in the sum insured.

AYUSH Treatment

AYUSH treatments stand for Ayurveda, Yoga and Naturopathy, Unani, Siddha and Homeopathy treatments availed by the policyholder, provided the treatment happens at a government-approved hospital accredited by the Quality Council of India of National Accreditation Board. As per the IRDAI's guidelines, insurance companies are liable to cover AYUSH treatments up to a certain level, which may vary from insurer to insurer.

Tax Benefits

Health insurance premiums provide tax benefits under Section 80D of the Income Tax Act, 1961. If you are below the age of 60 years, you can get an exemption of up to Rs. 25,000 per year, and if your age is above 60 years, then the benefit increases up to Rs. 50,000.

Coronavirus Coverage

Looking at the rise in the numbers of corona cases, IRDAI has mandated every health insurance company to offer coverage for coronavirus treatments. Moreover, IRDAI has even launched two specific corona-specific policies, namely,
Corona Kavach
Corona Rakshak

Additional COverage

One can also avail of additional benefits such as ambulance coverage, day-care coverage, coverage for health check-ups and vaccination expenses under health insurance.
Will Increasing age affect my Premium?
Yes, it will. An insurance company will evaluate your health profile and see if you require more medical attention or not. With growing age, many people will develop age-related health issues such as high cholesterol, blood pressures issues, diabetes and many more which will require frequent doctor visits.
While providing health insurance plans to the aged, insurers try to protect their interests by increasing the premiums. Hence, you must take note of the fact that insurance premiums will increase as you grow older. It is recommended that you act early if you want to invest in a health insurance plan.
For a better understanding, take a look at the below example of an individual whose premium increases considerably with growing age:
Mr. Verma decided to buy a Health policy of Rs. 5 Lakhs for himself at the age of 26. At this age, the premium he needs to pay would be Rs. 7,844. Now let's see how the premium amount will change with the growing age:
Premium Illustration With Different Age groups and Premium Amount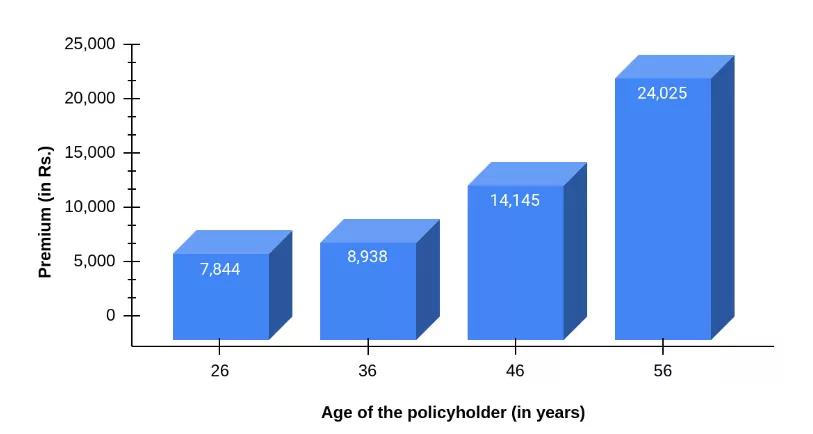 *Data has been sourced from IRDAI Annual Report
Wrapping It Up:
Today's fast-paced lifestyle necessitates the purchase of health insurance. It's important to protect yourself and your loved ones from any medical emergency that might put you under financial stress. Thus, do proper research and buy your most suitable health policy now.
Last Updated : October, 2021