Health Insurance Portability
In today's time, most of the things we do in our lives revolve around our wellbeing and overall health, which has led to abrupt expansion of the health insurance industry. Health Insurance is a coverage that is given to you by the insurance company in order to meet your future uncertain medical expenses.
Fortunately, the Insurance Regulatory and Development Authority of India (IRDA) came up with a convenient method of "Health Insurance Portability", that offers relief to those policyholders, who are not happy with their current health insurance providers.
Health insurance portability is a facility in which one can port their current health insurance policy from the present insurer to a different insurer, without losing existing benefits. By using portability features, you can also port from an individual health plan to a family floater plan.
Common Reasons That Lead To Health Insurance Portability
Poor service quality
Late reimbursements
Slow and inconvenient claim settlement
Hike in premium
Lack of transparency
Inadequate cover for specific health issues
Better deals and more economic offerings from another health insurance provider
Things To Remember While Opting For Health Insurance Portability
We all know how vital health insurance is. Therefore, if you opt for health insurance portability, it is advisable to keep in mind the below points: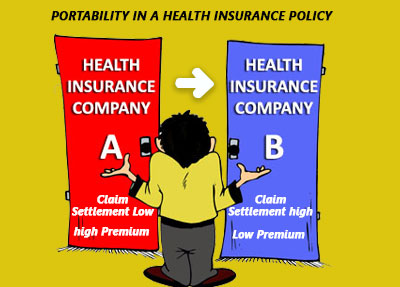 Thoroughly check out all the limits, sub-limits, or any restrictions based on age, disease, or hospital when you opt for portability.
Do not forget that while you switch from one insurer to the other, you will be able to port only the waiting period, bonus credits or pre-existing diseases and not the features of your policy.
The application for portability should be filed at least 45 days prior to the renewal date of the existing policy. The reason is that at times there could be a delay in processing your portability request, which might lead you to renew your existing policy only. Therefore it is better to apply early.
Many people tend to port their health insurance policies because of the low premium. In this scenario, the chances are that the insurance company might reduce the coverage, and hence, in the long run, the insured might end up paying more for their needs. Thus, while porting, give equal importance to the premium and coverage.
Check out the network hospitals of the new insurance provider. It would be better to have a network hospital insight, which can prove to be handy in case of emergencies.
What Are The Pros & Cons of Health Insurance Portability?
Now that you know the common reasons that force most people to switch health insurance providers, let's discuss the pros and cons of health insurance portability.
Pros:
There is a customization option that comes with portability through which you can easily modify the policy as per your requirements and lifestyle.
The existing amount will be clubbed with no claim bonus in order to calculate a new sum insured.
All the benefits of your existing plan will remain in force, even after you opt for portability.
Because of the high competition, insurance companies provide existing benefits at lower premiums.
Cons:
You can opt for portability only when the renewal date is approaching.
You can choose only similar kinds of products.
Usually, additional benefits can result in higher premiums.
If you want to move from group plans to individual plans, then you might have to lose some advantages that you enjoy with your existing plans.
Health Insurance Portability Rules
Permitted Policy Types

An insured can port only similar policies. For example, if a policyholder is entitled to a reimbursement policy, then he can only port to another reimbursement policy or from one top-up plan to another. However, a family or an individual health plan can also be ported into a similar policy.

Permitted Company Type

A policyholder can port his/her insurance plan from any general or specialised insurance company to the other.

Permitted Renewal

Health Insurance Portability is allowed only at the time of renewal. Also, it is important to renew your health plan on time without any breaks to take advantage of the same.

Permitted Intimation

Those who wish to port their health insurance first need to inform the existing insurance company in writing, which should be provided 45 days before the renewal date of the current insurance policy.

Acknowledgement

Within three days of the application, the company will inform you regarding your portability request.

Porting Charges

There are no charges for Health insurance portability.

Premiums And Bonuses

As per the insurer's specific underwriting norms, they are free to levy premiums. Therefore, the premiums may vary. However, those who come under the high-risk category may have to pay a higher premium on porting.

Grace Period

In case the application of porting is under-process, then the applicants are eligible for a grace period of 30 days. During this time, the insured has to pay the premium on a pro-rata basis to avail of this feature. As per the IRDA guidelines, the insured cannot be forced to pay the premium of the whole year.

Sum Insured

Policyholders are allowed to ask for an increase in the minimum sum insured at the time of portability. However, its approval depends upon the insurance company.

The Waiting Period of Pre-existing Diseases

If the insured is going with the option of the increased cover, then the waiting period associated with pre-existing diseases has to be served as per the new policy.
How To Port Your Health Insurance?
Fill all the required forms that are associated with insurance portability.
Your newly chosen insurer will check all your details within seven days.
The company will pass all the required information via IRDA's portal (in the appropriate format) for shifting the policy.
The company will process the same further as per the underwriting norms (after they have all the information).
Finally, the company will process your application and will offer a proposal within a span of 15 days.
However, if they are taking extra time, they will become bound to accept the request anyhow.
Documents That Are Required For Porting
Documents Required Of The Previous Insurer
Policy certificates of the previous years.
Revised renewal notice with a clear mention of coverage, continuity, etc
In no-claim cases, self-declaration by the policyholder.
Documents of the claims filed (if any) such as investigation report, discharge summary, etc.
Documents Required For The New Insurer
Properly filled proposal and portability forms.
Reasons For Rejection of Portability Request
It's true that IRDA has allowed customers to port their insurance policy, but at the same time, it has given the authority to the insurance company to either reject or accept the application. The insurance company can reject the portability request based on below-mentioned reasons:
* Irrelevant or incomplete information* Delay in submission of documents* Faulty claim history* Inaccessible policy documents* Break in policy renewal
In the end...
Insurance Portability is an effective yet amazing option for those policyholders who are not satisfied with their current insurer or plan. Before you opt for portability, it's safe to go through the terms and conditions of the health plan. Do not haste in opting out for a new plan unless you know everything about the policy.
Last Updated : June, 2019