What All Day Care Procedures are Covered by Insurance?
Everyone is running at high speed to reach their goals because no matter how much you try, you can never beat time and all you can do is a compromise with it.
Thus, he began an era of fast-paced life where a man needs to work harder and faster in his respective fields. If so many things can be done in jinks then how can medical science stay behind? Therefore, unlike a few years back when treatment of cataract, gall bladder transplantation, etc. used to take a few days, it can be now treated within 24 hours. However, does that mean the expense of these treatments has also reduced? Of course not.
Like in every field technology is improving but service charges are increasing, similarly, getting medical treatment is a very costly business. Thus, day-care health insurance was introduced.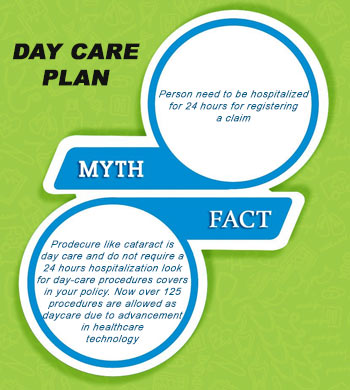 What is Day-care Health Coverage?
There are at times that patient is asked to do some disease diagnosed test where the treatment is not required say MRI Scan or some minor operation that does not require patients to stay in hospital and can be done in minimum 24 hours, so all the expense related to this stuff will be paid by the insurance company under day-care rider. In other words, day-care health coverage looks after all the coverage that the insurer had to pay for diagnosis or treatment in hospital which can be taken care of within 24 hours.
What is the Benefit of Day-Care Health Insurance?
If you are wondering why to bother about the daycare procedure, I can bear a day expense of hospital, then let me tell you, you are making a grave mistake. Nowadays, the over the counter expenses like disease diagnosis test that do not need hospitalization or treatment as such can also burn your pocket. Few tests can cost you thousands. So, how can you simply ignore it? The biggest benefit of a day-care procedure is that it will save you money.
For Instance: Mr. Kapoor had an accident and hence, had to go for Septoplasty- a surgical process to correct displacement of the nasal septum. Doctor asked for Rs.60, 000 for the surgery. Since the technique is so advanced, the surgery was successful and Mr.Kapoor was discharged within a day, thus saving room rent, but what about the cost of surgery? Previously, the insurer was not paid money for the treatment that didn't require to be hospitalized for more than one day, however, if you have a health plan with daycare procedure, this problem of yours can be solved easily. Thus, with the day-care procedure, Mr.Kapoor was able to pay for surgery.
How to Choose Health Insurance on the Basis of Day-Care Procedure?
Nowadays, almost all health plans provide a day-care procedure. However, the benefits of some indeed are better than others. So, whenever, you buy medical coverage on the basis of day-care procedure, keep these points in mind-
It usually happens that whenever a person sees a variety of treatments covered under the day-care procedure, he becomes excited. However, it is advisable to see rather the treatments covered under the day-care procedure are broader in concept-wise. For example, instead of giving 200 names of all types of surgeries, the name of the 20-25 type of categories such as oncology, urology, etc that might cover 300 surgeries will be more beneficial. Moreover, let's be frank we are no expert nor doctor, so, it is obvious, we might not know all type of surgeries mentioned in the form nor we are free enough to Google everything, thus, it is better to go for the broader categories that we can at least guess.
There is the ODP (Out Department Patient) clause that not all insurance companies consist of. It means that if the insurer didn't get hospitalized for at least a day or has minor treatment not mentioned in day-care procedures, then he/she will not be paid. Hence, be sure that your insurance actually has ODP so that even if your treatment or diagnosis is done within few hours still you get paid by your insurance company. For example- a simple dental surgery, might not be considered under general day-care procedure but is included in ODP. Though in India, very few insurance companies offer ODP because the health sector here is very unorganized.
Health Insurance Companies
What Treatments Day Care Procedures Include?
Below is the list of the some of the treatments covered under day-care procedures-
Treatment of nose and nasal sinuses

Excision and destruction of infected tissue of the nose
Procedures on the turbinates (nasal concha)
Nasal sinus aspiration

Operation of the ear

Tympanoplasty (closure of an eardrum perforation)
Reconstruction of the auditory ossicles
Removal of a tympanic drain
Reconstruction of the middle ear
Fenestration of the inner ear

Treatment of the subcutaneous tissues and skin

Local excision or destruction of diseased tissue of the skin and
Free skin transplantation
Revision of skin plasty
Chemosurgery to the skin

OPTHALMOLOGY- Eye treatment

Incision of tear glands
Excision and destruction of infected tissue of the eyelid
Procedures on the canthus and epicanthus
Removal of a foreign body from the conjunctiva, cornea, lens of the eye, etc.
Incision of the cornea
Operation of cataract
Surgery for Retinal detachment

Orthopedics (Bones)

an incision on bone, septic and aseptic
Osteosynthesis to Close the reduction on fracture, luxation or epiphyseolysis with
Suture and other Procedures on tendons and tendon sheath
Arthroscopic knee aspiration

Besides these, a day-care procedure also includes the urinary system, heart, sexual organs and cancer treatment as well.
Insurance Companies that Offer Day-Care Procedures
Thus, day-care procedures health coverage is very essential for today's era where life pace is fast and so is the expense. It gives you relief and saves your money but be sure to choose only that health insurance company that covers broadly categorized treatments.