TATA AIA Life Insurance Company
TATA AIA is a renowned name in the life insurance industry. It is a joint venture between Tata Sons Pvt. Ltd. and AIA Group Ltd. (AIA). The company caters to almost all life insurance products and assist in having a secure life. The company has plans for all stages starting from child insurance plans, TATA AIA pension plans to term insurance among others.
TATA AIA Life aims at providing the simplest life insurance and health insurance solutions. The company is one of the largest growing companies in the life insurance sector. The company is now ranked at 5, based on individual weighted new business premiums. The company is all set to achieve the highest standards.
Claim Ratio: The company comes out with a great claim ratio of 99.07 % which is a remarkable one and quite enough to choose TATA AIA over any other life insurance company.
Wide Options: The company is offering a list of wide plans to cater to the different needs of customers at affordable pricing.
Customer Assistance: The company takes care of its customers from all perspectives and hence has desired teams to assist them.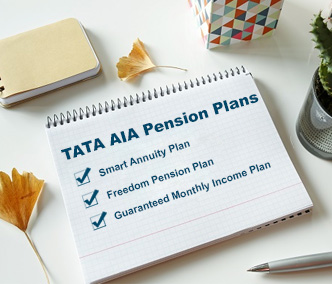 Statistics
| | |
| --- | --- |
| Headquarter | Mumbai |
| Business Line | Life Insurance |
| Claim Ratio | 97.07% |
| TROP | Available |
Tata AIA Retirement Plans?
To offer a secure future and enjoyable golden years, the company has come out with multiple pension plans to cater to different needs of post-retirement years.
1. Tata AIA Pension Plan: Guaranteed Monthly Income Plan
It is a non-linked, non-participating life insurance plan that comes out with a dozen benefits to cater to different needs of customers. TATA AIA Guaranteed Monthly Income Plan offers the required financial protection for your family along with a monthly income to deal with future needs.
Key Features of Guaranteed Monthly Income Plan
Offered Guaranteed monthly income for double the Policy tenure
Tata AIA Pension Plan offers a large premium to increase your monthly income
Option to select the policy Term of 5/ 8/ 12 years
It offers life insurance cover to protect your loved ones
This plan offers enhanced protection with optional Riders
Eligibility of Guaranteed Monthly Income Plan
| | |
| --- | --- |
| Entry Age | 5 to 60 years |
| Maturity Age | 5 to 60 years |
| Annualized Premium | 36000- No limit |
| Premium Payment Mode | Annually, half-yearly, quarterly, yearly |
2. Tata AIA Pension Plan: Freedom
It is a non-linked participating endowment plan. This plan enables you to find a balance in your financial portfolio as you will create a balance in your life's portfolio. TATA AIA Freedom pension plan provides you offers Guaranteed Additions to improve your retirement corpus. You can also add a rider to enhance the cover
Key Features of Freedom Pension Plan
Boost corpus with Guaranteed Additions: Select a premium payment term as per your convenience and get 10% p.a. of Annualized premium at the starting of every year till the premium payment term.
Decide When To Retire: The plan offers the flexibility to select your policy tenure that suits your Retirement needs. There are multiple retirement options such as 1 or Retirement Option 2 wherein the Maturity age is 55 or 60 years respectively.
Optional Rider To Improve Your Policy: Customize your policy by adding optional Tata AIA Life Accidental Death & Dismemberment Rider
Growth of Your Corpus: This plan offers the growth of your corpus through Compounded Reversionary Bonus and Terminal Bonus.
Eligibility of Freedom Pension Plan
| | |
| --- | --- |
| Entry Age | 25-50 years |
| Maximum Maturity Age | 60 years |
| Payment mode | Annual, Semi-Annual, Monthly |
| Minimum Premium | As per minimum sum assured |
3. Tata AIA Pension Plan: Smart Annuity Plan
It is a single premium non-Linked, non-participating individual annuity plan. Tata AIA Life Insurance Smart Annuity plan that assists you to gain financial freedom during your second innings. This plan provides regular income to assist you to manage your expenses post-retirement.
Key Features of Smart Annuity Plan
Flexible annuity options to deal with your future needs
The option of Single or Joint Life annuity
This plan offers flexibility to select the Annuity Payouts mode
Smart Annuity Plan offers the option of Top Up to improve your Annuity Payout
Eligibility of Smart Annuity Plan
| | |
| --- | --- |
| Entry Age | 45-85 years |
| Annuity Payout | Monthly, Annually, yearly, half-yearly |
| Premium Payment Mode | Single |
| Maximum Annuity Purchase Price | No- limit |
Why Tata AIA Pension Plans?
Tata AIA Pension Plans are all about embracing retirement with a grin! They help you to lead a pressure-loose retirement life, without being dependent on others for your everyday expenses. These plans provide you with more than one alternative to beautify your corpus so you can fulfill your put up-retirement needs and dreams with ease. You furthermore might have the power to pick your policy period, in step with your particular retirement requirements.
Right here's a sneak peek at capabilities of Pension Plans:
The price of pension starts evolved from the Vesting Date after the maturity of the policy
Additionally called annuity plans, those may be extensively categorized into Deferred and immediate plans. Within the case of the previous, the policyholder gets bills on a deferred date, after he/she has paid all the charges. In the case of the unfortunate death of the insured earlier than the beginning of the payouts, the nominee will be entitled to acquire the death benefits. in the case of an immediate annuity, the enterprise starts evolved paying out the proceeds at once after the insured will pay the single premium as per the pre-decided length of the price. However, in the event of the demise of the insured, the company does not make any annuity payments.
The future is uncertain, so it's important to have financial independence put up retirement and if there are additional benefits from a policy it is a value brought the point for the traders too. TATA AIG brings flexible pension plans which are elaborated here.
Things That You Should Know
In case of the death of the insured during the policy tenure, the beneficiary will get hold of the sum assured and is even eligible for the bonus if there are any.
For getting insured under the TATA AIA Life pension plan, there is no requirement of medical tests. A health assertion has to be signed to complete the process in case your age is between 18 to 45 years.
The premium can be paid based on quarterly, monthly, 1/2 every year or maybe annually. You can even choose a one-time payment option in the annuity plan. The premium payment is prevalent in the method of credit card or cheque. The monthly fee must be made best by using credit score playing cards.