What is Term Insurance?
Term Insurance is a form of Life Insurance that provides comprehensive financial coverage to your family members against life uncertainties. Term Insurance pays the sum assured if the policyholder succumbs to death within the policy term. If you have dependents like parents, spouse or children, then Term Insurance becomes an integral aspect of your life.
Why is Term Insurance Renewal Important?
Renewing the Term Insurance Policy is a must for every individual. However, if you do not pay your premiums timely, your Insurance policy will lapse, leaving your family with no financial security in your absence. Renewal of Term Insurance plan provides an opportunity for the policyholder to extend the coverage as per the growing requirements and age.
Following are the reasons why Term Insurance Renewal is important:
Tax Benefits

Term insurance offers tax exemption of up to 150,000 INR under section 80C of the Income Tax Act. Additionally, add-on covers such as critical illness cover provide tax exemption up to 25,000 INR under section 80D of the Income Tax Act. Renewing your Health Insurance plan on time ensures that you can continue to avail of tax benefits.

Premium amount

The premium remains the same when you renew your policy on time. Not renewing your Term plan on time leads to a hike in the premium amount due to an increase in age, changes in medical history, etc.

Medical Test and KYC

If you renew your policy, then you would not be required to submit the KYC documents again. Also, there would be no need to undergo a medical examination all over again.
Disadvantages of Non- Renewal
Defeats the main purpose of Insurance

The biggest drawback of not renewing the policy is that the policy coverage will lapse. If you do not renew your policy on time, then the beneficiary will not get any stipulated benefits of the policy.

Discontinuation of Term Plan Benefits

If you don't pay the premium on time, your family will not get any death or additional rider benefits and all the previous paid premiums will become meaningless.

No Tax Benefits

If you do not renew your Term Insurance policy, you will not get any Tax Benefits under the Income Tax Act. Premiums of term plan are eligible to provide tax exemption of up to 150,000 INR under section 80C of Income Tax Act, 1961.

Claim Filing

If you do not renew your policy on time and your policy lapses, it may not be possible for you to file a claim and the beneficiary will not get any sum assured in case of any mishap. Not renewing the policy defeats the entire purpose of buying Term Insurance.
Benefits of Renewing Online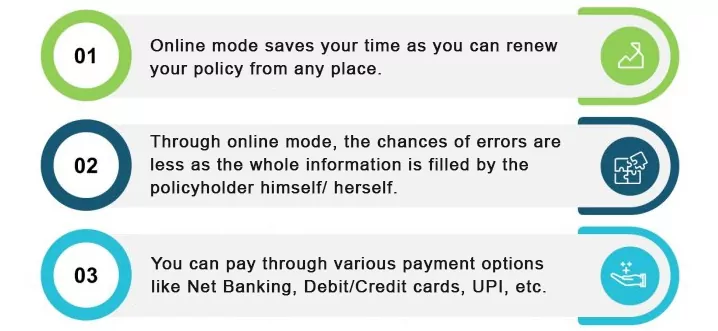 Convertible Term Insurance Vs Term Insurance Renewal
People often get confused between Convertible Term Insurance and Renewable Term Insurance. Renewable Term Insurance allows you to simply extend your current coverage of the existing policy, while with Convertible Term insurance, you can convert your Term Life coverage into Whole Life coverage before your 70th birthday.
Conclusion
It is important to Renew your Term Insurance without any interruption. Insurers remind customers about the renewal dates of Term insurance online as well as offline. The policyholder should stay up to date on renewal dates and make payments on time. You can conveniently make payments through the company's official website.
You must renew your Insurance Policy on time to get the maximum benefits and for the continued safety of your loved ones.