COVID-19 Health Insurance Policies
The second wave of the pandemic in India is catastrophic as the nation has witnessed over 400,000 recorded cases in a single day by the end of April 2021. The numbers indicate a rapid upsurge in hospital admissions for the treatment of this deadly disease. Inevitably, the pandemic along with the health crisis has brought severe economic crisis as many people are facing pay cuts and layoffs. During these uncertain times, having a comprehensive health insurance plan would be a much-needed relief.
Considering the gravity of the pandemic situation last year that has worsened by now, IRDAI introduced two novel health insurance products in 2020 to shield the insurers against COVID-19 medical expenses.COVID Rakshak and COVID Kavach are designed to offer financial security along with a multitude of benefits.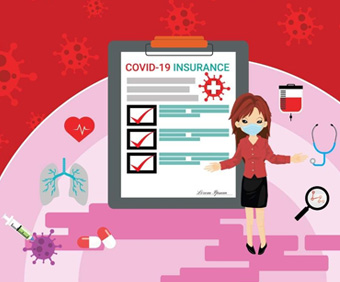 Let us deep dive to understand both the above-mentioned plans.
Recommended Videos
5 Best COVID-19 Health Insurance Plans | Protection Against Coronavirus
Corona Rakshak

The Corona Rakshak Policy is a lump sum benefit policy, covering potential medical expenses if a person is infected and hospitalized due to the COVID-19. The COVID Rakshak provides the complete sum insured as a lump sum instead of reimbursement or cashless treatment.

The people aged between 18 - 65 years can avail of the plan with options from INR 50,000 to 2.5 Lakhs sum insured for a duration of 3.5 months to 9 months. You can buy the policy through a single premium payment option with a lump sum amount in return instead of reimbursement of hospital bills. Corona Rakshak Policy is available for individual sum insured only.

It covers hospitalization expenses but requires hospitalization of over 72 hours. The plan supports the pre-hospitalization cost of up to 15 days and post-hospitalization expenses up to 30 days with home care treatment, ICU, ambulance charges, and AYUSH treatment for COVID19.

Corona Kavach

Corona Kavach Policy is an indemnity-based plan, providing reimbursement of hospital bills for the COVID-19 treatment. With the waiting period of 15 days, the policyholder can leverage the benefits of pre and post hospitalization treatment of 15 and 30 days respectively with a single premium payment option.

The plan covers expenses of the ambulance, ICU, Homecare treatment, and AYUSH treatment. Additionally, it offers the benefit of hospital daily cash. Wherein up to 0.5% of the sum insured can be used to meet expenses that are not covered under this policy or compensate for the loss of income during the hospitalization tenure.

Under the home care treatment prescribed by the doctor, this policy ensures that the patient does not incur expenses of medicines, consultation charges, nurse charges, cost of the pulse oximeter, and oxygen cylinders.

However, Corona Kavach doesn't incur the expenses of OPD and Daycare treatment, hospitalization less than 24 hours, and medical tests if conducted at unauthorised or non-government laboratories.
To simplify choosing the right policy for you, here is the difference between Corona Kavach and Corona Rakshak.
| | | |
| --- | --- | --- |
| Features | Corona Kavach | Corona Rakshak |
| Policy Nature | Corona Kavach is a COVID-indemnity plan that incurs hospital expenses for the treatment of the COVID-19. | Corona Rakshak is a COVID-benefit policy that offers a lump sum benefit, where the insured receives the entire sum insured for the treatment of COVID19. |
| Sum Insured | Min. Rs 50,000 to max. Rs 5 lakhs | Min. Rs 50,000 to max. Rs 2.5 lakhs |
| Hospitalization Covered | Opted for more than 24 hours | Opted for more than 72 hours |
| Types of Plans | Individual and Family floater plans | Individual plan |
| Add-On Benefits | Hospital daily cash benefit under which up to 0.5% of sum insured can be used to meet the medical treatment expense requirement which are not covered or used as an income benefit lost during hospitalization tenure. | NA |
**Last Updated on May, 2021
As the nation has been going through a grim situation since last year, the IRDAI included treatments undergone in makeshifts or temporary hospitals and even domiciliary treatments in the policies. This means, if a person is not undergoing treatment in a hospital environment due to shortage of facilities, he can avail the policy for domiciliary treatment.
Health Insurance Companies
Health Insurance, COVID-19 specific policy or both?
As mandated by the IRDAI, the standard healthcare insurance policies must incur the COVID-19 expenses to support the policyholder. The point to be noted here is - Should you take COVID-19 specific policy when you already have a comprehensive health insurance plan? No, it is not required.
A person already paying a regular premium of a comprehensive health insurance policy can use the existing plan to bear the COVID-19 related expenses. However, it is advisable to cross-check with the respective health insurance provider.
Needless to say, comprehensive health insurance provides myriad benefits even during the pandemic to deal with the illnesses. COVID-19 is leaving long-term side effects on patients, which differ from person to person. Such side effects need specific treatment, and a health insurance policy helps you in this scenario instead of a COVID-19 specific policy.
The criticality of the pandemic outbreak demands faster approvals for cashless treatment, therefore, IRDAI has issued a notice to reduce the approvals timeline from 30 mins - 2hrs to 30 mins - 1 hr. It aims at expediting the process, enabling the patient to avail of the treatment on an urgent basis.
In another scenario where the citizens are suffering side-effects post their first or second jab of vaccination, the comprehensive health insurance policy plays a vital role in dealing with the treatment expenses.
However, if a person doesn't want to exhaust their existing policy with the cost of COVID-19 treatment and wishes to keep it secure to deal with other prolonged diseases in the older age, then a person can plan for a COVID-19 specific policy. This way, a person can keep their health insurance plan intact and stay potent to deal with the new disease.
In this scenario, Corona Rakshak becomes quintessential as it is a pocket-size health insurance plan offering lump sum cover in a single premium payment.
Hope for the best, prepare for the worst
Amidst the uncontrollable pandemic situation, the least control in your hand is to have a best health insurance policy to sail against the odds a bit conveniently. Many insurance companies are offering affordable health plans with great deals to help you manage COVID-19 treatment cost. Invest in a health insurance policy that caters to your needs and find a better way to fight against this invisible army.
But remember to wear masks and maintain social distancing.