What is the Difference Between Health Insurance & Mediclaim
Health Insurance and mediclaim are the two terms that usually used interchangeably. However, these two are different from each other. The major difference between the two is that mediclaim limits itself in particular to the hospitalization expenses.
However, health insurance is far more complete. It offers a comprehensive cover that extends further than hospitalization expenses. In this article, you will understand the major difference between health insurance and mediclaim Policy. This will help you in understanding them properly and will assist in the better evaluation.
Health Insurance An accurate, reliable and comprehensive health insurance can provide great relief from paying high costs for being hospitalized when you are ill or diagnosed with a critical disease.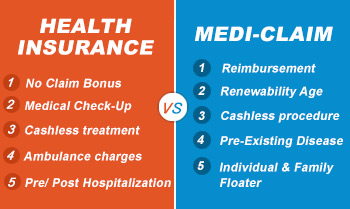 In India, there's no doubt about the importance of health insurance policies due to a very low rank on the human life index. It becomes necessary to have a best health insurance policy that provides coverage on medical costs, treatment expenses, laboratory costs, hospitalization expenses, and critical illness costs as well. We are all aware of the famous quote- "Health is wealth" hence it is necessary to be prepared for such types of situations. Health insurance is a comprehensive insurance policy. Apart from coverage for hospitalization and related expenses, it also provides coverage for pre as well as post-hospitalization charges, ambulance costs, compensation for lost income & much more.
Types of Health Insurance Policies in India
There are several types of health insurance plans available in India. These policies are designed in a way that can provide coverage in any type of medical emergency. Some popular types of Health insurance policy are:
Individual Health Insurance Plan

It is specially designed to provide coverage to an individual against a variety of illnesses with cashless hospitalization and other add-on benefits.

Know More About: Individual Health Insurance

Family Floater Mediclaim Policy

With the help of this insurance policy, you can get coverage for yourself and your family under a single insurance policy. This insurance policy offers a fixed sum insured amount for all the family members. With this, you can cover all your family members against diseases under a single cover. It can be availed either by an individual member or as a sum total for the treatment of one person.

Know More About: Family Health Insurance

Critical Illness Policy

It is normally taken as a standalone policy or a rider that provides coverage against serious illnesses like- cancer, kidney failure, heart attack, paralysis, etc. As the treatment of such diseases is very expensive so the premium is also on a higher side.

Know More About: Critical Illness Insurance

Pre existing Disease Cover

Many insurance companies also offer coverage against pre-existing diseases -e.g. - diabetes, hypertension, kidney failure, cancer, etc. It includes those diseases that the policyholder had before buying the policy.

Senior Citizen Health Plan

This insurance policy is specially designed to protect you from health issues during your old age. As per the IRDA norms, every insurance company must provide cover for people up to the age of 65 years.

Know More About: Senior Citizen Health Insurance

Preventative Healthcare

This plan offers preventive care treatments like regular checkups, consultation charges and other tests or x-ray fee concessions. The idea is to monitor your health at timely intervals and provide overall health care benefits.
Key Features of Health Insurance Policy
A comprehensive health insurance policy comes with packed features. Check its features in detail.
Cashless Treatment

It is common that every health insurance company has few hospitals under its network. The benefit of theses hospital is that if you get admitted in these hospitals then you do not have to pay out from your pocket. The insurer will be there to take care of it. You just need to tell your policy number and the rest of the things will be handled by the insurer and hospital.

Know More About: Cashless Mediclaim Policy

Pre and Post Hospitalization

You will surely love this feature as it provides coverage on both pre and post-hospitalization charges for a period of 30 to 60 days depending on the plan purchased.

Know More About: Hospitalization Insurance in Health Insurance

Ambulance Charges

By having this add- on features you do not have to worry about the transportation charges. It will be handled by the insurer.

No Claim Bonus

One more add-on benefit, you will surely get this benefit for every claimless year. It can be in any form, either an increment in the sum assured or a discount in premium.

Know More About: What is No Claim Bonus in Health Insurance

Medical Check-Up

Free check-up is provided by a few insurance companies.

Tax Benefits

According to India's tax system if you are paying a premium amount then you are liable to get a tax refund under section 80D of Income Tax Act for a maximum value of Rs.25000 for Indians in the age group of 18 to 50 years and Rs.30000 for senior citizens.

Know More About: How to Save Taxes under Health Insurance Policy

Co-Payment

Under this feature, you can lower the premium amount. Medical insurance offers a co-payment option in which there is a pre-defined amount of unpaid deductibles mentioned in the policy to be paid by the policyholder. So in case of a treatment, some amount is paid by the insured and rest by the insurance company.

Know More About: Copay in Health Insurance
What is Mediclaim Insurance?
The key feature of mediclaim is the coverage for hospitalization and treatment towards accident and pre-specified illnesses for a specific sum assured limit. The mediclaim premium is based on the sum assured. It reimburses your actual medical expenses. It is really a helpful insurance policy as it offers coverage on hospitalization and treatment costs. The policy is taken to settle the hospitalization expenses incurred at the time of hospitalization
How does Mediclaim Policy Work?
Basically, there are two claims under a mediclaim policy:-
1 Cashless Procedure
It is a process in which the insured is treated in the hospitals that are under the network of the insurer. Under this, the insurer will pay a part of a claim or the entire amount to the hospital. It means that with the help of this feature, the insured does not have to pay a single penny from his/her pocket. There are several procedures under the same that you need to follow for a simple claim process.
All the network hospitals have an insurance desk in their premises from where the insured has to collect a pre-authorization form. He/she has to fill the form with accurate information. By filling the wrong details you will not get the claim on time. Later on, this form needs to be stamped by the hospital. After cautiously checking the form, the company will approve a definite sum and send a fax back to the hospital saying that the amount has been sanctioned for the treatment.
2 Reimbursement
When it comes to reimbursement, it is essential to inform about the hospitalization to the insurer that has happened or about to. You can do the same by making a call or sending an e-mail. For getting reimbursement on time, you need to provide all the relevant documents such as payment receipts, bills of medicine and much more. As a policyholder, you need to ensure that the original discharge card, closing bills and expense receipts should be in one place so that they can be provided to the insurance company to get reimbursement.
Things to Consider
If you are planning to buy a mediclaim policy, then it is highly advisable for you to check the below points to ensure the effectiveness of the policy. You can check these factors to compare different available insurance policies.
Individual And Family Floater
Under an individual insurance policy, the insured will get the coverage of a specified amount separately. Whereas in a family floater plan the entire family is insured for a fixed sum assured. Under a family floater plan, if the major person of the family dies or reaches a definite age, then the policy will be closed and other family members will not be allowed to renew the same. But in an Individual plan, the individual is insured on separate parameters. The attainment of a particular age will not impact insurance coverage of other family members.
Renewability Age
It is true that the policy offers coverage for only one year. It is advisable to purchase the desired policy at an early age as it will help you in getting better coverage at a low premium. By entering into at an early age, you will get several additional benefits that can save a lot of your savings.
Pre-Existing Disease
It is relevant only when you have a pre-existing disease at the time of taking the insurance plan. This feature of the policy also provides coverage on those diseases which might arise from a pre-existing condition. Most of the insurance companies have a clause regarding pre-existing diseases where the same is covered after a particular time period. Hence it is advisable to check it at the time of purchase. The best mediclaim insurance plan covers pre-existing diseases as soon as possible.
After going through the article, we are sure that now you can differentiate between health insurance and mediclaim plans. There are not many differences, but still, they differ in a certain aspect which makes them unique from each other.