Old age should not be a burden rather; it should be that stage in life where you reap the benefits of all the hard work and financial planning that you did at a young age. With many insurance companies coming out with specific plans for the senior citizens, including term plans, old age no more has the uncertainties associated with it that it used to have earlier.
All you need to check your eligibility and apply. Today, an old person can secure his/her future easily by getting financial coverage with the help of a term insurance plan. Term insurance plans do not look for medical checkups from the applicant. Numerous plans are there in the markets which have a simple application process where you can easily apply. All you need to do is to fill a simple form related to health, in which you need to provide your medical conditions and take care of some minor documentation work.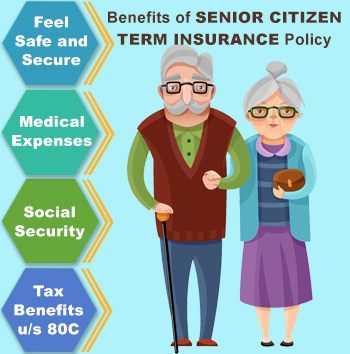 With the help of a good term insurance plan, you can secure your family financially, irrespective of the fact if you are present for them or not. Life or term insurance plan permits old age people to keep something aside for their funeral arrangement as well, apart from helping their near and dear ones at the time of any necessity.
As term plans are available at low prices, it becomes vital to compare quotes and choose the best plan which suits your need suitably. By comparing, you ensure that what you get is what you wanted and it just takes a few minutes to make an informed choice. The online medium offers quick access to all kinds of term insurance plans from the comfort of your home.
It may be possible that in due course of time, the term insurance plan bought by you may require certain changes. Buy an insurance plan at an early age which can provide you the required protection at a low cost. With a term insurance plan, you need not worry about putting aside your savings for taking care of essential requirements.
Many companies are offering affordable term insurance plans to choose from. Some companies are selling plans to the people of the age group 50 and above whereas few have specific term insurance plans for senior citizens in the age group of up to 85 years. Apart from term insurance, there are two other forms of plans namely, Whole life insurance and Guaranteed life insurance.
Under the former, there is no fixed policy period and benefits are provided to the insured until the time of his/her death. Upon death, the payments get transferred to the designated nominee.
Guaranteed life insurance allows the senior citizens to buy a policy regardless of their age and it does not require prior health-related investigations. Generally, high-risk individuals are covered under this plan who have had health issues and are not covered by any other plan.
Nowadays, it's easy to find plans as per one's requirement as several private players have emerged in the segment who want to make their presence felt. Seeking online quotes is the best way to move forward and enjoy peace of mind in your old age by saving on both time and money.
Benefits of Senior Citizen Term Insurance Policies
There are certain key benefits of senior citizen life insurance policies-
Seniors feel safe and secure with no worries related to managing finances to take care of their health and well-being
These policies provide a source of fund for funeral and death expenses, medical expenses and any other expense related to any ongoing mortgage or loan
It provides a sense of social security to the insured
It allows them to avail of income tax benefits under the Income Tax Act 1961
Because in today's world, life has become so unpredictable that ensuring its safeguard is of prime concern. Old age does not mean the end of your life as it's that phase where you are free to enjoy your life further. To make sure you do that, you must plan early and smartly for the old age and even if you are late in planning, no worries as you can compare and choose from numerous plans available from multiple companies, online and get the pleasure out of life that you always desired.