SBI Life e Shield Term Policy
The eShield term plan acts as a protective shield or armor to your family members in your absence when you are miles away twinkling in the sky after death. SBI Life – eShield is fabricated for a responsible person who comprehends and identifies the need for financial protection in death crisis.
Why SBI Life eShield? Because it shifts the burden and tension of future contingencies of the policyholder and eliminates the stress for future expenditures. It has inbuilt coverage for a terminal illness where the whole sum assured is paid immediately to lessen the liabilities incurred in the past.
Eligibility of SBI Life eShield Term Plan
Features
Level Cover
Increasing Cover
Minimum Age of entry
18 years
18 years
Maximum Age of entry
65 years
60 years
Maximum age of maturity
Level Cover - 80 years
75 years
Term of Policy
5 years to 80 years minus Entry Age
10 years to 75 years minus Entry Age
Sum Insured Amount
35 lakhs to no restrictions (as per underwriting policy)
Premium Payment Mode
Monthly/Quarterly/Half Yearly/Annually
Percentage of premium for all modes except yearly
Monthly: 8.50% of annual premiums
Quarterly: 26%
Half Yearly: 51%
Premium Payment Term
Same as the tenure of policy chosen
Benefit Structure
SBI LIfe constituted two coverage options or benefit structure under eShield plan that give flexibility to the policyholder.
1. Level Cover
Features-
Include Terminal illness benefit without any payment of extra premium.
Sum insured amount remains fixed during the term of the policy.
Termination of policy by payment of "Effective Sum Insured", if any terminal illness or death circumstances materializes.
Illustration:
Ankush, a 33-year-old man decides to purchase eShield plan to protect his newly formed family of three (himself, spouse, and one year child). The coverage taken is Rs 1 crore under Level Cover benefit for a tenure of 30 years.
However, after 20 years of the policy period, he was detected with a terminal illness (heart disease). Doctors have raised their hands as the disease has become incurable and told him that he will live up to 4 months maximum.
Ankush informed the insurance provider about the diagnosis results through submission of accurate documents on an immediate basis. The whole coverage amount was returned to the family or the nominee of the policy after the company has verified the claim. The family will get Rs 1 crore in whole.
2. Increasing Cover
Features-
Include Terminal illness benefit
Sum Assured amount will grow gradually after a time gap of 5-year at a fixed rate of interest (i.e. 10%) during the policy period.
There will no change in the rate of premiums with an increase in cover and will be stable.
Termination of policy if any terminal illness or death circumstances arise and the claim raised will be settled through the payment of "effective sum insured".
Illustration:
Dr. Mishra (35 years) brought eShield plan for coverage of 1 crore under Increasing Cover benefit. The tenure of the policy bought is 25 years.
The regular base premium that Dr. Mishra have to pay is Rs 11,210 per year excluding taxes and riders. The increase would be given after every 5 years is shown in the table below-
| | |
| --- | --- |
| Years of the Policy (difference of 5 years) | Increase in Sum insured (every five years @ 10%) |
| 1st year | 1,00,00,0000 |
| 6th year | 1,10,00,0000 |
| 11th year | 1,20,00,0000 |
The death of Dr. Mishra occurs in 12 years. The beneficiaries after intimating about the incident to the SBI Life insurance company can claim the increased term coverage i.e. 1,20,00,0000 (1 crore + 2 increase given till the death).
Reasons to buy SBI Life – eShield
Family Protection at Cheap Rates- What is the better option than eShield plan to lock the financial protection of your loved ones under low-cost premium rates. The base premium is only Rs 237 per month exclusive of taxes and riders. Lesser the age lower would be the premium.
Terminal Illness Benefit- While some of the term insurance policies do not comes with terminal illness benefit or offer it on submission of extra premium. But SBI Life eShield plan covers this feature with no additional charges and settle the claims cheerfully. Also, the doctor who has assessed the symptoms of terminal disease must be recognized by Indian Medical Association
Discounts for Non-Smoker- Term Plans always give preference to healthy people who cultivate a positive lifestyle by consuming nutritious food and keep themselves distant from toxic elements like tobacco, alcohol, etc. The premiums for non-smokers is always lower than premiums determined for smokers.
Second Medical Opinion from experts- The facility of medical opinion from another will be given to the policyholder for the treatment or diagnosis conducted earlier. Policyholders can make wise decision for their health with the help of World Leading Medical Centers networked with insurance provider.
Online Facility- SBI Life eShield gives the ease of online payments of the premiums and the claim amount to enjoy fast and hassle-free insurance service by sitting on the couch of your room.
Tax deductions - The premiums paid for term insurance will receive a tax deduction as per the prevailing income tax laws in India. The benefits will be compensated with regard to rules formulated under section 80C and 10C © of Income Tax Act.
Flexibility - Life Assured is offered flexibility to pay premiums either monthly, quarterly or annually for the choice of benefit structure and optional riders.
Sbi eshield Riders Benefits
1. Accidental Death Benefit Rider
By availing this Accidental Death rider, family of the life assured can claim the rider coverage amount as chosen at the purchase of the policy.
Eligibility-
Entry age should be between 18 years to 65 years of age
Sum assured can be between Rs 25,000 to Rs 50,00,000.
Premium paying term is same as the policy tenure.
Premiums paid for this rider must be A) 8.9% of annual premiums if paid monthly B) 26.5% of annual premiums if paid quarterly C) 52% of annual premiums if paid half-yearly
The sum assured will be paid in lumpsum
2. Accidental Total & Permanent Disability Benefit Rider
accidental permanent disability refers to any loss occurred to both arms or both legs or eyes due to an accident which is seen as irrecoverable by a recognized medical practitioner.
Eligibility-
Entry age should be between 18 years to 65 years of age
The maturity age of the rider is 70 years.
Sum assured can be between Rs 25,000 to Rs 50,00,000.
Policy term must be under 5 years to 30 years.
Premiums paid for this rider must be A) 8.9% of annual premiums if paid monthly B) 26.5% of annual premiums if paid quarterly C) 52% of annual premiums if paid half-yearly.
Sbi eshield Premium Calculation
The graph presented below display the premiums* rates for Level Cover and Increasing Cover under different sum Assured values varying from 35 lakhs to 2 crores. The average age taken is 35 years where the person doesn't consume tobacco or practise smoking.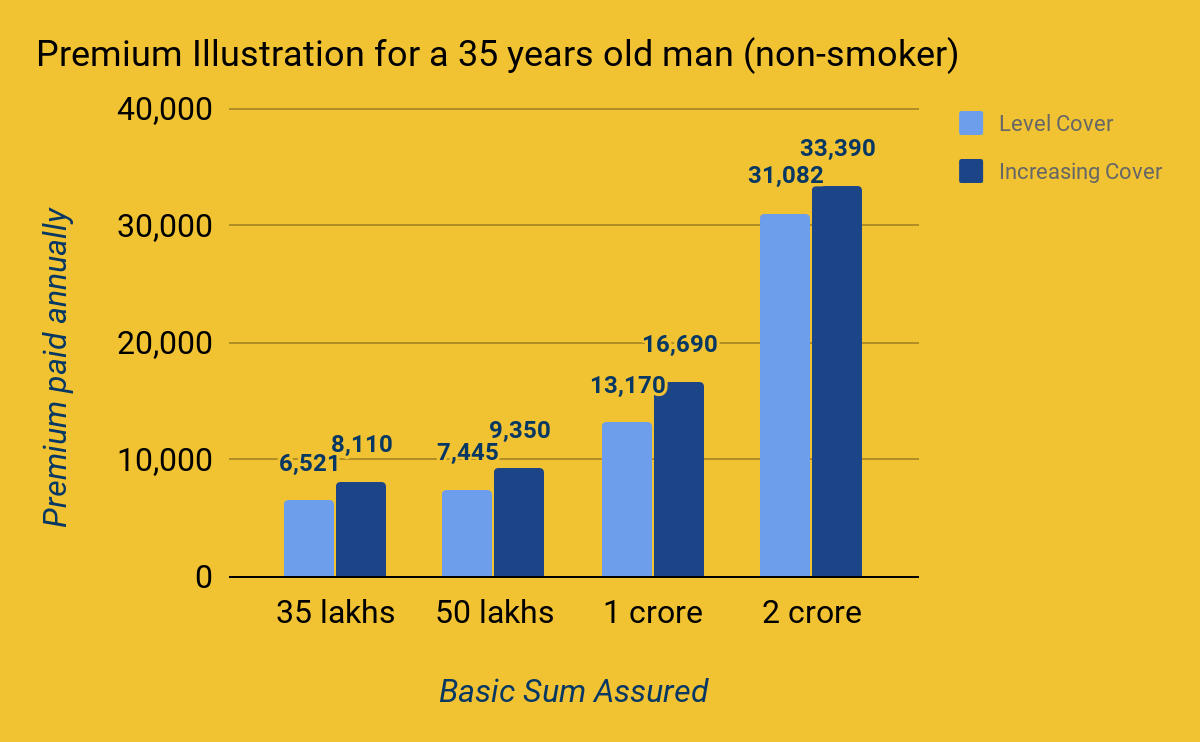 Please Note: The premiums calculated in the above-illustrated example does not contain any additional taxes and premiums for rider benefits. As taxes keep on fluctuating year by year, policyholders are expected to check the rate of taxes applicable while purchasing the policy.