SBI Life Poorna Suraksha
SBI Life Poorna Suraksha is a newly launched term insurance plan by SBI Life Insurance Company. It is a non-participating and non-linked term insurance plan that comes with built-in critical illness coverage. The plan is designed to provide comprehensive protection to customers with the help of lump-sum life insurance coverage and financial protection against critical illness. There's a unique feature of the plan called the 'LifeStage Re-balancing' that optimises the level of protection cover by rebalancing between life cover and critical illness cover. Under this feature, the sum assured amount for the life cover reduces over the term whereas that of critical illness cover increases. And the best part about all this is that the premium amount remains the same throughout the term of the policy.
This plan by SBI Life Insurance Company offers life cover to 36 critical illnesses which is helpful for the policyholders to enhance their requirements with age. The plan comes with the thought of 'Reverse Parenting' i.e., a child's precious gift to their beloved parents. With this perception, it is the child who is showing their love and care towards their parents. As they become old, it is the responsibility of children to take care of their parents and this plan is one of the best and affordable ways to reciprocate the same. Hence, a bunch of happiness exists in this 'Suraksha' policy.
Features of SBI Life Poorna Suraksha Plan
The plan is a complete bundle of joy, consisting of 36 critical illnesses covered. Given below are the highlights of the key features of the plan. Let's have a look at them:
1

Comprehensive Protection

The plan provides coverage to the insured's family in case of their death or critical illness.
2

LifeStage Rebalancing Feature

This is a unique feature that automatically adjusts the sum assured between life and critical illness cover on every policy anniversary.
3

Critical Illness Coverage

The plan offers a wide coverage against a list of 36 critical illnesses including serious ailments such as Heart Attack, Brain Tumour, Cancer, Kidney Failure and many more.
4

Waiver of Premium

Another unique feature of the plan is that it provides a waiver of premiums if diagnosed with any listed critical illness.
5

Fixed Premium

The premium amount remains the same throughout the term period of this plan.
6

Tax benefits

With this plan, the policyholder can avail of tax benefits under Section 80C and Section 80D of the Income Tax Act, 1961, as applicable.
SBI Poorna Suraksha Policy Benefits
Rebalancing Life Stage Benefit

This is one of the most important benefits of the SBI Life Poorna Suraksha plan. Life stage rebalancing is a unique feature that helps in balancing the coverage between life and critical illness. The sum assured is divided in a ratio of 80:20 for life cover and critical illness cover respectively at the inception of the plan.

With every passing year, the critical illness sum assured would increase and likewise, the life cover sum assured would decrease by an equal amount. This change in sum assured would happen only on the policy anniversary. The total base sum assured (Life Cover SA + CI SA) would remain the same throughout the policy term.

The percentage of increase in the critical illness cover is mentioned in the table below:

| | |
| --- | --- |
| Policy term | Increase in initial critical illness cover (per year) |
| 10 | 15% |
| 15 | 10% |
| 20 | 7.5% |
| 25 | 6% |
| 30 | 5% |

Life Cover Benefit

If in future, the policyholder dies due to any unfortunate reason, the effective life cover sum assured of the plan will be paid to the nominee of the insured person as on the date of death.

Critical Illness Benefit

As discussed above, the plan provides coverage against 36 listed critical illnesses. The insured person can avail of the effective critical illness sum assured amount if they are diagnosed with any of the covered critical illnesses. However, the cover for this critical illness is paid only once and the benefit is ceased once the amount is paid. To avail of this benefit, there is a waiting period of 90 days from the date of commencement under which no benefit will be provided. Also, this plan has a survival period of 14 days under which the policyholder is required to survive for at least 14 days from the date of diagnosis of the covered critical illness.

Given below is a list of 36 critical illnesses against which the plan provides coverage. Let's check them out.

Cancer of specified severity
First heart attack
Open heart replacement
Kidney failure requiring regular dialysis
Major organ/bone marrow transplant
Coronary artery bypass graft
Multiple Sclerosis
Stroke
Coma
Permanent paralysis of limbs
Motor neuron disease
Benign brain tumour
Blindness
Deafness
End-stage lung failure
End-stage liver failure
Loss of speech
Loss of limbs
Loss of limbs

Major head trauma
Primary (Idiopathic) Pulmonary Hypertension
Third-degree burns
Alzheimer's disease
Aplastic Anaemia
Medullary Cystic Kidney Disease
Parkinson's disease
Systemic Lupus Erythematosus
Apallic syndrome
Major surgery of the aorta
Brain surgery
Fulminant Viral Hepatitis
Cardiomyopathy
Muscular dystrophy
Poliomyelitis
Severe Rheumatoid Arthritis
Progressive scleroderma
Pneumonectomy

Premium Waiver Benefit

On diagnosis of critical illness, all the future premiums shall be waived off for this insurance plan. After this benefit is applied, the Life Stage Rebalancing will stop and the life cover Sum Assured will continue thereafter.

Fixed Premium Benefit

Another useful benefit of this plan is that the premium amount remains the same throughout the policy term, irrespective of the increase in the policyholder's age or increase in critical illness coverage.

Payout in Addition to other plans

This plan allows the policyholder to claim the critical illness benefit independent of any other health insurance cover that they may have with any other insurer. This is because SBI Life pays lump-sum benefits irrespective of the policyholder's actual bill amount.
SBI Poorna Suraksha Policy Eligibility Criteria
Criteria
Minimum
Maximum
Age at entry
18 years
65 years
Age at maturity
28 years
75 years
Basic sum assured
Rs. 20 Lakh
Rs. 2.5 crores
Premium amounts
Yearly: Rs. 3,000
Half-yearly: Rs. 1,500
Monthly: Rs. 250
Yearly: Rs. 9,32,000
Half-yearly: Rs. 4,75,000
Monthly: Rs. 80,000
Policy term
10, 15, 20, 25, 30 Years
Premium paying term
Regular
Premium modes
Yearly / Half Yearly/ Monthly
Sample Premium Illustration of SBI Poorna Suraksha Policy
Before investing in any plan, it is very important to have an idea about its premium amount that you will be paying in future. So, for your convenience, we've created below a graphical representation of the sample premium amount of the SBI Poorna Suraksha Policy.
Please note that the data in this table highlights indicative annual premiums for Life cover of Rs. 50 lakh for a healthy, non-smoker male.
Age
Premium Amount (in Rs.)
Term period of 10 years
Term period of 20 years
Term period of 30 years
25
Rs. 6,472
Rs. 6,967
Rs. 8,492
35
Rs. 10,054
Rs. 13,519
Rs. 17,830
45
Rs. 23,099
Rs. 33,697
Rs. 42,949
Premium Illustration for different age groups and policy term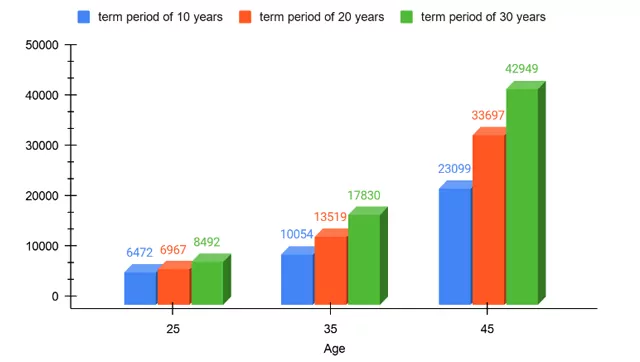 How to buy SBI Poorna Suraksha Policy?
You can buy SBI Poorna Suraksha Policy either from the official website of SBI Life Insurance company or from third party agencies like agents, brokers, etc. If you wish to opt for a simple and easy buying process, consider buying the plan from the company's official website. Given below are the steps for buying the plan from SBI Life Insurance's website. Read along to find out.
Visit the official website of the SBI Life Insurance Company and log in to https://www.sbilife.co.in/en/individual-life-insurance/protection-plans
Select SBI Poorna Suraksha Policy and click on the 'Buy Now' option.
Fill in the required details for calculating premium such as the policy term, premium payment frequency, sum assured, date of birth.
Check the premium and click on the tab 'Proceed'.
Enter your personal and medical details.
Make the premium payment online through credit card, debit card, net banking, etc.
Supporting Documents Required for SBI Life Poorna Suraksha Plan
The policyholder needs to carry the following required documents to successfully apply for SBI Life Poorna Suraksha Plan:
Documents for Proof of address and identityIncome certificateAge proofMedical reports (if any)
Exclusions of SBI Life Poorna Suraksha Plan
There are some permanent exclusions of the plan under which the policyholder will not get any coverage benefits. As a customer, you must know about these exclusions before selecting the plan. Let's have a look at these exclusions.
Injury or any disease caused due to invasion or war, an act of foreign enemies, martial attacks, civil war, etc.
Pre-existing diseases.
Any disease occuring due to the utilization of intoxicating substances like drugs, alcohol, smoking, etc.
Congenital defect or any related diseases which are revealed or diagnosed before the age of 18 years of the policyholder.
Any psychiatric, mental, and behavioural disorders.
If the policyholder attempts, or commits suicide within 1 year after the initiation date of the policy or from the renewal date of the policy, the nominee of the plan will be eligible for 80% of the paid premiums subject to the condition that the policy is active or in force.
SBI Life Poorna Suraksha Policy Review
SBI Life Poorna Suraksha Plan is highly recommended for individuals who want to secure themselves or anyone in their families against critical illnesses. Most life insurance plans offer an option for the addition of a critical illness rider in their life insurance policy. But SBI Life Poorna Suraksha Plan is the only plan that provides coverage for both and covers 36 critical illnesses. You do not need to pay any extra premiums to get cover against critical illnesses. Also, the premium for the policy remains constant throughout the policy tenure and the critical illness Sum Assured will go on increasing. This makes it a comprehensive plan that is full of benefits that best suits the necessities of the policyholder.