SBI LIFE - Smart Swadhan Plus
SBI Life Insurance Company offers a comprehensive term insurance plan called SBI Life Smart Swadhan Plus policy, which aims at fulfilling the future financial requirements of the family of the insured, in case any unfortunate event happens with the policyholder in future.
Smart Swadhan Plus is an individual, non-linked, non-participating, life insurance plan that comes with the return of a premium feature. The plan is designed to satisfy the insurance needs of the people who are interested in getting protection for their family at a nominal cost, with the added benefit of getting their premiums back on maturity, provided that the policy is in force.
To get a better understanding of this plan, let's study more about its features, benefits, and eligibility criteria in detail.
Key Features and Benefits of SBI Life Smart Swadhan Plus
Life cover

In case of an eventuality like the death of the policyholder, the SBI Smart Swadhan Plus plan provides financial protection by offering life insurance coverage equal to the amount of sum assured to the beneficiary/nominee of the insured person.

Return of premium

If the policyholder survives up to date of maturity, they enjoy the benefit of getting 100% of the total premiums paid back, in the form of a lump sum payment.

Premium payment options

The plan provides customers with the ease of selecting a premium payment option at their convenience. You can either go for regular, limited, or single premiums payment method.

Policy term flexibility

This plan provides policyholders with the flexibility to select the policy term and premium payment frequency as per their requirements and convenience.
The availability of the policy term as per the selected premium payment option is given in the table below.
| | |
| --- | --- |
| Policy Term Available | Premium Payment Option |
| 10 - 30 years | Single premium |
| 10 - 30 years | Regular premium |
| 10 - 30 years | Limited Premium Payment Term (LPPT)- 5 |
| 15 - 30 years | LPPT-10 |
| 20 - 30 years | LPPT-15 |
Simple application process: The plan has a simple and shorter application process. Customers can enjoy a hassle-free enrolment process by filling a simplified proposal form.
High Sum Assured Discount: Opting for a higher sum assured amount in this plan proves to be a benefit as the plan provides special discounts and rebates to customers opting for a higher level of protection.
Tax Benefits: With this plan, policyholders can avail the benefit of the tax deduction on the premium amount as per the prevailing rules under the Income Tax Act of 1961.
Staff Discount: Under this plan, there are special discounts offered to the employees, retired employees, VRS holders, minor children, and spouses of employees of SBI Life Insurance Co. Ltd, State Bank of India, RRBs sponsored by State Bank of India, and subsidiaries of State Bank group.
Given below are the details of the percentage of discount offered.
| | | |
| --- | --- | --- |
| Premium paying term | Single premium policy | LPPT/ Regular premium policy |
| 1st year | 2% | 5% |
| 2nd year onwards | Not applicable | 5% |
Eligibility Criteria of SBI Life Smart Swadhan Plus
The table given below highlights the eligibility criteria for the SBI Life Smart Swadhan Plus plan.
Eligibility Criteria
Minimum
Maximum
Age of entry
18 years
65 years
Age at maturity
Not mentioned
75 years
Sum Insured Amount
Rs. 5,00,000
Rs. 25,00,00,000
Policy term
10 years
30 years
Premium Payment Mode
Single-Premium, Limited Premium (5 and 10 years) and Regular Premium
Premium Payment Term
Single/yearly/half-yearly/quarterly/monthly
Premium Illustration of SBI Life Smart Swadhan Plus Plan
Paying a higher premium amount can become financially distressful for you in future. That is why it is suggested that before buying a plan, you should always get an idea about the premium rates that you'll be paying in future.
For your convenience, we've illustrated the sample premium amounts of the SBI Life Smart Swadhan Plus plan in a tabular form as well as a graphical representation. Note that the premium data in this graph is calculated for different age groups, taking a regular premium plan with a fixed sum assured of Rs. 10,00,000, and for the policy and premium payment term of 10 Years.
| | |
| --- | --- |
| Age | Monthly Premium Amount* (in Rs.) |
| 30 years | 1,115 |
| 40 years | 1,741 |
| 50 years | 3,359 |
*excluding taxes
Premium rates of SBI Life Smart Swadhan Plus for different age groups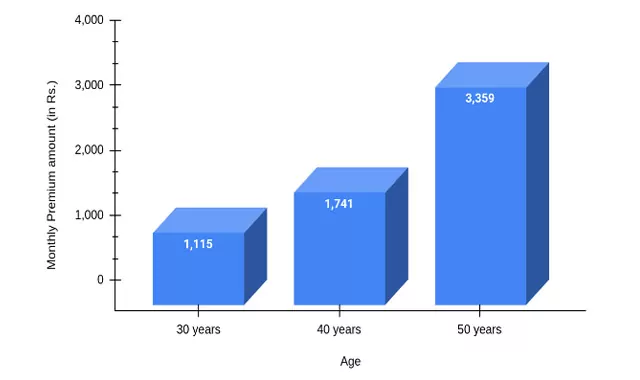 Exclusions in SBI Life Smart Swadhan Plus Plan
There are certain exclusions within the SBI Smart Swadhan Plus policy, on the occurrence of which the insurance company will provide a limited or no death benefit to the nominee of the policyholder. Therefore, it is important to have complete information about the plan's exclusions before you decide on buying it.
Exclusions for the Smart Swadhan Plus plan includes death due to suicide. This means that, if the policyholder commits suicide within a year of policy issuance then only 80% of the premiums paid would be returned and no death benefit would be payable. However, if suicide is committed within a year of policy revival, a higher of 80% of the premiums paid till death or the Surrender Value acquired would be paid (given that the policy is in force).
Note- The policy contract will end immediately once the benefit is paid to the nominee.
How to buy SBI Life Smart Swadhan Plus Plan?
Unlike the other term insurance plans by SBI Life Insurance Company, the Smart Swadhan Plus plan does not have an online buying option. Customers can buy this plan either by visiting their nearest SBI branch or with the help of third-party agencies.
Supporting Documents Required while buying SBI Smart Swadhan Plus Plan
Age Proof
Identity Proof
Address Proof
Passport Size Photograph
Medical Reports