About Renault India
Established in 1899, Renault is a multinational automobile manufacturer that manufactures products like automobiles, electric vehicles, luxury as well as commercial vehicles. Renault is the 9th largest among the automakers worldwide in regards to the volume of production. The brand is also known for its avid contribution as an engine supplier and constructor, in motorsport, especially in Formula 1 and Formula E.
The company has headquarters in Boulogne-Billancourt, France. Renault currently manufactures five models in India. These models are designed specifically to suit the needs of the middle-class Indian, providing them with more options in petrol and diesel models.
Top 5 Renault Car Models
At present, Renault manufactures five car models in India. The details on all of these models are mentioned below:
1. Renault Kwid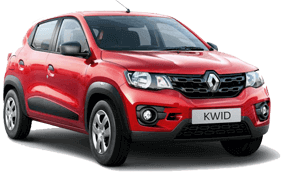 Kwid by Renault is one of the most popular options in petrol engine models. It comes in two petrol engines- 799 cc and 999 cc respectively. The model features both manual and automatic transmission types. Kwid offers mileage up to 24.04 KMPL, depending on the fuel type and variant. The car also has seating capacity of 5 and boot space of 279 L. The car is characterized with a hatchback body type and Engine Displacement of 99 cc. The maximum torque is 91Nm@2450rpm and the maximum power is 67Bhp@5500rpm. Other notable features of Renault Kwid are power steering, wheels cover, power windows front, driver and passenger airbag and anti-lock braking system.
2. Renault Duster
Renault Duster is a compact 5-seater SUV under the Renault umbrella. The model has 1 Diesel and 1 Petrol Engine on offer and is available in both automatic and manual transmissions. The mileage offered ranges between 14 to 19.87 KMPL, depending on the type of fuel and variant of the model. The maximum torque for the model is 245Nm@1750rpm and it runs at a maximum power of 108.5Bhp@4000rpm. Power steering, power window front, driver airbag, anti-lock braking system, alloy wheels, air conditioner, front fog lights, automatic climate control and passenger airbag are some of the key specifications of the model.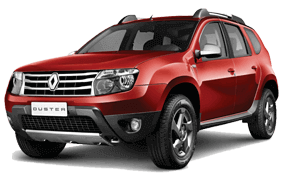 3. Renault Captur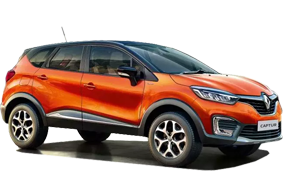 This 5-seater Renault model comes in 1 petrol and 1 diesel engine. The petrol engine and the diesel engine are 1461 cc and 1498 cc respectively. This model offers mileage up to 20.37 KMPL. Renault Kwid comes in manual transmission with a maximum power of 108.49bhp@3850rpm and maximum torque of 240Nm@1750rpm. Other features of Renault Kwid are multifunction steering wheel, driver and passenger airbag, alloy wheels, anti-lock braking system and power windows front.
4. Renault Triber
The Triber by Renault has 1 Petrol variant on offer with an engine displacement of 999 cc. The car is available in manual and automatic transmission. The Renault Triber offers mileage up to 20.5 KMPL. The 7-seater MPV has a maximum torque of 96Nm@3500rpm and maximum power of 71Bhp@6250rpm. The Triber is also equipped with special features including driver airbag and passenger airbag, wheels cover, power steering, anti-lock braking system, engine start-stop button, power windows front and air conditioner.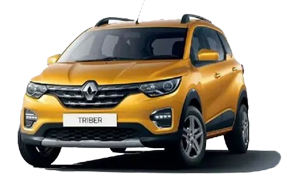 5. Renault Lodgy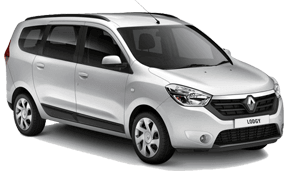 This 8-seater MPV comes with a diesel engine having a displacement of 1461 cc. It is available in manual transmission type, offering a mileage up to 21.04 KMPL. The maximum torque of the vehicle is 245Nm@1750rpm and the maximum power of the vehicle is 108.5Bhp@4000rpm. Other specialties of Renault Lodgy includes driver and passenger airbag, power steering, automatic climate control, alloy wheels, power windows front, and front fog lights.
Renault Car Insurance Price
There are a number of factors that come into play in deciding the premium of a car. Listed below are some of the major deciding factors for the car insurance premium of various Renault models.
Age of the vehicle
Condition of the car at present
Market value of the car
Type of coverage required
| | | | | | |
| --- | --- | --- | --- | --- | --- |
| Car Model | Variant | Ex-Showroom Price(Lakhs) | IDV* | Zero Depreciation (Add on)* | Premium* |
| Duster | RXL Petrol MT 106 PS(1498 cc) | Rs.12.99 | Rs.1,135,440 | Rs.4542 | Rs.14,969 |
| Kwid | RXT Petrol(999 cc) | Rs.4.49 | Rs.363,850 | Rs.1146 | Rs.8,604 |
| Captur | 1.5 RXE Petrol(1498 cc) | Rs.9.49 | Rs.684,000 | Rs.2736 | Rs.12,808 |
| Triber | RXL Manual Petrol (999 cc) | Rs.5.74 | Rs.469,395 | Rs.1878 | Rs.10,279 |
| Lodgy | RXL 110 PS Diesel (1461 cc) | Rs.10.53 | Rs.613,472 | Rs.1958 | Rs.17,364 |
*The values are stated based on the city (Kolkata) and date of registration (2020).
Inclusions & Exclusions of Renault Car Insurance
Inclusions
Listed below are the inclusions in the Renault Car Insurance plan:
Third-Party Liability
Cover for own damage
Theft of the car
Loss due to vandalism and civil disturbances
Loss due to natural disasters like tornado or hurricane
Loss due to fire
Cashless repairs at garages within the network
Exclusions
The below listed exclusions are applicable to your Renault Car Insurance Plan:
Loss due to contributory negligence
Normal wear and tear with time
Damage to tyres
Driving without a valid license
Driving drunk
Discounts
The below-listed discounts are available on your Renault Car Insurance:
No Claim Bonus: - You can get a waiver on your Renault car premium prices for every claim-free utility. Get up to 50% off of your premium price if you have not filed a claim in the last 5 years with No Claim Bonus on your car insurance.
Installation of Security Devices: - Getting your car updated with the Automotive Research Association of India approved anti-theft device can account for a discount on your Renault car insurance premium.
Membership in AAI: - You are eligible for a discount on your car insurance premium if you are a member of Western India Automobile Association (WIAA) or Automobile Association of India (AAI.)
Add-ons on Renault Car Insurance
There are various add-ons which any policyholder can avail to increase the cushion of car insurance coverage. Listed below are some add-ons to look out for your Renault Car:
Emergency Road-side assistance: The emergency add-on cover will allow you to avail services like towing, change of tyres and maintenance on emergency breakdown service all round the clock. If you are in need of spot service in the event of a roadside breakdown, having emergency road assistance add-on will ensure that the damages to the car are taken care of.
No Claim Bonus: With the No Claim Bonus add-on, one can get a discount anywhere from 20-50% on the premium of your car. Claim-free utility up to five years can earn you 50% off of the premium of your Renault car.
Key replacement: This add-on provides coverage for the replacement of car keys in case they are lost or stolen. In any case, the car owner must register an FIR stating details about the theft and submit it to the car insurance provider.
Zero depreciation: The zero depreciation add-on cover functions by compensation for the amount of claim which is deducted by the insurance company due to depreciation. Therefore, the car owner is eligible to receive 100% coverage for every part of the car.
Return to Invoice: Return to Invoice add-on coverage reimburses the gap between the IDV and the invoice value of your car. In the event of total loss or theft of the car, the insured is eligible to receive IDV less the invoice value of the car along with the cost of registration and taxes.