Oriental Individual Mediclaim Policy
With the increase in health problems, medical costs are also increasing. And at the same time, it is getting difficult to manage financial stress.
Oriental Health insurance offers unique and basic health insurance cover, designed to take care of all your medical expenses related to the Hospitalization/Domiciliary hospitalization of the policyholder in the following conditions:
Sudden illness
Accident
Surgery to treat any disease that arises during the policy period.
The comprehensive health insurance plan provides coverage on hospitalization expenses, domiciliary costs, organ donors,s and much more for individuals between the age of 18 to 65 years for treatment in India. The sum insured option ranges from Rs. 1 lakh to Rs. 10 lakhs. You can also include your family under the same policy. Let's discuss the plan in detail.
Eligibility of Individual Mediclaim Policy
| | |
| --- | --- |
| Minimum Entry Age | 18 years |
| Maximum Entry Age | 65 years (this can be extended up to 70 years) |
| Members to be covered | Up to 7 members |
**Last Updated on July, 2021
Key Features of Individual Mediclaim Policy
The pre-existing diseases are covered after four renewals consecutively.
The plan offers amazing discounts such as a family discount of 10% if more than one member is covered under the plan.
There is no provision for the medical examination for persons up to the age of 55 years.
The insured person is provided with a lump sum amount at the time of hospitalization. The money can be used for meeting additional expenses or for compensating for the income loss during the entire period of hospitalization. This plan provides a daily cash allowance in case of more than 2 days of hospitalization.
The ambulance charges are also covered under this plan that involves the transportation of the policyholder from one hospital to another for medical treatment.
Get the free look period of 15 days from the date of the policy receipt to renew the terms and conditions.
They offer you an option of a grace period that is of 30 days for the payment of renewal premiums.
Options for personal accidents are also available for sum insured from Rs. 2 lakhs to Rs. 10 lakhs.
This plan also covers the hospitalization expenses incurred for the organ donor treatment of the policyholder.
Coverage Details of Individual Mediclaim Policy
| | |
| --- | --- |
| Sum insured | Rs. 1 lakh to Rs. 10 lakhs |
| Renewability | Lifetime |
| Policy Term | 1 year |
**Last Updated on July, 2021
Hospitalization Benefits
Expenses covered
Limits
Nursing, Boarding, and Room expenses which are provided by the Nursing home
Not more than 1% of the sum insured per day
ICU (Intensive Care Unit) charges
Not more than 2% of sum insured options
Fees of Doctor, specialist, medical practitioner, surgeon, and Anaesthetist
As per the limits of the sum insured
Anaesthesia, OT charges, Surgical equipment, blood and oxygen
Chemotherapy, radiotherapy, medicine & drugs X-ray and laboratory tests
As per the limits of the sum insured
Expenses related to Ambulance
Rs 2,000 or 1% of sum insured per hospitalization whichever is lower
Not more than Rs. 4,000/-
Daily hospital cash
0.1% of the sum insured per day subjects to 6 days maximum for an insured person during the complete policy time.
2 days of deductible also applies for each hospitalization.
Pre and Post Hospitalization expenses
This plan covers the expenses incurred for 30 days before the hospitalization and up to 60 days after the discharge from the hospital.
AYUSH Treatment
The policy covers expenses for AYUSH treatment such as Ayurvedic/homoeopathic, Unani only when the treatment is done as an in-patient or in a Government hospital.
Domiciliary Hospitalization
20% of the sum insured that is subjected to a maximum of Rs. 50,000 per policyholder during the whole policy tenure.
Dog bite treatment or rabid animals such as monkeys, cats etc.
This plan covers expenses maximum up to Rs. 5,000 for an incident.
Optional Covers
Personal Accident that covers death and permanent disability
Sum insured in multiples of Rs, 2,00,000 up to Rs. 10,00,000 above the age of 18 years.
For less than 18 years of age - Maximum coverage of 4 lakhs is applicable
**Last Updated on July, 2021
Waiting Period
The expenses incurred on the following discussed diseases/surgeries manifested after the starting of the first policy, are not payable during the waiting period specified below:
| | |
| --- | --- |
| Diseases/Surgeries | Waiting Period |
| Polycystic Ovarian diseases | 1 year |
| Congenital Internal diseases | 2 years |
| Calculus diseases | 2 years |
| Diabetes | 2 years |
| Gout and Rheumatism | 2 years |
| Piles | 2 years |
| Hypertension | 2 years |
| Joint Replacement | 2 years |
| Sinusitis and its related disorders | 2 years |
| Osteoarthritis and Osteoporosis due to age | 2 years |
| Surgeries related to gallbladder and bile duct | 2 years |
| Surgeries related to the genitourinary system | 2 years |
| Cataract | 2 years |
| Hernia Surgery | 2 years |
| Undescended Testes | 2 years |
| Hydrocele surgery | 2 years |
**Last Updated on July, 2021
Sample Premium Rates
This graph illustrates the premium rates payable by an individual for choosing coverages at the different sums insured and at the ages of 30 years. Let's understand this with the help of a graph that represents the Oriental Health Insurance Premium chart.
Premium Rates of Oriental Individual Mediclaim Policy at age and different sums insured.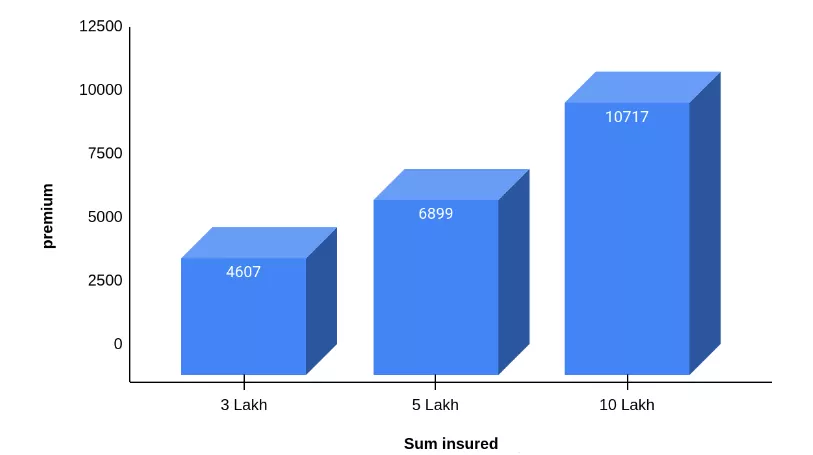 Exclusions
Here are the major exclusions under this plan:
Self-inflicted injuries
Suicidal attempt
Venereal diseases treatment
Sexually transmitted diseases, HIV, AIDS treatment
Health issues arising because of military, air, and naval operations
Hospitalization because of the Breach of law with criminal intent
Nuclear war/explosion
Adventurous sports/hazardous activities
Complications related to pregnancy and childbirth
Health diseases due to nuclear radiations or from nuclear waste
Overdosage of Alcohol/drug/substance abuse
Claim process of Oriental Individual Mediclaim Policy
There are two claim processes offered by Oriental Individual Mediclaim Policy: Cashless and Reimbursement Process.
Cashless Claim
In case of an emergency or planned hospitalization, follow these steps for a smooth and quick claim experience:
Fill the claim application form completely which is required to be approved by the network hospital.
After approval, your documents and all related information will be verified by the insurer.
Determine the eligibility to get the claim benefit.
After completing the entire process, a pre-authorization letter will be sent to the hospital enlisted with your insurer. The form mentions the amount required to be paid by the insurer.
All the documents are required to be sent to the Oriental Insurance Registered office or you can send them via mail.
Reimbursement claim
For a reimbursement process, third-party administrators will be informed within a week of your hospitalization.
Information such as details of the insured members, policy number, details of the hospital, injury type, and the name of the doctor is required to process the claim.
Submit the documents related to the claim along with the medical bills/receipts within 30 days of getting discharged from the hospital to the TPA division or Oriental Insurance Company.