About Tata Motors
Tata Motors is the automobile division of the Tata group of companies, one of the top corporate entities of India. The company founded in 1945 is known for its range of commercial vehicles on offer. In 1988, the company started offering passenger cars. It is the fourth largest carmaker in India. It had a market share of 16.1% in 2007, its highest ever. At present, its market share is 5.1%. In the commercial sector though, the company continues to dominate the market with a 44% market share.
Top 4 Tata Motors Car Models
The top car models offered by Tata Motors in India are:
1. Tata Tiago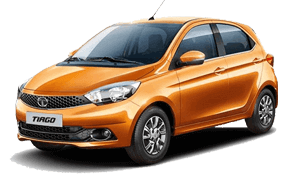 The Tiago has a sporty front design with a piano black front grille. It features next-gen technology entertainment with a 7-inch infotainment system with 8 speakers. The 1.2 litre BSVI petrol engine delivers a mileage of 23.8 km/l. Its features include fully automatic temperature control, park assist display, contrast black roof, front fog lamps, dual airbags, and ABS.
2. Tata Altroz
It is a 5 seater Sedan with length 6092 mm, width 1990 mm and wheelbase 3820 mm. It has 1 petrol engine on offer with an engine displacement of 6749 cc. It is available with automatic transmission. The model gives a mileage of 9.8 kmpl. The max torque of the model is 720Nm@3500rpm. The max power of the model is 453bhp@5350rpm. Rolls-Royce Phantom comes with boot space and fuel tank capacity of 460 litres and 100 litres respectively. It has features like power steering, anti-lock braking system, fog lights - front, alloy wheels etc.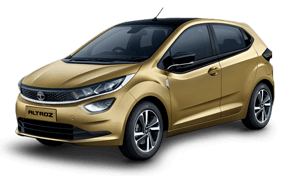 3. Tata Harrier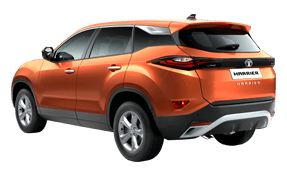 Tata Harrier is Tata Motor's premier SUV car that comes from the Land Rover background. It has a Kryotec 170 BC VI engine with 1956 cc capacity. The ample boot space of 456 litres can be further expanded to 810 litres by folding the rear seats. The fuel tank capacity is 50 litres and the mileage of this SUV is 17 km/l. The oak brown dashboard adds class to the interiors. The top features of this car are cruise control, ESP terrain response, 8.8 inch touchscreen infotainment system, adjustable lumbar support for driver's seat, reverse camera, push start, 6 airbags, and hill descent control.
4. Tata Nexon
The Tata Nexon is a 'nex level car' available in seven different variants. The car has a 1.2 L petrol engine with 1199 cc capacity and a 1.5 L 1497 cc diesel engine. It has a 6-speed transmission. The car has steel wheels with alloy covers. The car has a wide range of 'nex level' features that make it attractive for customers, which include a steel structure fortified cabin, electronic stability program, ABS with ED, reverse parking assist, electric sunroof, grand central sunroof, iRA technology, ground clearance of 209 mm, cruise control, rain-sensing wipers, auto headlamps, and a cooled glove-box.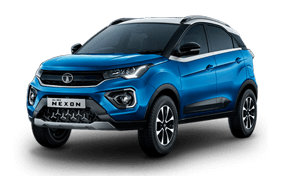 Tata Motors Car Insurance Price
Tata Motors car insurance premium is calculated depending on the type of car, engine, year of manufacture, and few other factors:
| | | | | | |
| --- | --- | --- | --- | --- | --- |
| Car Model | Variant | Ex-Showroom Price (Lakhs) | IDV* | Zero depreciation (Add on)* | Premium (Basic)* |
| Tata Tiago | Revotorq XZ Petrol 1199 cc | Rs.4,92,000 | Rs.4,62,686 | Rs.3,176 | Rs.16,178 |
| Tata Altroz | XE Petrol 1199 cc | Rs.5,29,000 | Rs.4,49,650 | Rs.2,228 | Rs.14,701 |
| Tata Harrier | XE Diesel 1956 cc | Rs.13,69,000 | Rs.10,85,841 | Rs.4,886 | Rs.29,909 |
| Tata Nexon | XE 1198 cc Petrol | Rs.6,95,000 | Rs.5,54,135 | Rs.3,725 | Rs.17,491 |
*Prices quoted at Delhi prices for 2020 basic model
Tata Motors Car Insurance Inclusions & Exclusions
Inclusions:
Any damage caused to your car due to an accident is covered under the policy.
Damage caused to a third party or injuries caused to a third person will be included in the policy.
Losses you suffer due to the theft of your car can be reimbursed thanks to its coverage.
Natural disasters like floods and earthquakes are covered under the policy allowing you to be able to make claims.
Man-Made hazards like fire and explosions are also covered.
Any damage because of natural calamity.
Exclusions:
Wear and tear to the vehicle that happens as you use it.
Any damage caused to the car's engine or to the tyres or tubes is excluded, which means you cannot claim these expenses.
Breakdown of the car due to electrical or mechanical failure is not covered.
In case you are driving the vehicle without having a valid license or if you are driving under the influence of stimulants like alcohol or drugs, then any claim you make will not be considered.
Damages caused due to war, invasions, and military rebellions are not covered.
You cannot use the car for commercial purposes and any claims as a result of this is excluded.
Damages caused by using the car for racing is not covered.
Discounts
You can get different kinds of discounts on your Tata Motors car. The following are some of them that you can look for:
No Claim Bonus: If you do not make any claim on your policy, you are entitled to a bonus. You can accumulate this bonus for up to 50% and get a good discount on the premium.
Voluntary deductible: You can select a voluntary deductible, which is an amount that you need to pay for repairing your car in case of damages. Opting for this deductible will entitle you to a lesser premium on insurance.
ARAI approved devices: The ARAI has approved certain anti-theft devices to secure your vehicle. Installing them in your car will entitle you to a discount.
Add-ons
Add-ons are optional features that make your insurance even more comprehensive. Some of the add-ons for your Tata Motors car include:
Zero-depreciation cover: When you buy this add-on, you get complete protection for your car from bumper to bumper without depreciation being calculated on parts.
Invoice Price: Every year the IDV of the car is reduced and any claim you make is on the IDV. This add-on ensures that when you make a claim, the invoice value will be considered for the claim.
NCB Protector: If you make a claim on insurance, you lose the no claim bonus. This add-on will protect your NCB and you will not lose it, in case of a claim.
Consumables Cover: Costs of consumables are not covered under insurance. This add-on will allow it to be covered.
Key & Lock Replacement: In case you lose your car key, the cost of replacement is covered under the policy