A life insurance policy provides you coverage against life risk. The plan can be bought as insurance as well as investment. There are several types of life insurance which provides you facilities according to your choice and preferences.
Policies like Term Insurance plans provide pure life insurance. On the other hand, you have endowment plans which along with insurance acts as an investment. So, one should never terminate a life insurance plan as it is very beneficial and supportive in hard times. Mentioned below are a few of the reasons why one should not quit a life insurance plan.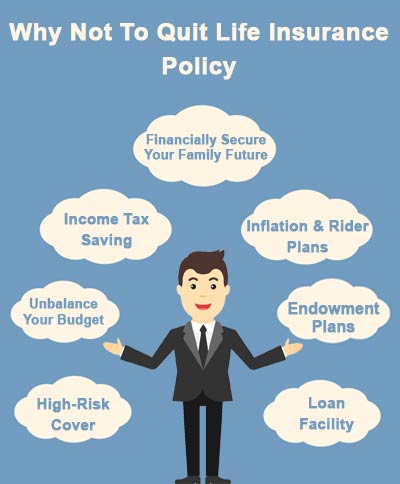 1. High-Risk Cover
Life insurance provides you coverage for life. The high-risk cover is always helpful and beneficial to both the insured.
2. Financially Secure Your Family Future
The uncertainty of life can land your family into big trouble after your death. Hard times require money along with the courage to face. The life insurance policy can act as a legacy for your family and children. They can clear debts and manage their initial phase of life. The death benefits of life insurance are always profitable. Cancellation of policy in between can deprive the family of policy benefits.
Read: Why Choosing Life insurance Product Is Important?
3. Surrender Charges Can Unbalance Your Budget
In case one is planning to quit a life insurance policy in mid then the payable surrender charge could be a burden on the budget. The insurance companies have a procedure of surrender amount in plans like:
Endowment plan Money-back plan Whole life insurance plan, and Unit-linked insurance plans
So, always try to have complete information regarding the policies you are investing in.
4. The Benefit of Income Tax Saving
Under section 80C of the Income Tax Act, 1961 one enjoys the full-fledged benefit of tax savings. In case of termination of the policy, one can be subjected to heavy tax payment. Tax saving is also one of the reasons because of which people invest in insurance policies.
5. Endowment Plans
These plans act as both insurance policy and savings plans. In case one dies one gets the insurance amount and if one outlives the policy tenure s/he get the lump-sum maturity amount. So, in both the situation you have the benefit of the plan. The education of children and their other needs can be planned from the lump-sum amount attained after the maturity term.
You may like: Types of Term Insurance Plans in India
6. Inflation and Rider Plans
In the world inflation prices are so high. Falling ill brings a financial burden onto you. The rider plans in the life insurance plan like accidental disability, critical illness, etc at extra premiums, bring great relief to the insured.
7. Loan Facility
Few insurance plans offer loan facilities. The life insurance policy other than saving your life can get you a loan. The amount of loan is equivalent to the surrender value and according to the type of insurance policy, one withholds.
8. Remove Riders Not Relevant To You And Which Charges Extra
Paying for a service that you would never use is not at all intelligent. The riders make you pay a higher premium and in case if you find any of the riders useless you can get that excluded from your insurance plan. For this, you never need to quit a plan.
Conclusion
Safeguard your life and family's future with life insurance. Opting for termination of a life insurance policy helps you nowhere. Insurance acts as a backup plan and acts as an umbrella that saves you from all the mishaps. For a better understanding of life insurance policy and their different plans, the Customer Care Services of PolicyX is always there for your assistance.
Related Articles:- Life Insurance Riders - An Add on to Life Insurance