Despite witnessing the growth of 11.36 % in insurance companies' collective premium income during March 2020, the proportion of insured individuals is still low in India. That means hundreds and thousands are woefully unprotected from life's uncertain miseries like death, accident, or disability. 
A life insurance policy grants you and your loved ones a protective financial cover against life risk. It combines dual benefits for its holders including – insurance as well as investment. If you wish to protect your loved ones even when you are not with them, then life insurance is a great option.
Broadly speaking, multiple types of life insurance are available in the market to fulfil your financial needs at different life stages. All you need to do is to select the right plan for you, depending on your needs. However, remember, once you invest, don't quit the life insurance policy before the maturity date or lock-in period.
Thinking Why Not To Quit Life Insurance Policy?
Below are a few reasons for the support. These may help you to rethink your decision, in case you are planning to quit your life insurance policy.
1. Financial Security For Family Members
Being a family person, we all have some financial liabilities like payment of bills, school or university fees of children, EMIs of household essentials, and more. But, what if, we met with an accident or died of a heart attack. Do we have a policy like life insurance that favours our family members in managing their financial needs after we left them?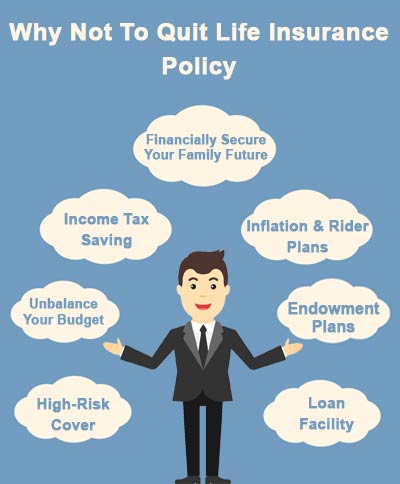 A right life insurance plan provides financial security to your loved ones after your demise. If you suspend your plan in between, then your family members may not get benefits.
2. Life Cover
Misfortunes can happen anytime and with anyone; however, planning at the right time can help you and your loved ones in facing hardships. The life insurance policy offers one of the best risk covers to its policyholder against any unfortunate event like accident or illness for lower premiums.
3. Need To Pay Surrender Charges
Yes, you need to bear a tragic loss after the cancellation of your life insurance policy in between. Quitting the policy before completion of the term-period entitles you to receive a certain amount, which is much lower than the total premium you have already paid for the policy. The amount which gets deducted is known as surrender charges, and it depends on the type of life insurance policy, numbers of premium paid, amount of premium, and paying term. So, it is suggested to get a grasp of all terms and conditions of your policy before investing in it.
4. Tax-Saving Benefit
Many policyholders just invest in life insurance policies to take dual-tax benefits. Under section 80 C of Income Tax Act, 1961, you can avail the benefit of the tax deduction for the amount paid up to 1,50,000 paid as premium for a life insurance policy. In addition, under Section 10(10D) of the Income Tax Act, you may not need to pay any tax for the matured amount. So, on cancelling the policy in between, you are no more subjected to avail such benefits.
5. Benefit of Loan Facility
Besides being a protective cover, your life insurance policy can even help you in availing the benefit of loan facility against your policy. Do you need anything more?
As compared to the personal loan, the rate of interest charged against the insurance policy is quite lower. The interest rate depends on the number of premiums paid as well as the amount of premium. Simply, if you have paid more numbers of premiums of your policy with more amounts, then your rate of interest of loan would be lower. So, instead of cancelling your insurance policy, think about another better option.
Important: Term + Ulip Combo For Optimal Returns, Risk and Tax Savings
6. Assured Income After Retirement
The percentage of employees in the private sector is quite high in India, and most of them don't have a pension benefit. So, they need a source of assured income after their retirement to support their bread-butter. Fortunately, if you are a policyholder of life insurance, then you don't need to worry. The life insurance policy offers you and your spouse assured income in the form of annuities. Besides protecting you against life risks, your policy can support you in your retirement if you survive its maturity period.
7. Option To Add Riders
The ultimate aim of all insurance plans is to fulfil its policyholder's need to the fullest. If you think that your insurance plan is not covering your needs, then instead of cancelling it in between, you can add riders to your current insurance plans. For example, inflation riders provide you with an increase in your death benefit every year by a fixed percentage so that inflation or rising medical expenses can't trouble the happiness and needs of your loved ones in the future.
8. Option To Remove Riders
Yes, you are free to add as well as to remove riders from your insurance plan whenever you like. Undoubtedly, riders may increase your premium amount and burden to your budget. So, instead of quitting the insurance plan before maturity, you can remove riders from your plan. In this way, you have to pay a lower premium, and you can enjoy the benefits of the plan after maturity.
Read: Will Your Life Insurance Cover Death Due To Coronavirus?
Conclusion
Life is uncertain; however, buying the right life insurance policy can help you and your loved ones to plan things in future, even if you are not with them. Choose your life insurance policy wisely as surrendering the policy in between takes you to the loss only. To know more about life insurance policies and plans, feel free to contact the customer care services of PolicyX.com. The team is just a call away from you. Here, you get the best assistance from experts for your insurance plan.