Do you ever get up in the middle of the night and think, what will happen to my family when I'm gone? Who will look after their financial needs? It's a scary thought, isn't it? Don't worry. You are not the only one.
There must be 100's of people who have an active relationship with this nightmare. Unfortunately, these people try to forget their fears and accept the hard reality of having an unpredictable future. Frankly, riding your life without having a financial backup is a rookie's mistake. Sudden financial loss/burden can tear your family's life apart. No one will like to experience that.
Keeping the above thought in mind, Life Insurance Council has launched the 'Sabse Pehle Life Insurance' campaign on 4th December 2019 for the Indian market. The council wants people to give their families a debt-ridden life even when they are not around. Honestly, this campaign will give people's nightmare a run for its money.
The Truth Behind "Sabse Pehle Life Insurance" Campaign
As the name suggests, the main agenda of this campaign was to make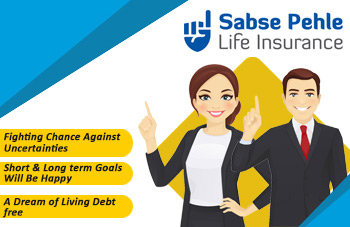 people aware of life insurance. Sadly, there are only a few pockets of Indian society that are briefly aware of the advantages of life insurance. For example, an IRDAI's report states that only 3.69% of the Indian population are aware of life insurance. This statistic was for the year 2018. Who knows what will happen in the future. 
Honestly, only half of the blame goes to poor promotion of life insurance. The other half goes to people's mentality. According to them, life insurance is their golden ticket for a tax-free future. Also, people are least interested to invest in a plan which guarantees the long-term financial safety of their members. 
This campaign wants to put a dent in their wrongful thinking. To lay a helping hand, 24 insurance companies have joined the ranks with a hope to promote this campaign even in the far-reached sections of the Indian society. 
From routinely to financial problems, its precautions will be the talking points of this campaign. To make it a hit, a mix of traditional & digital routes will be used. The campaign will be promoted in different languages such as Tamil, Bengali, Telugu, Kannada, etc. No corner of the Indian map will be left uncovered. 
What Types of Life Insurance Plans Exist in The Market?
To target different requirements of society, life insurance is loaded with 7 policies. Let's find out more about them. 
Endowment Plan- It a perfect mixture of insurance & savings. The premium of the plan will act as a life cover and the remaining amount is invested by the person. 
Child Insurance Plan- This plan will take care of your child's future such as education, marriage, business, etc.
Whole Life Plan- It will have your back by offering coverage for a lifetime/99 years. 
Retirement Plan- When you are old, you can't worry about having a sufficient bank balance. With this plan, you can build a financial fortress to enjoy an old but worry-free life. 
Health Insurance Plan- This plan will handle your hospital expenses without troubling your wallet. 
Term Insurance Plan- If the policyholder is dead, this plan will offer financial support to his/her family. 
Unit Linked Insurance Plan- If you are someone who desires an investment + savings plan, this is perfect for you. The premium is locked for insurance and the remaining amount is put into equities, funds, etc. 
Why Sabse Pehle Life Insurance?
The benefits of life insurance are the backbone of this campaign. Without it, it is like planning to drive a car without any fuel. So, let's discuss a few pointers which specify the benefits of buying life insurance. 
A Fighting Chance Against Uncertainties- A perfect life is a myth. You never know when a problem can strike you down. When that happens, you need a financial stockpile to cover your expenses. For example, disability via an accident or long-term illness (like cancer) will put pressure on your wallet. In such cases, life insurance will take care of your expenses. 
Short-term & Long-term Goals Will Be Happy- Life Insurance knows how to keep its clients happy. By its grace, your long-term (education) & short-term (buying a new bike) goals will be successfully met. 
A Dream of Living Debt-free- Today, it's quite expensive to have a decent living. Buying a product/service by paying in full is just a far-fetched dream. So, people take loans for studies, cars, houses, etc. Sometimes, people are unable to pay the loans because of illness, death and the pressure to pay the loan is landed on the next bread earner of the family. However, if you have life insurance, your financial liabilities will be in good hands. 
Every person wants his/her family to stay financially safe & life insurance can guarantee that. But don't take a blind step. Check the life insurance premium which will be suitable for you. Get up and make a smart move. Your family is counting on it.