Narendra a 35-year-old techie working with an IT major has been investing in mutual funds and stocks for a few years. He is comfortable taking risks to generate higher returns and has SIPs in various equity-based funds. As a prudent investment philosophy, he believes that it is not wise to make all his investments in mutual funds and stocks as they are subject to high volatility.
Also, from an asset allocation perspective, he feels that his investments are highly tilted towards equities. As it is rightly said, 'Do not put all your eggs in the same basket'. Hence, he is looking to diversify his investments and make some investments in relatively safer avenues that can help him build a corpus to fund long term goals such as children's education, his retirement, funding for his dream retirement home, etc.
On hearing his requirement, his friend Amrish who is a financial advisor suggested that he consider an endowment life insurance plan. Narendra was interested and wanted to know more. This is what Amrish explained to him about endowment plans:
What is an Endowment Plan?
An endowment plan is a life insurance plan which combines savings and life insurance into a single product. It is essentially a long-term product designed to cater to long term financial goals. In case of death of the life insured during the policy term the sum assured is paid out as a death benefit to the nominee. In case the life insured survives the policy term, a lump sum amount is paid out as maturity benefit.
Any life insurance plan which combines life insurance and savings and pays on death or maturity can be termed as an endowment plan. Thus, it can be a unit-linked insurance plan (ULIP) or a Non-ULIP. However, generally, only a non-ULIP saving linked life insurance plan is referred to as an endowment plan.
Features of an Endowment Plan
Low Risk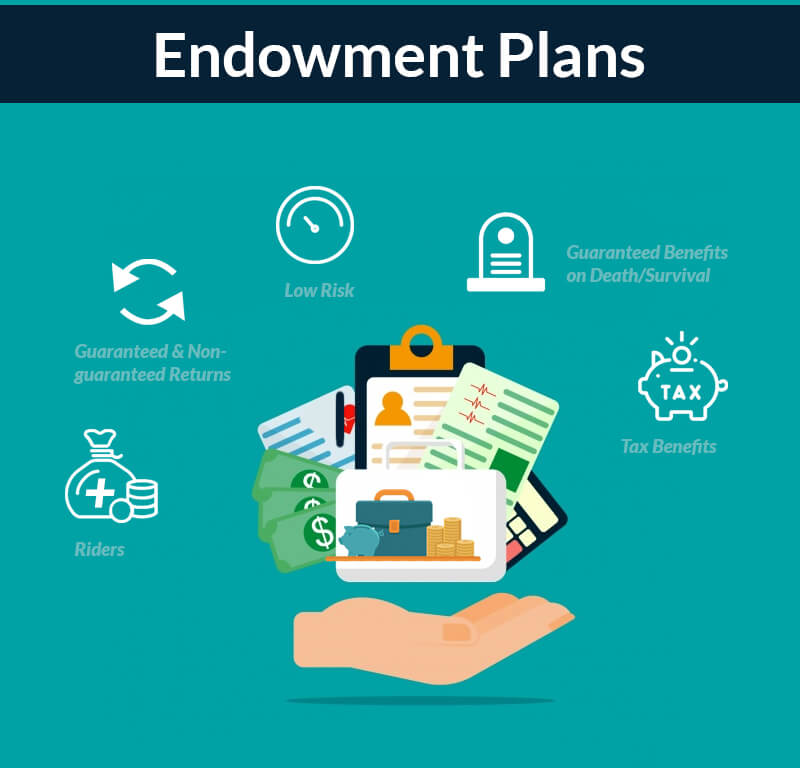 These plans are relatively safer than mutual funds and ULIPs as investments are not made in the capital markets. This makes an endowment plan suitable for very risk-averse investors and for those who wish to diversify their assets to include low-risk products.
Guaranteed Benefits on Death/Survival (Traditional Endowment Plans)
Unlike term plans which provide an only death benefit, an endowment plan pays irrespective of whether the life insured dies or outlives the policy term. Hence it is aptly called a savings cum protection plan. Further, as compared to ULIP plans or mutual funds where the benefits are by market performance and conditions, a traditional endowment plan outlines beforehand the amount payable on death and maturity. This makes it suitable for those who seek certainty and want to know exactly what they will get before committing to the policy.
Guaranteed and Non-guaranteed Returns
Other than the guaranteed benefits which are known upfront, these plans also offer a mix of guaranteed returns such as guaranteed additions and non-guaranteed returns such as various types of bonuses. Guaranteed additions are fixed amounts added to the policy at the end of specific policy years or the end of each policy year (as per product specifications). Bonuses are variable and depend on company performance. These features help to increase the benefits of receivable under the policy. These benefits accrue in the policy are payable at the time of maturity or death of the life insured.
The flexibility of Policy Term and Payment Term
You can choose the policy term, payment term, annual premium and thus customize the policy to meet your specific long-term goals. You can choose a policy term till a specific age (eg: till age 65, till age 75) or for a chosen term (20 years, 25 years, etc) or even whole life. Longer duration payment periods are best for people with a regular source of income like salaried people. You can also choose a single pay policy or short pay terms.
Premium Payment Frequency
A variety of payment modes such as Annual, Semi-annual, Quarterly, and Monthly can be opted for.
Tax Benefits
Tax benefits are available for premium payments, maturity benefits and death benefits under section 80C and 80D of the Income Tax Act.
Riders
You can enhance the coverage under the policy by adding riders like total permanent disability, accidental death, and dismemberment, critical illness, waiver of premium and term rider. Some plans offer waivers in the premium payment on total permanent disability or critical illness.
Types of Endowment Plans
Endowment plans are usually traditional policies and fall under one of the two categories:
Participating Plans
These are plans where the policyholder participates in the profits generated by the insurance company after payment of claims and costs. The company shares the profits with the policyholder by way of declaring a bonus or dividend. These plans are also called with-profit plans. The bonus that is given is not guaranteed. The accumulated bonus is paid out along with the maturity benefits or with the death benefit in case of a death claim. The bonuses help the policyholder accumulate a tidy sum over and above the guaranteed benefits.
Non-participating Plans
These are plans where the profits earned are not shared with the policyholder and no bonuses or dividends are paid to the policyholders. However, to make these plans attractive and competitive, most companies usually provide guaranteed additions on completion of specific policy years which help to increase the benefits under the policy. Guaranteed additions are usually calculated as a % of the sum assured. The premiums of non-participating plans are usually a little less than those of participating plans.
Who Should Buy an Endowment Plan?
Endowment plans are long term products and longer the policy period, the better the overall benefit would be. The keywords here are 'long term' and 'regular savings'. Hence it is best suited for people who are looking at generating a corpus for long term needs and who can invest a certain amount of money regularly to achieve this goal. People with a regular and predictable stream of income like salaried individuals should consider these plans so that the policy continues uninterrupted without policy lapsation.
However, those who do not have a regular and defined income can still opt for these plans by buying single pay (premium payment is done only once at the inception of policy) or short pay policies (here premium payment term is lesser than policy terms such as a policy with 5-year premium payment period and a policy term of 20 years).
Another important point to note is that these plans offer lower returns than mutual funds and stocks as they invest in safer options. Hence those who are risk-averse and value capital protection and guaranteed returns over higher returns should consider these plans.
It is also a good option for those who wish to diversify their portfolio to include risk-free and guaranteed products.
Further, people who are impulsive spenders or find it difficult to save money regularly can go for these plans as they help to inculcate a disciplined approach towards savings.
What to Check While Buying?
As endowment plans are costlier than term insurance plans and need regular premium payment over several years, a mistake in selecting the right plan can prove disastrous. While choosing the premium amount and payment term, check whether you will be in a position to commit to that amount for the selected payment term. This is very important as the inability to do so will lead to policy lapsation. Also, do consider factors such as your current life stage and the goals which need to be funded with the corpus.
As bonuses and guaranteed additions play an important role in increasing the benefits of these plans, check the company's track record in bonus payouts. Also, pay special attention to the guaranteed addition feature. As endowment plans are considered as a savings plan, do weigh in all the receivable benefits and try converting it into a simple ROI to understand the actual worth of the plan. 
It is always best to choose endowment plans which are easy and simple to understand because you would be paying a decent amount as premium and would not wish to be stuck with a plan with hidden or complex features that you realize only later.

Also choosing a plan with in-built riders or customizing your policy with riders can enhance your coverage.
Illustration:
HDFC Life Sampoorn Samriddhi Plus (with HDFC Life Critical Illness Plus Rider) offers returns as under:
| | |
| --- | --- |
| Date of Policy commencement | 29 April 2019 |
| Age of Life Insured (as on last birthday) | 35 years |
| Policy Pay Period | 10 years |
| Policy Term | 15 years |
| Annual Premium | Rs 64,786/- (inclusive of rider premium) |
| Frequency | Annual |
| Sum Assured | Rs 5,00,000/- |
| Total Maturity Benefit | Rs 10,92,500/- |
(inclusive of guaranteed and non-guaranteed benefits, assumed investment return 8% p.a.)
Conclusion:
Endowment plans offer guaranteed but lower returns in comparison to other financial instruments. However, they help in diversifying one's portfolio and those keen on long-term risk-free savings should take a look at the various competitive endowments plans available in the market.s