It is needless to say why a life insurance plan is important, but many of your refuse to understand the reality of life and what would happen if you are suddenly not there to give your family financial protection and support.
As a responsible family member or head of the family, it is your responsibility to keep them protected even when you are gone. If you ignore this the results can be heartbreaking for your family member living with a huge financial crisis, all the pending bills and even worse pending home loans, which cannot be managed by them so the smarter step would be to get a best life insurance plan that works for your loved ones.
Talking about life in an insurance policy, if your looking for permanent security, then Whole Life Insurance should be considered as it covers your entire family for all their lives. These policies are getting more and more popular with the increasing life threats, be it medical, accidental or natural, etc. Before you choose any random whole life insurance rushingly, here is everything you need to know about the whole life insurance policy.
What Is Whole Life Insurance and How Does it Work?
Just like its name, the whole life insurance plan is designed to cover you up 100 years of age or as long as you live.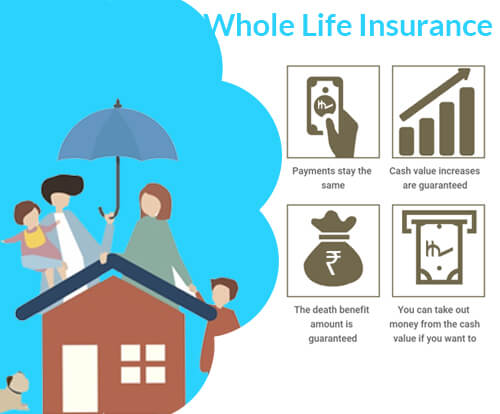 It offers guaranteed death benefits to the beneficiary and the policyholder can decide the sum assured at the time of signing up for the insurance. So, as long as you pay your premium amount on time, you will be covered for all the unfortunate events like death.
Some insurance plans incorporate cash value which you spend and borrow against when you are still alive. This cash value increases every year with the contribution of the premiums you pay. It offers the dual advantage of life coverage and bonus. The premium is paid for the first 15-20 years and the protection is increased till the whole life of the protected.
For example, if you are a 32 years old, and you go for the whole life plan with a  sum assured is Rs 30 lakhs, and then you stop paying a premium when you are 47 years of age, still the coverage would last for your entire life.
Types of Whole Life Insurance Plans
Non-Participating Whole Life Insurance: The easiest and low-cost mode of whole life insurance, this involves a fixed death benefit and level premiums throughout the policyholder's lifetime. This type of policy means that your account will not participate in the investment activities of the life insurance company.
Participating Whole Life Insurance: Opposite to the non-participating whole life insurance plan, this type of whole life insurance plan allows the benefit of rewards. The policyholder gets a chance at the growth and if the insurer's investments work properly, the participating whole life insurance accounts are capable to get additional cash payments as a result. Having greater benefits this policy is higher premium and risks associated with it.
Level Premium Whole Life Insurance: In this type of whole life insurance, premiums are given regularly until the insured is alive. The premiums remain fixed during the policy term.
Limited Payment Whole Life Insurance: In the limited insurance plan, the insured pays the premium for a limited period, but the protection cover is for the entire life or until the person is alive. As it is for a limited period, the premium amount is comparatively higher than the usual premium whole life plans. These payments are for a fixed number of years, such as 10 years, 20 years, or more depending on your age.
Single-Premium: Just as the name indicates, the single premium life insurance plan is designed to pay the premium at a single time. This plan allows a large sum assured which is paid to the beneficiary of the policyholder.
Indeterminate Premium: Rather making the equal premium amount each month, the policyholders are allowed to pay a changeable amount, depending on the insurance company's economic review and actuarial projections, in the indeterminate premium plan.
The benefit is that the company is not performing well and experiencing heavy losses from claims, you can pay a lower-priced premium. But there is also a chance to pay a higher premium if the company is getting economically higher.
Benefits of Getting Whole Life Insurance Plan
Covered for life: As mentioned earlier, Whole life insurance gives coverage to the policyholder as long as he or she lives, which means you don't have to keep worrying about the policy renewal, just pay the premiums and you are covered for life.
Tax Benefits: The premium paid in a whole life insurance policy is tax released under Section 80C of the Income Tax Act, 1961. The amount paid to the candidate is tax-free under Section 10(10D) of the Income Tax Act, 1961.
A source of Cash: There are events when a person needs additional resources to fulfill some expenses. By getting a whole life policy you can get a source of cash to meet these needs and other financial burdens. A whole life policy enables you to use from available cash value for any purpose and return it whenever you can.
Growth in Cash Value: Despite how funds perform, your cash value grows at a secured rate. With a certain period, your policy forms cash value that is not subjected to stock market drops.
Assured Coverage for Life: Whole life insurance guarantees you financial security for you and your family for a lifetime, even when you are not there with your loved ones anymore.
Periodic Payments: When the whole life policy gets matured, you will receive the lump-sum amount as maturity benefit along with the rewards, depending on the type you have chosen. Besides, some of the plans also offer maturity interest in the form of regular pay. This is a great benefit for people above 50 years, looking for financial help.
Enables Loan Facility: Being a lifelong protection plan, whole life insurance allows you to apply for a loan facility against the plan. However, a loan can only be availed if the policyholder finishes 3 policy years and all the premiums are fully paid.
Death Benefits: In case of an unfortunate event like the death of a policyholder, the plan moving still in authority and when premium payments are being paid till date, the nominee or the beneficiary will be receiving the total sum assured along with relevant accumulated bonuses, on the day or after a week of the death.
Benefits to the Dependents: To provide financial protection to the family, whole life insurance is one of the best solutions to opt for. For instance, if you choose a whole-life plan then the spouse will also get extra financial security that can be utilized at the time of retirement as a retirement fund. In case, of the sudden death of the partner, the policy will give a death benefit to the beneficiary or the spouse of the policyholder.
Also Read: - Saving Schemes in India
Moreover, the children of the policyholder also get a  financial backup after the death of the protected person. Hence, this is a great option to live a stress-free life as your family is protected from financial troubles, and you can focus on plans without any hassles.
Who Should Buy Whole Life Insurance?
Not only for the financial protection of your family but to get a regular cash amount as an income, whole life insurance is a great option for the number of individuals.
People who want their family to have a legacy when they are gone.
This plan is a good option of investment for people who want to get a return on investment along with the benefit of life insurance coverage.
People who want to be independent financially after they retire should go for whole life insurance as it comes with a partial withdrawal plan.
People knowing tax saving plans should go with whole life insurance as the premiums of whole life insurance are tax released.
Top Whole Life Insurance Plans in India
PLAN

ENTRY AGE

SUM ASSURED

POLICY TERM

PREMIUM PAYING TERM

PREMIUM

SBI Life - Shubh Nivesh

Minimum- 18 years

Maximum- 60 years





Minimum-Rs.75,000 (x1000/-)Maximum- No upper limit





15 years ( Extended life cover up to 100 years)

Payable as Single Pay, Yearly, Half-yearly, Quarterly, Monthly

Minimum- (Rs.6,000 Half-yearly - Rs.3,000 Quarterly - Rs.1,500 Monthly - Rs.500)

Maximum: No upper limit





Max Life Whole Life Super

Minimum-18 years

Maximum- 50 years





Minimum-Rs.50,000 Maximum- No upper limit





Up to 100 years of age.

10 years, 15 years or 20 years. Payable monthly, quarterly, bi-annually or annually

Minimum- (Rs.8,500 p.a. Excluding taxes and other charges)

Maximum: No upper limit





IDBI Federal Lifesurance Whole Life Savings Insurance Plan

Minimum-18 years

Maximum- 55 years





No limit subject to underwriting approval

Up to 100 years of age.

12 years up to 30 years. Payable monthly, quarterly, bi-annually or annually

Minimum- (Rs.10,000 p.a)

Maximum: No upper limit





HDFC Life Sampoorn Samridhi Plus - Whole Life Insurance

Minimum- 30 days

Maximum-60 years





Minimum Rs.65,463 Maximum- no upper limit

15 years to 40 years

Policy term minus 5 years. Payable monthly, quarterly, bi-annually or annually

Minimum- (Monthly -Rs.1,000 Quarterly - Rs.3,000 Bi-annually - Rs.6,000 Annually - Rs.12,000)

Maximum: No upper limit
Top Whole Life Insurance Plan Available in India
1. SBI Life Shubh Nivesh
SBI Life Shubh Nivesh is one of the best assurance policies that has full life coverage advantage. This is a savings income - protection cover plan to allow you to save regularly for tomorrow and to also get maturity interests as lump sum/regular payments.
Features Of The SBI Life Shubh Nivesh Plan
Systematic savings and income under a single plan.
It gives security to your entire family.
Come with simple reversionary bonuses during the policy term.
Flexibility and affordability through rider benefits and regular income what deferred maturity premium.
Two plan options – endowment and endowment with an entire life option.
2. HDFC Life Sampoorn Samridhi Plus
HDFC Life Sampoorn Samridhi Plus allows the insured to choose between two options for whole life insurance with a limited premium payment endowment where one can enhance the cover up to 100 years of age.  It is also called as straight life insurance or an ordinary life insurance policy.
Features Of The HDFC Life Sampoorn Samridhi Plus
This plan is part of the Par (Life) fund, 22% of which was invested in Equities as of 31st March 2017. This investment balance is at the fund level and would be unusual for an individual plan and would vary throughout the term of the policy.
Flexibility to choose a plan term from 15 to 40 years.
Insured Profits up to 5% p.a. of "Sum Assured on Maturity" for the first 5 years
The plan associates in the advantage of the participating fund by way of bonuses from the 1st year.
Get an extra sum assured in case of unexpected death through the policy term.
Flexibility to choose the premium amount frequency (monthly/quarterly/half-yearly/annual)
Tax Benefit under Section 80C and Section 10(10D) of Income Tax Act, 1961
Get added security by opting for HDFC Life Critical Illness Plus Rider that gives Rider Sum Assured if diagnosed with any of the 19 Critical Illnesses listed.
3. IDBI Federal Whole Life Insurance
This plan brings the whole life saving as an all-weather plan which allows you to enjoy life to the fullest with massive payouts and lump sum amount. The first payouts happen at the end of your premium payment term and second when you are  100 years of age. Additionally, this plan enables you to leave behind a legacy for your children as well as financial security when you are gone.
Features Of The IDBI Federal Whole Life Plan
Preserve your savings with assured additions and an additional bonus to boost the saving amount.
Enjoy double protection with Accidental Death Benefit
Enjoy a discount on the  premium with tax benefits  under section 80D of the income tax act 1961
When your policy gets maturity, you receive maturity sum insured plus vested assured addition reversionary bonuses, if any.
Death Benefits: On the unfortunate death of the insured during the policy term, the payout comprises death sum insured till the date of death plus vested reversionary bonuses accumulated till the date of death plus interim reward, if any plus terminal bonus, if any.
4. Max Life Whole Life Super
Max Life Whole Life Super is a participating whole life insurance policy that accommodates whole life insurance coverage to up to 100 years of age.  The plan offers a bonus convenience to the insured, with special insurance coverage, and is best suitable for people who want to secure the financial future of their loved ones.
Features Of The Max Life Whole Life Super Plan
Maturity Advantage: On fulfillment of the plan term, the policyholder will get an assured payout along with relevant rewards as the Maturity Benefit.
Premium Payout Options: The policyholder has the option to receive the yearly cash bonus declared by Max Life Insurance in three various ways depending on the needs.
Terminal Illness Benefit: In case of any terminal illness, the policyholder is eligible to get 50% of the Guaranteed Maturity Sum Assured immediately upon request.
Death Benefit: On death through the policy term, the nominee will receive a guaranteed payout with relevant bonuses as the Death Benefit and the policy will dismiss.
Tax Benefit: The insured may be qualified for certain suitable tax benefits on premiums and policy benefits.
Eligibility Criteria for Whole Life Policy
Every insurance company asks you to fulfill certain criteria to be eligible to get a whole insurance plan for the financial security of you and your family. Though, some of the criteria may differ as per the companies, here are some common requirements which you need to pass:
The person should be at least 18 years of age, and there are plans for infants as well.
The age limit of some policies is of 60 years of age for as per the entry requirement.
The maximum age upon maturity is 100 years ad the minimum sum assured is around Rs. 50,000.
You can choose to pay the premium amount either in a single premium, for a limited period or the security of the policy. Premiums are due annually, bi-annually, quarterly or monthly.
How to Choose the Best Whole Life Insurance Policy
Research: Start with researching the best whole life insurance plan available with the sum insured availability. Examine if you need whole life insurance or normal term insurance that will work for you. If you want, you can hire an agent who can help you understand the related terms of a suitable whole insurance plan and which would be best for you and your family.
Examine Riders: Riders are features you can add to your policy to get additional protection such as chronic disease treatment and disability expense etc. Some companies offer an additional death benefit rider for no extra cost. Find what are the options you have and choose the best.
Cash Value: If your main purpose to get whole life insurance is to get the income regularly, then check which insurance company features a cash value savings account on the premiums which can grow over time.
Eligibility: Check which plans are available for your age group, and if you are young you have a wide range of options to choose from.
Compare: The best way to choose the most suitable whole insurance plan is to compare the plans online and get your answer within a few seconds. Online comparison of plans help you decide between two of your shortlisted plans or between the top plans.
We at PolicyX, offer you an unbiased and honest comparisons platform where you can get the most suitable answer just by filling your details and requirements.
Anyone who wants to opt for a whole life insurance policy should carefully understand the terms and conditions written on the document and if needed, professional help would be a great option for first-time policy buyers.
You Can Also Read: - Types of Investment in India