National Mediclaim Policy
National Insurance Mediclaim Policy is a traditional health insurance plan that provides comprehensive coverage to the policyholders. This plan was launched by the National Insurance Company to offer financial comfort to the insured at the time of a medical emergency.
The plan looks after in-patient hospitalization (minimum 24 hours) expenses and 140+ day care procedures on a reimbursement/cashless basis. It also offers coverage against expenses associated with allopathic, ayurvedic and homeopathic treatment.
Read more about the features, benefits, eligibility conditions, and exclusions of the plan. It is important to have a clear understanding of all these factors before buying the plan. Let's have a look.
Key Features of National Mediclaim Policy
For the convenience of readers, we've listed down all the key features of this plan. Read below.
In-Patient Hospitalization

The plan looks after all the expenses incurred against room rent/ICU charges, medical practitioner, anesthetist, surgeon's fees, etc. up to the specified limits.

Modern Treatments

To offer a complete package, the policy covers the expenses of 12 treatments including immunotherapies, oral chemotherapies, robotic surgery, among others.

Alternate Treatments

If the insured person wishes to avail of treatment under Allopathy, Ayurveda, and Homeopathy, the plan will cover its expenses (up to 100% of Sum Insured).

Ambulance Expenses

If a situation arises when the insured needs to be taken to the hospital in an ambulance, its expenses will be covered (up to 1% of Sum Insured, maximum Rs.2000) under the policy.

Pre & Post Hospitalization

The plan provides pre-hospitalization cover (up to 45 days) and post-hospitalization cover (up to 60 days) respectively for the same disease/illness/injury for which hospitalization occurred.

Cashless Facility

The plan allows the cashless facility at any network hospital that means you will be saved from paying the treatment expenses yourself as the company will take care of your hospital bills.

Sum Insured Reinstatement

If the insured person (having SI of 6 lakhs & above) finishes off his SI on account of hospitalization claims, the company is liable to reinstate his base SI (according to its conditions).

Preventive Health-Checkups

If the insured person doesn't claim in 4 continuous policy years, the policy will pay for his health-check-up/prescribed diagnostic tests (up to 1% of average basic SI, maximum Rs.5000).

Co-Pay Discount

The company grants a discount on choosing co-pay options. On 20% co-payment, 15% off is given on the total premium. And on 15% co-payment, 10% off is given on total premium.

Cumulative Bonus

In the case of every claim-free year, the insured can earn a cumulative bonus of 5% of the basic SI of the expiring policy.

Special Offers

The policy covers the treatment expenses of certain illnesses like morbid obesity and correction of eyesight (refractive errors above -7.5 D) after their waiting period is over.

Lifetime Renewability

The plan also comes with an add-on benefit of a lifelong renewability option that assists customers for a long tenure.

Tax Benefits

The premium paid towards this health insurance policy is liable to get the helpful tax benefits under section 80D of the Income Tax Act, 1961.
Eligibility Criteria of National Mediclaim Policy
National Insurance Company has fixed a certain set of conditions that customers are required to fulfill to buy this plan. The table given below enlists the eligibility conditions of this plan. Let's check.
Criteria
Minimum
Maximum
Age at entry
18 years
64 years
Sum Insured
Rs. 1 Lakh
Rs. 10 Lakhs
Policy Period
1 Year
Pre & post-hospitalisation
45 & 60 days
Sample Premium Illustration of National Mediclaim Policy
For your convenience, we've provided here a sample chart to illustrate different premium rates of the National Mediclaim Policy. The chart here shows a graphical representation of different premium rates for different amounts of the sum insured.
Note that the premium amounts in this chart are calculated for a 30-year old independent person, buying the policy for himself.
Sample Premium Illustration of National Mediclaim Policy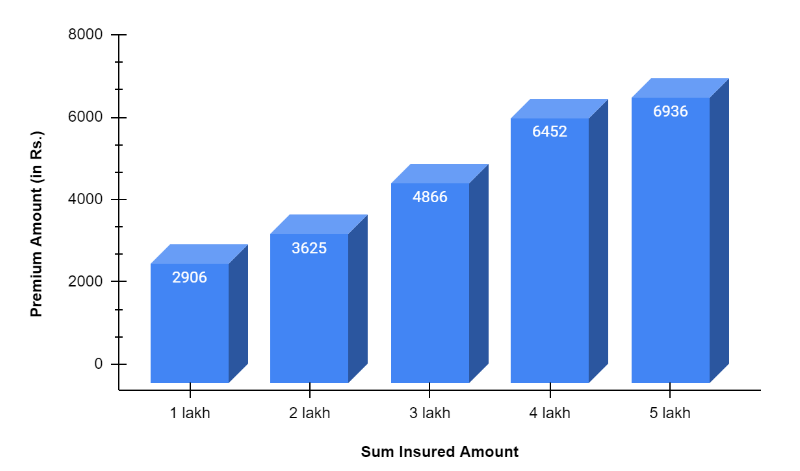 Exclusions of National Mediclaim Policy
Though National Mediclaim Policy promises comprehensive coverage, there are a few conditions/situations that it doesn't cover. Let's learn about them.
Treatments related to Change of Gender.
Expenses for cosmetic or plastic surgery.
Treatment necessitated due to participation in hazardous or adventure sports.
Expenses resulting due to breach of law.
Treatment for Alcoholism, drug or substance abuse.
Expenses related to the treatment for correction of eyesight due to refractive error less than 7.5 dioptres.
Expenses related to sterility and infertility.
Medical treatment expenses related to childbirth or miscarriage.
Expenses for hormone replacement therapy.
Treatment for intentional self-inflicted injury, attempted suicide.
Any expenses incurred on Domiciliary Hospitalization and OPD treatment.
To know more about them, please check the policy brochure.
Claim Process of National Mediclaim Policy
National Insurance Company advises its customers to follow the below-listed process for successful claims.
Cashless Claim
This is only possible if treatment is availed in a cashless hospital partnered with the National Insurance Company. For planned hospitalization, inform the company/TPA 72 hours before. In case of emergency hospitalization, the notification must be sent within 24 hours of admission.
The hospital will send the pre-authorization form to the TPA with the necessary details.
Pre and post-hospitalization expenses can be claimed (separately) after the treatment.
After completion of post-hospitalization treatment, the insured has to submit all required documents (in original) within 15 days to TPA.
Reimbursement Claim
If the insured wants to undergo the treatment in a non-network hospital, he needs to inform the company/TPA within 72 hours (for emergency hospitalization) and before 72 hours (for planned hospitalization).
On discharge, collect all the necessary documents and submit the same to TPA within 15 days.
Once the verification is done, the company will transfer the claim amount to the registered bank account.
Documents Required for Filing the Claim
Duly filled claim form.
Original bills, medical history of the patient recorded, discharge certificate/ summary from the hospital, etc.
Original cash-memo from the hospital (s)/chemist (s), supported by proper prescription
Attending medical practitioner's certificate regarding diagnosis and bill receipts, etc.
Surgeon's original certificate stating diagnosis and nature of operation performed along with bills/receipts, etc.
Other documents requested by the company.
How to Purchase National Mediclaim Policy?
You can easily purchase health insurance from the company's official website. However, please note that the company sells only a few health insurance products online.
In the section below, we've given a step-by-step process for buying health insurance from the National Insurance company's website. Read along to find out.
Visit the official website of the company.
Click on 'Products' and select the 'Health' tab.
Click on the 'Get Quote/Buy Policy' menu.
Select your desired plan and click on it.
Fill in all the required information and make an online payment for the premium amount.
Once done, you will get a soft copy of the policy on your registered email ID. You can also visit the nearest National Insurance company's branch to buy health plans.