National Mediclaim Plus Policy
National Mediclaim Plus Policy is a comprehensive health insurance plan by the National insurance company to protect the healthcare needs of the customers. The plan is designed to provide policyholders with the required protection against rising health care costs and make healthcare-associated services easy and accessible for them. This plan offers coverage against hospitalisation expenses, pre & post hospitalization costs, daycare treatment, maternity expenses, newborn and vaccination cost, etc.
Let's read more about the plan's features, benefits, and eligibility criteria.
Key Features of National Mediclaim Plus Policy
National Mediclaim Plus Policy is a health insurance plan, allowing the insured to get quality treatment in the hour of need. Given below is a list of this plan's key features that will help you understand the plan better.
Comprehensive Cover

The plan offers a wide range of coverage to people of age groups between 18 to 65 years. It provides an optional cover for critical illness and outpatient treatment.

Sum Insured Range

The National Mediclaim Plus Policy plan is available within three sum insured payment plan options ranging from Rs. 2,00,000 to Rs. 50,00,000. These plans are:

Plan A - 9 slabs, 2L to 10L in multiple of 1L
Plan B - 3 slabs, 15L/ 20L/ 25L
Plan C - 3 slabs, 30L/ 40L/ 50L

Inpatient Treatment

Expenses such as room rent, ICU charges, nursing care charges, anaesthesia, oxygen, blood, diagnostics, medical practitioner, OT charges, prosthetic charges and other devices (if implanted internally in case of a surgical procedure) are taken care of by this plan.

Pre & Post Hospitalization

The plan provides pre-hospitalization cover (up to 30 days) and post-hospitalization cover (up to 60 days) respectively for the same disease/illness/injury for which hospitalization occurred.

Cashless Facility

The plan allows you to avail the cashless facility at any network hospital. Under the same, you don't have to pay a single penny from your pocket to get the treatment done.

Modern Treatments

The plan offers coverage against 12 Modern treatments including Robotic surgery, oral chemotherapies, immunotherapies and many more. The maximum cover provided for availing any one modern treatment is equal to 25% of the sum insured amount.

Annual Increase in Sum Insured

The plan provides an additional benefit where the sum insured amount increases annually by 5% for each claim-free year. The maximum increase in this amount can be up to 50% of the opted sum insured amount.

Health Checkup

It reimburses the cost of the health check-up once at the end of a block of every 3 claim-free years.

Discounts and Rebates

With this plan, customers can avail of various discounts including discounts on online purchase of policy, family and youth discount of 10%.

Daycare Procedures

National Mediclaim Plus Policy offers coverage against 140+ day care procedures that require less than 24 hours of hospitalization.

Medical Second Opinion

If you are diagnosed with a serious disease, a medical second opinion from the World Leading Medical Centre will be arranged. It will cover up to 160+ diseases.

Optional Covers

The plan comes out with multiple optional covers that help you enhance the basic cover at a nominal cost such as critical illness, good health incentives and outpatient treatment among others.

Lifetime Renewability

To assist you for a long tenure, the plan offers the lifelong renewability option to all policyholders.

Multiple Treatment Cover

The plan covers expenses of multiple treatments that include ayurvedic, allopathic, and homoeopathic.

Tax Benefits

The premium that you paid towards your health insurance policy is liable to get the helpful tax benefits under section 80D of the Income Tax Act, 1961.
Eligibility Criteria of National Mediclaim Plus Policy
Customers are required to fulfill a certain set of conditions to buy the National Mediclaim Plus Policy. Given below are the details of the eligibility criteria of this plan. Let's have a look.
Criteria
Minimum
Maximum
Age at entry
18 years
64 years
Sum Insured
Rs. 2 Lakhs
Rs. 50 Lakhs
Policy Term
1 Year
Grace Period
30 days
Sample Premium Illustration of National Mediclaim Plus Policy
For your convenience, we've created here a sample illustration chart that shows the premium rates of the plan as per the different sum insured amounts opted by the insured person. Note that the data in this chart is calculated for a 30-year male person selecting the Plan A category of the sum insured.
Sample Premium Illustration of National Mediclaim Plus Policy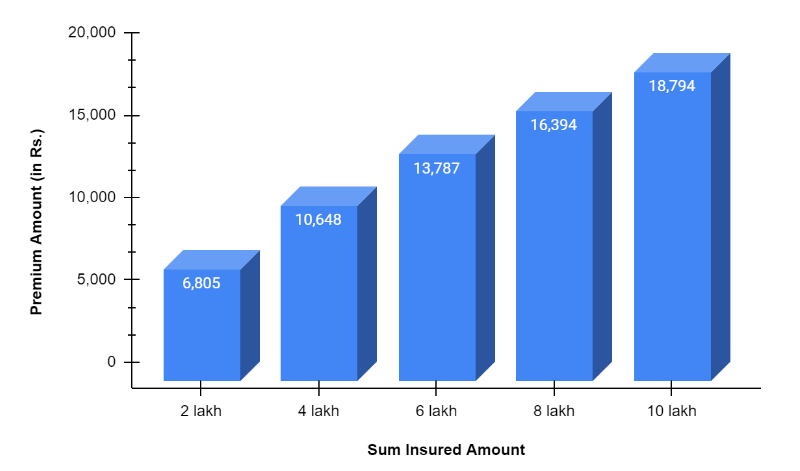 Exclusions of National Mediclaim Plus Policy
There are certain exclusions applicable within this plan under which the company does not pay any coverage benefits. It is important that you as a customer should have a clear understanding of these exclusions before buying this plan to avoid any confusion at the time of settling the claim. The plan has the following exclusions:
Treatment associated with HIV, AIDS, STD, etc.
Run-down condition, general debility, sterility, convalescence, etc.
Treatment-related to obesity
Genetic disorders treatment
Plastic surgery, cosmetic treatment, hormone replacement and change of sex
Experimental treatment and naturopathy
Drug/alcohol abuse
Contact lens, spectacles, hearing aid and cochlear implants
Claim Process of National Mediclaim Plus Policy
National Insurance Company offers a simple and hassle-free process. There are two options from which people can choose- cashless and reimbursement. Let's explore in detail.
Cashless Claim Procedure
The cashless claim process allows the insured to get the required cover without paying a single penny from his/her pocket.
To file a cashless claim, you need to inform the insurer about the same as soon as possible or connect with the TPA along with required documents.
In case of an emergency, you should inform them within 24 to 48 hours and in case of a planned hospitalization at least 3 to 4 days before.
The insurer or the TPA will take care of the rest of the procedure, allowing you to focus on your treatment rather than expenses.
Reimbursement Claim Procedure
Under this process, you have to pay all your medical bills in the first place and then you can file for the reimbursement. For the same, you need to immediately inform the insurer.
You need to submit a claim form with all the required documents that include all medical bills, prescriptions, discharge cards, medical investigations reports and other documents related to the treatment.
The insurance company or accessor can ask for additional documents if required. He/she will analyze all the reports and will share results with you.
If it gets approved, the company will transfer the claim amount directly to your account or in case of rejection, you will receive a reason for the same.
Documents Required While Filing a Claim
While filing for a claim, the policyholder is required to support his claim form along with the following list of documents:
Completed claim form
Bills, payment receipts, discharge certificate
Cash-memo from the hospital
Payment receipt, investigation test reports
Attending medical practitioner's certificate regarding diagnosis along with the date of diagnosis
Surgeon's original certificate stating diagnosis and nature of operation performed
Any other document required by company/TPA
How to Purchase National Mediclaim Policy?
You can easily purchase health insurance from the company's official website. However, please note that the company sells only a few health insurance products online.
In the section below, we've given a step-by-step process for buying health insurance from the National Insurance company's website. Read along to find out.
Visit the official website of the company.
Click on 'Products' and select the 'Health' tab.
Click on the 'Get Quote/Buy Policy' menu.
Select your desired plan and click on it.
Fill in all the required information and make an online payment for the premium amount.
Once done, you will get a soft copy of the policy on your registered email ID. You can also visit the nearest National Insurance company's branch to buy health plans.