National Insurance Arogya Sanjeevani Policy
Arogya Sanjeevani Policy is a standard indemnity health insurance product launched by the National Insurance Company to safeguard the medical requirements of the customers. The plan provides comprehensive protection by offering a variety of benefits such as pre and post hospitalization, daycare treatments, AYUSH treatments, and ambulance charges along with a large sum of insured options ranging from Rs. 1 lakh to Rs. 5 lakhs. The policy is available in two types - Individual and Floater.
Let's explore more about this health insurance policy with a detailed explanation of its features, eligibility criteria, and exclusions. Read below.
Key Features of Arogya Sanjeevani Policy
This policy comes packed with a wide range of features that prove to be extremely valuable for the customers. We've listed below all the key features of the plan. Let's have a look.
Comprehensive Cover

The plan offers a multitude of coverage options to adults between the age groups of 18 to 65 years. Customers can cover themselves, Spouse, Dependent legitimate or legally adopted children, Parents, Parents-in-law, new-born from the age of 3 months.

Sum Insured Range

This policy is available within a variety of the sum insured amounts ranging between Rs. 1 Lakh to Rs. 5 Lakhs.

Hospitalization Cover

The expenses incurred on hospitalization of the insured person for a minimum period of 24 hours are covered under this plan. This includes pre-hospitalization expenses for 30 days and post-hospitalization expenses for 60 days.

Day Care Procedures

With this plan, customers also get coverage for the expenses incurred during daycare treatments taken at a hospital or diagnostic center.

AYUSH Coverage

The policy also takes care of the medical expenses of the policyholder if treatment is done in any Ayush Hospital (India's medical hospitals and centers including Ayurveda, Yoga, and Naturopathy, Unani, Siddha, and Homeopathy).

Ambulance Cover

This plan offers a maximum cover of Rs. 2000/- for the expenses incurred on road ambulance service availed for the hospitalization of the policyholder.

Cataract Treatment

The plan also provides coverage for the cataract treatment of the insured person. The cover amount provided per eye in this option equals 25% of the sum insured or INR 40,000 whichever is less.

Annual Increase in Sum Insured

The plan provides an additional benefit where the sum insured amount increases annually by 5% for each claim-free year. The maximum increase in this amount can be up to 50% of the opted sum insured amount.

Cashless Facility

Another useful feature of this plan is that it allows customers to enjoy the cashless facility at any network hospital. So, if you opt for this feature you will be saved from paying the treatment expenses yourself as the company will take care of your hospital bills.

Modern Treatment

This plan provides a cover equal to 50% of the sum insured amount for getting medical treatment or hospitalisation for 12 listed modern treatments.

Tax Benefits

As per section 80D of the Income Tax Act of 1961, the premium paid by the policyholder towards this health insurance policy is liable to get the helpful tax benefits.

Lifetime Renewability

Another add on benefit of this plan is that it comes with a lifelong renewability option that allows customers to enjoy plan benefits for a long tenure.
Eligibility Criteria of Arogya Sanjeevani Policy
The table given below highlights the conditions that are necessary for becoming eligible to buy this policy. Check the table to collect detailed information about the plan's eligibility conditions.
Criteria
Minimum
Maximum
Age at entry (adults)
18 years
64 years
Sum Insured
Rs. 1 Lakh
Rs. 5 Lakhs
Members covered
Self, Spouse, Dependent legitimate or legally adopted children, Parents, Parents-in-law, newborn from 3 months of age.
Pre & post-hospitalisation
30 & 60 days respectively
Sample Premium Illustration of Arogya Sanjeevani Policy
For your convenience, we've created here a sample illustration chart that shows the premium rates of the plan according to different age groups of the insured person. Note that the data for calculating the premium is taken for a fixed sum insured amount of Rs. 5 lakhs and the coverage opted on an individual basis separately (at a single point in time) covering each member of the family. Also, the premium rates specified in the given illustration are standard premium, inclusive of TPA charges and exclusive of taxes applicable.
Sample Premium Illustration of Arogya Sanjeevani Policy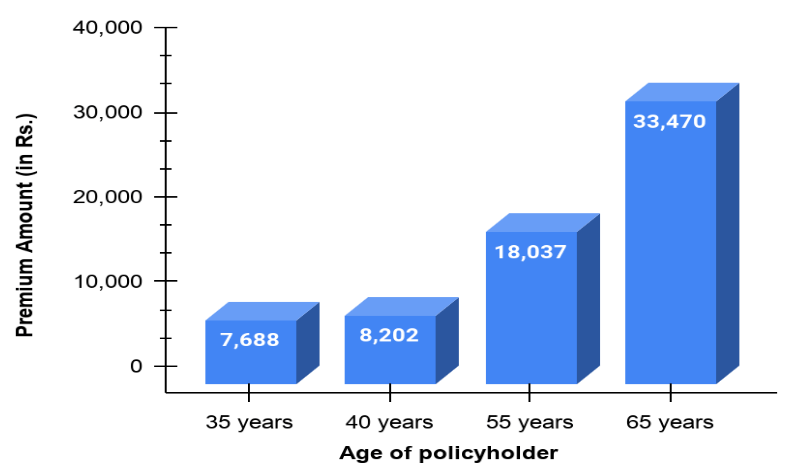 Exclusions of Arogya Sanjeevani Policy
The list here highlights the conditions which are excluded from getting a claim as per the policy terms and conditions. Go through this list to get a clear idea about when you can file a claim for your policy.
Expenses related to the surgical treatment of obesity
Change-of-Gender treatments
Expenses for cosmetic or plastic surgery
Expenses related to any treatment necessitated due to participation in hazardous or adventure sports
Sterility and Infertility & Maternity expenses
Refractive error surgery due to refractive error less than 7.5 dioptres.
Drug/alcohol abuse
Dental treatment (unless arising out of an accident and requiring hospitalization)
Any expenses incurred on Domiciliary Hospitalization and OPD treatment
Treatment performed outside the geographical limits of India
Find Out What the Customers Are Saying
(Showing latest 5 reviews only)
May 10, 2021
Pooja Singh
Delhi
October 26, 2020
Bipinchandra Somabhai Patel
Vadodara
October 16, 2017
alok kumar de
Kolkata
September 30, 2017
Sabhadiya nareshbhai govindbhai
Surat
Last updated on 20-05-2021