National Insurance Corona Kavach Policy
The deadly virus called 'COVID-19' has proved to be an eye-opener for all of us in understanding the importance of protecting our family's health. Ever since the outbreak of this virus, many people have lost their near and dear ones and (still counting). In such difficult times, the smartest way to ensure the protection of your family members is by investing in a health insurance plan that provides coverage for COVID treatment.
Thankfully, the National Insurance Company has recently launched an insurance plan called 'Corona Kavach Policy' that provides coverage for the expenses incurred during the treatment of COVID-19 infection. The plan is specially designed to help people overcome the stress of paying heavy hospital bills that arise while getting treatment of COVID infection. The plan comes both in the form of an individual and family floater policy.
By providing an easy way to deal with the ever-rising costs of COVID-19 treatment, the Corona Kavach Policy by the National Insurance company has quickly become a need of the hour. To collect more knowledge about this plan, keep reading the section discussed below where we've mentioned complete details about the plan's features, benefits and eligibility criteria.
Key Features of Corona Kavach Policy
Comprehensive Cover

The plan offers a wide range of coverage to adults between the age groups of 18 to 65 years and children between the age group of 1 day to 25 years.

Sum Insured Range

The Corona Kavanch Policy is available within a variety of sum insured amounts ranging between Rs. 50,000 to Rs. 5 Lakhs.

COVID Hospitalization Cover

The policy covers medical expenses incurred for the hospitalization of the insured person during the treatment of COVID infection. The expenses covered include room rent, boarding, nursing charges, ICU expenses, surgeon/doctor fees, Anesthesia, blood, oxygen, operation theatre and ventilator charges, medicines and drugs, and costs towards diagnostics.

Ambulance Cover

Expenses incurred on road ambulance service availed in relation to COVID hospitalization are also covered under this plan. The maximum limit of this cover is Rs.2000/- per hospitalization.

Home Care Treatment Expenses

If the insured person tests positive for COVID-19 and opts for home care and quarantine option, then this policy will take care of all the expenses related to the home care COVID treatment of the policyholder.

AYUSH Treatment

With this policy, medical expenses incurred due to COVID hospitalization get covered if treatment of the policyholder is done in any AYUSH Hospital (India's medical hospitals and centers including Ayurveda, Yoga, and Naturopathy, Unani, Siddha, and Homeopathy).

Pre & Post Hospitalization

The plan also provides pre-hospitalization cover (up to 15 days) and post-hospitalization cover (up to 30 days) respectively for the treatment of COVID infection.

Hospital Daily Cash

With this feature, the insured person is allowed to avail an amount of 0.5% of the sum insured per day for every 24 hours of continuous hospitalization. However, this benefit will be paid a maximum of up to 15 days during a policy period in respect to every insured person.

Discounts and Offers

The policy offers a special 5% discount for Health care workers and another 10% discount on online purchase of the plan where no intermediary is involved.

Tax Benefits

The premium paid towards the Corona Kavach health insurance policy is liable to get the helpful tax benefits under section 80D of the Income Tax Act, 1961.
Eligibility Criteria of Corona Kavach Policy
There is a fixed set of eligibility conditions that customers are required to fulfill in order to buy this plan. The eligibility table given below highlights those conditions of this plan. Let's check.
Criteria
Minimum
Maximum
Age at entry (adults)
18 years
64 years
Age at entry (Children)
1 day
25 years
Sum Insured
Rs. 50,000
Rs. 5 Lakhs
Policy Period
105 days, 195 days and 285 days
Family Members covered
Self, Spouse, Dependent children, Parents and Parents-in-law
Pre & post-hospitalisation
15 & 30 days
Sample Premium Illustration of Corona Kavach Policy
To help you get a more clear understanding of this plan, we've provided here a sample illustration chart that shows different premium rates of this plan as per the selected sum insured amount.
Note that the data in this chart is calculated for a 22-year old male person buying the individual policy for himself.
Sample Premium Illustration of Corona Kavach Policy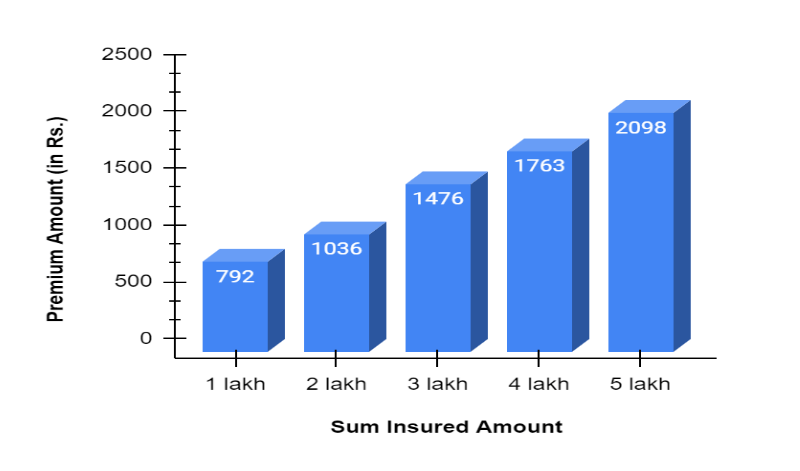 Exclusions of Corona Kavach Policy
National Insurance Company has set a list of certain exclusions for this plan under which no claim is provided to the customer. Let's have a look at these exclusions.
Expenses related to any of the following reasons are excluded from the plan's coverage limits:
Hospital admission primarily for diagnostics and evaluation purposes
Hospital admission primarily for enforced bed rest and not for receiving treatment.
Any treatment, procedures or supplies that lack proof of significant medical documentation.
Any claim in relation to COVID where it has been diagnosed before the policy start date.
Any expenses incurred on Day Care treatment and OPD treatment.
Diagnosis /Treatment performed outside the geographical limits of India.
Testing done at a diagnostic centre that is not authorized by the government.
Buying process of Corona Kavach Policy
To make this plan accessible for a large group of customers, the National Insurance Company adopts several ways to sell this plan. Customers can purchase Corona Kavach Policy from the following channels:
From the company's online portal
From the company's operating offices
From the company's intermediaries
From third-party intermediaries like brokers
From Office on Wheels (office on a mobile van)
Out of all these methods, one of the safest and easiest ways to purchase this policy is to buy it from the official website of the National Insurance Company. For your convenience, we've listed down the steps of buying this policy from the online portal of the company. Let's take a look.
Step 1
Visit the official website of National Insurance.
Step 2
Go to 'Products->Health->Know More'.
Step 3
Choose 'Corona Kavach Policy' and tap on 'View Policy Details'.
Step 4
Scroll down and tap on 'Buy Policy Online'.
Step 5
Enter your 'Customer Id' and Password' to check the policy premium.
Step 6
Pay the premium online and the soft copy of the policy will be sent to your registered email address.