Insurance seems to be a great key when it comes to the financial protection of your dependents owing to the certain death. As a result, insurance planning is a need that should be fulfilled at earlier ages.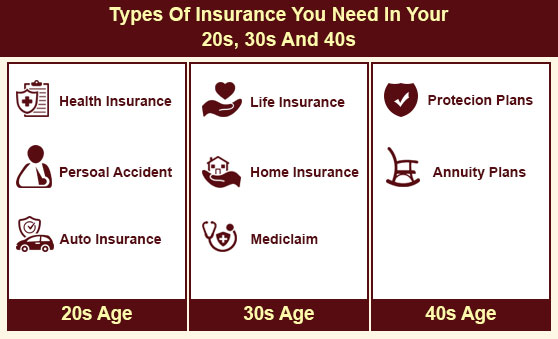 The time is around the late 20s or early 30s. During this time, there seems to be a lot of changes in your life. It is essentially that part of life when you are living with kids or planning something for their betterment in the future. Moreover, at this point, you are at the peak stage of your career and so the investing decision at this time can secure your family in the future.
But life insurance before 30 is great security since the money will get compounded with the term of the investment. The longer the period or duration, there is more chance of higher returns. 
Therefore, it is essential to secure all your finances and plan well in advance to greet every change that can change your life. Therefore this informative blog will give you the ins and outs of all the exact types of insurance you need in your 20s, 30s, and 40s.
Must Read: What Can Be Reasons For Life Insurance Claim Rejection?
A Brief Overview of Policies Covered Under Different Age Category
Here is an in-depth age-wise analysis that will tell you why this is an important idea to avail of insurance. It doesn't matter what is your age. You should plan well in advance to secure your future.
20s Age
The most obvious question that comes to the mind of an individual is where to go for study, which kind of car to buy, etc. And so you see teenagers seem to fantasize a lot. Therefore, the question of opting for a life insurance policy is totally out of their league.
The majority of the individuals during their teenage think that it is not the perfect time to make insurance. This is because they don't have any liability to perform. These are generally false notions about the perspective of life. So we are here to tell you about all the major advantages that you can take if you adopt life insurance at an early age of 20.
First of all, you will enjoy all the low premium rates.
So if you start early there is a higher opportunity that you easily enjoy the perks of such policy.
Also, you have the chance to experiment with those investments that involve higher risk.
Opting for a retirement plan holds huge significance since it will optimize the habit of savings that you develop at an early age and with growing years it will take a huge number. We hope this might change your false notion. So, hurry up and opt for such medical insurance. However, there are certain things which we will mention now.
During such an early age, you must look for a term plan rather than focusing on whole term policies.
You should look for a flexible plan which will make certain changes in the terms and coverage of the plan.
Moreover, you must look for such policies that come with a premium rider.
30s Age
For those who have families with one kid, 30 is the perfect age group for the majority of the insurance makers. 30 is the best age when an individual plans for the future, giving priority to family concerns like financial stability, planning for children's future and many more.
Therefore, 30 is the perfect age to get yourself insured under any proper scheme so that during the later period, you won't face any problem. You will get an ample amount of time and plan for your future and create a reserve. 
It is essential to mention that the money tends to multiply at a higher rate over the due course due to the combined effect of compounding and the cumulative average of high and low. 
If you invest at an early stage, then it won't matter whether the market is viable or there is inflation or other economic factors, your return will always be more at the end of the tenure. 
So, we advise those individuals in the age group of 30 should opt for a plain Term Plan or a Money Back Plan. This is a modification of Term Plans. The latter is perfect for those who want the return value after a certain period to meet the financial goals. 
Those who want to give quality education to their children, they should opt for Child Plan.
40s Age
To know the exact type of insurance you need in your 40s, follow this section with attention. This is the time when most of us feel the urgency to get insured and start searching. Also, at this moment, those who don't want to purchase insurance mostly change their minds. 
As per the latest report, those who are in the age group of 40 forms the largest section of the insured people. However, this is the right decision for them since they are the earning member of the family and have to take care of their spouse and dependent parents. The children are growing and with time they will grow and become mature.
The main reason for getting insured at the age of 40 is that the person gets overburdened with responsibilities like education of the children, family expenses, medical expenses, and many more. So we recommend you to opt for a plain term plan. Otherwise, if you wish to opt for an insurance cum investment plan, then it is necessary to concentrate on debt-oriented funds.
Also, you will get an ample amount of time in your hand which enables you to gather a substantial corpus at the age of retirement.
8 Reasons Not To Quit Life Insurance Policy
Type of Insurance You Need in Your 20s
Health Insurance
The foremost insurance policy which comes in your mind is the health insurance policy. But selecting the correct plan requires a lot of research at the initial phase, but this will be your first line of defense against medical costs. 
If there is no health insurance facility from your organization where you work, you can shop the Health Insurance Marketplace for the private insurance options. Otherwise, you can take help from the policy brokers.
Auto Insurance
Drivers must have auto insurance to prevent any heavy damage that may arise out of accidents. Insurance rates are mostly imposed based on car rates, location, credit, etc.
There are some states which are gender-biased while providing auto insurance. 
Personal Accident Plan
Personal Accident Plan is a policy that will return your medical expenses to a certain amount, provide compensatory benefits to the disabled. It will also cover the insurance in case of any death due to an accident. There are other surplus benefits which you can enjoy if you adopt such a policy. The added benefit will include transportation benefit, benefit because of partial disability, or those benefits which you might get due to total disability. 
Type of Insurance You Need in Your 30s
Life Insurance
If your children, spouse, old parents depend on your income for their financial welfare, then it's high time you adopt life insurance policies.
The majority of the expert's term life insurance as a genuine coverage but what is right for you will depend on your present financial scenario. Life insurance gives you coverage for a fixed sum of money and this is the exact type of insurance that you need in your 20s, 30s, or 40s. 
If you purchase life insurance at an early age, you will be sure to get an inexpensive return after the tenure ends. This value will increase every year. 
The amount of money depends solely on how much you wish to cover. Also, it depends on the amount of risk. 
Home Insurance
The home insurance will get you covered right from the belongings to the damage done to your property.
An insurer will take into account the size, position, age, as well as the build of the home before deciding the premium you need to pay for the insurance. Those houses which are close to wildfire, tornado, or hurricane will always demand a larger premium rate.
Mediclaim Insurance
Health insurance comes at a cheaper rate than the other forms of insurance if bought at an earlier rate. But the important part it becomes complicated to get health insurance when you grow old. This is because with the increase in health the waiting period increases.
So if you don't do this by the age of 30, then you might have to wait for 3-4 years before you start getting the coverage. However, don't depend on the health insurance plan provided by the employer. Instead, go and grab a basic indemnity plan that will cover all the hospital costs. 
If you are self-employed, then we suggest you adopt a fixed benefit plan that will commensurate your health base plan. 
Type of Insurance You Need in Your 40s
Life insurance is nontaxable and one gets a good amount of return without any chance of loss. However, this should not be the only reason for buying such insurance plans. 
The most important reason behind such insurance plans at the age of 40 generally indicates the lump sum amount which you will get in return. This will ensure the financial stability of your family in the long run. But you should know the exact type of insurance you need and Based on the priority, we have envisaged the exact type of insurance you need in your 40s. Let's have a look.
Protection Plans
If the replacement of income is on the top priority list, then the protection plans can be the perfect tool. They will offer you a good lump sum amount, which is more than seven times the yearly income of the policyholder if there is a certain demise of the holder.
Through a protection plan, you can easily safeguard your family from the extra costs which the policyholder gathered for his living over the years.
These plans will decide the amount of money the family of the policyholder will get for the stipulated period after his death. This is basically in addition to the amount of money paid.
Annuity Plans
Since we have mentioned earlier that the age of 40 is the perfect time when you start making your investment for your future. This will cover the policy for his spouse too.
By giving life coverage along with the regular monthly income, the annuity plan makes sure the fact that the policyholder should remain independent and enjoys a similar lifestyle which he/she did in the earlier part of life.
Final Implication
No in this informative content, we have calculated the exact type of insurance you need in your 20s, 30s, and 40s. So follow this write-up to know the details of every policy and the actual time of adopting such policies. Also, we have given the pros and cons of adopting such policies based on different age groups. So, you need to worry about this.
Nevertheless, refer to the user guide to have a glance. Apart from this, provide your valuable feedback in the comment box.
Related Articles: Digitization: Evolution In Insurance Sector