Women are now getting proper exposure in the world and are helping in nation-building. The sequence of actions has been started that is going to provide women the place they deserve. The mindset of society is also getting changed and more opportunities are opening up for women.
 The times are gone when only men contributed to the family's financial planning and women were instructed to handle the kitchen. There is a huge increment that is seen in the number of women working and sharing responsibility. Life insurance for women can be a good option to ensure that the family is protected in case any unfortunate thing happens.
The source of income also needs to be secured and this is where insurance comes to play its role. Women must understand that if they are trying to share the responsibility, the protection should also be shared and given higher importance.
Why Women Avoid Insurance?
The insurance is not only necessary for working women. It is as important for those who are not getting any income for the family.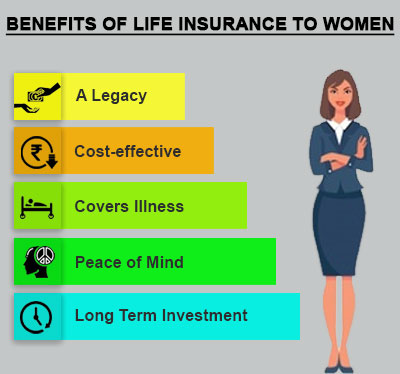 The mindset of society is that there is no need for life insurance to the person who is managing the tasks at home and not fetching any money.
Some reasons why the number of women who opt for life insurance is low are:
No Requirement
It is a myth created by some people. The importance of life surely can't be measured by the amount of money it is bringing in. In India, it is commonly seen that the mother is a housewife and the father is the sole earning person of the family. This setting created the mindset that people started to believe that mothers who are not working don't need any insurance. 
The logic behind this is people consider life insurance to be a replacement for the money that is getting in. An individual must not forget the tasks done by a housewife and god forbid if anything happens to her, how much those tasks will cost financially?
Doesn't Qualify
There is a myth that is circling that housewife doesn't qualify for any life insurance. The housewives are generally covered under the plan of their working partner. However, many plans can be undertaken only for housewives.
Why Invest in Two Policies?
There is also a point that is made that there is no need for two policies as the income is limited because there is only one person that is earning. Investing in two policies means more premiums and eventually, that will require more savings. There are many benefits of life insurance for women that shouldn't be ignored. 
In many cases, working women themselves don't consider getting a policy. Both the partners' lives must be insured to give more security and stability to the children and their future. It is also a smart method to make savings and the return is way higher than the actual investment.
Society Pressure
In India, women were not much exposed to the real world. There are still a lot of women who are living in our society, totally unaware of the finance sector. This mindset and societal pressure made women not talk at all about finances and that's the reason their understanding of insurance and financial security is a bit lower.
However, times are changing and now women are coming forward to take part everywhere and make sure they are not behind men, if not ahead. Life insurance for women must be availed and the family must be provided more security.
Benefits of Life Insurance To Women
There is no denying the fact that women are the ones to be given credit for the smooth functioning of every household. Women believe in saving and the number is much lower than those who think that life insurance has the potential of providing benefits to the family.
Some exclusive benefits life insurance has to offer to women are:
Cost-effective: Everyone knows that life insurance works on probability. Many pieces of research are available that states that women live longer than men. This is the reason that if a woman is getting life insurance in the early stage in her life, she can get the policy at a very low premium. 
For example, if a 30-year woman who is not a smoker and also non-alcoholic, the cover of INR 50 lakhs can be availed at just INR 5,000 per annum.
Peace of Mind: A woman is the one managing the finances of the home. They care about the security of their dependents more than anyone else. the best life insurance policy will help them in securing a better future for children and establishing a source that will fulfill financial needs.
It is a huge peace of mind and a good option to lead a stress-free life. When the person is sure that the family is safe, nothing else can provide her more satisfaction.
Long-term Investment: A life insurance policy is a great way to create long-term investment. If there is a goal that a person needs to achieve and was unable to due to financial reasons. She can achieve it on the maturity of the policy. The policy can be the most helpful in getting a new home or investing in a business to make sure that there is an income after retirement.
Covers Illness: The benefits of life insurance for women shine when there is a financial need in case of any big illness. Studies show that the female body is more prone to illness and one-in-four women are prone to deadly diseases like cancer. 
These chronic illnesses can drain all the savings and everything will be gone if the person hasn't made proper arrangements. The financial is much needed when the person was working and now that portion of income is also going to be closed.
A Legacy: A life insurance policy is also a very helpful tool that a woman can use to leave a legacy after her. When she was the only one managing everything at home, there must be something that should be there for her family when she will not be around to take care of them herself.
The money provided to them will be enough to compensate at least financially without compromising on the lifestyle.
Why Single Women Need Insurance?
It is often seen that single women ignore the importance of a life insurance policy.
The fact that these policies are the best tool in repaying some big loans, getting a rebate in taxes, etc., is ignored.
The benefits of the life insurance policy to single women are inevitable to sustain in old age without any compromise.
The amount can be used for any old-age illness.
Types of Life Insurance
There is also a dire need for understanding the importance of a suitable life insurance plan according to the needs. An individual must not just get into any plan. The plan may turn useless to you at the time of the claim.
There are different kinds of life insurance for women, i.e., three are term insurance, whole life insurance, and ULIPs.
Term Insurance
Term Insurance plans come with a fixed term of 5 years, 10 years, or even 20 years. There are no other profits or savings on this plan. It is the most common form of life insurance because of its low premium nature. These policies provide the assured sum in case the policyholder dies in the term of the policy. If the policyholder survives the full term, there will be no payment at all.
Whole Life Insurance Policy
These policies are the most practical ones. The policy covers with absolutely no time frame. The policyholder will keep paying the premium throughout her life and the amount assured will be provided to the family in case of her death only. As no tenure comes fixed with the policy, the policyholder will have to pay the premium throughout. This policy comes under the category of endowment plans.
ULIPs
These policies offer the customers to invest their money in stock or debt markets. These policies are also called a combination of investment and insurance. The performance of Unit Linked Insurance Plans is based on the market.
On a Concluding Note
The need for life insurance for women is not to empower women or support feminism, but it is a necessity as same as it is for their male counterparts. A life insurance policy has the potential and ability to help the family to sustain even the person is no longer there. The money that comes with it offers huge financial support in times of such crisis.
The family doesn't have to go through double traumas, emotional as well as financial. There are many things that the person ends up purchasing and using them rarely or sometimes they end up in storage areas. The need to invest that money into something as practical and helpful as an insurance policy will make a huge difference. 
After going through the benefits of life insurance for women, it should be clear now how important it is for life, either working or a housewife. It carries extra importance for those who are working as those women are sharing the responsibility and it wouldn't be fair if there is no one to share the protection measures.