TATA AIG Critical illness Plan
The Critical illness plan offered by Tata AIG Health Insurance is a special and a fixed health insurance policy that covers major critical illnesses and medical treatments. This plan offers a lump sum amount on the diagnosis of certain critical illnesses. The compensation in the form of money gives additional security to the policyholder for the treatment of the disease and helps them overcome any financial stress/burden. It can be bought along with a general health policy for availing a wide coverage in hard/critical times. The plan is available without having any medical examination test and also provides the facility of a second opinion, if the policyholder is suffering from a covered illness.
Eligibility
| | |
| --- | --- |
| Minimum Entry Age | 18 years |
| Maximum Entry Age | 65 years |
| Policy Tenure | 1 year |
**Last Updated on 05-05-2021
Key Features and Benefits of TATA AIG Critical illness Plan
The prominent key features of Tata AIG Critical Illness are,
Lifetime renewability on the premiums paid without any break can save your pocket from additional financial stress.
The plan is available for individuals of up to 65 years
Under this health insurance plan, 11 critical illnesses are covered.
In order to avail of this policy, no medical test or examination is required.
It offers a wide coverage option ranging from Rs.2.5 Lakhs to Rs. 15 lakhs.
This plan provides you with an option of a second opinion to confirm the diagnosis of critical illness available. You can also visit another doctor/hospital for a second opinion.
In case if you want to port your policy from one insurer to the other, the credit gained for the pre-existing conditions and time-bound exclusions along with accrued benefits coming under the individual health insurance policy (including the family cover) are also transferred.
Get the benefit on income tax on the premiums paid under section 80(D) of the Income Tax Act.
This plan offers a free look period of 15 days from the date of the receipt of the policy document to review the terms & conditions of this policy. When you are dissatisfied with the policy documents, terms, and conditions, you have the option of cancelling the policy. After applying for the cancellation, the amounts shall be refunded to the policyholder.
The covered critical ailments are: Heart attack

Cancer
Stroke
Open Chest CABG
Kidney failure
Organ transplant
Bone marrow transplant
Blindness
Coma
Major Burns
Multiple Sclerosis
Paralysis
Note - The diseases mentioned above are limited to a certain set of conditions. For more information, refer to Policy Wording on the Tata AIG website.
Details of the plan
| | |
| --- | --- |
| Minimum Sum Assured | 2.5 lakhs |
| Maximum Sum Assured | 15 lakhs |
| Type of Coverage | Individual |
| No claim bonus | NA |
| Grace Period | 30 days for policy renewing |
| Policy Termination | 3 months before the policy expiry date |
**Last Updated on 05-05-2021
Sample Premium Rates
This table illustrates the premium payable by an individual under this plan at different ages for the sum insured 5 lakhs. Let's understand this with the help of a graph,
| | |
| --- | --- |
| Age | Premium Rates at SI 5 Lakh |
| 30 | 3237 |
| 40 | 8448 |
| 50 | 23652 |
**Last Updated on 05-05-2021
Graph Illustrating the Sample Premium Rates at Different Ages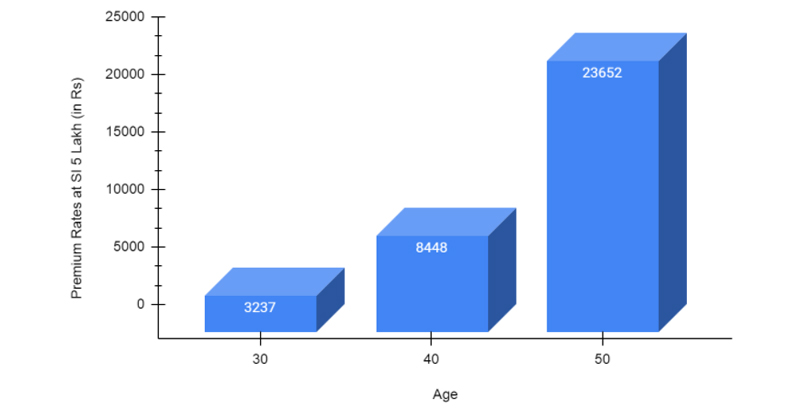 Now, Let's understand the premium payable at the different sum insured options with the help of a graph,
| | |
| --- | --- |
| Sum Insured | Premium (in Rs) |
| 2.5 Lakh | 1704 |
| 3.5 Lakh | 2314 |
| 5 Lakh | 3237 |
| 7.5 lakh | 4702 |
| 10 lakh | 6133 |
| 15 lakh | 8892 |
**Last Updated on 05-05-2021
Graph Illustrating the Sample Premium Rates With Different Sum insured Options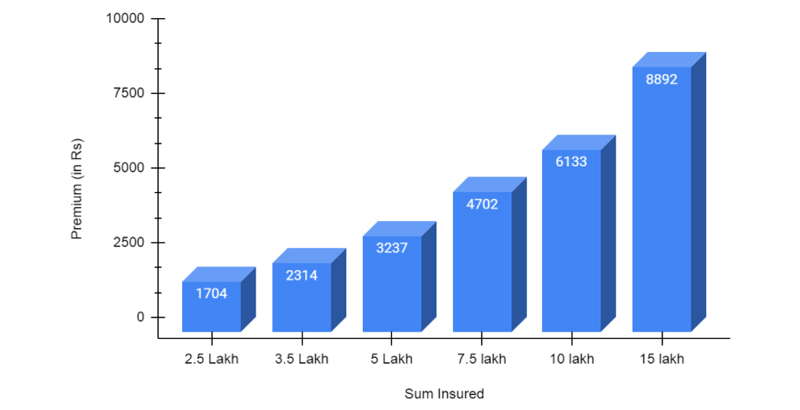 Exclusions of TATA AIG Critical illness plan
The major inclusions of the TATA AIG Critical illness plan are,
Mental illness/disorder treatment
In case of claims processing under this plan, a waiting period of 90 days after the commencement of the policy is applicable.
Any pre-existing illness or any complication associated with it.
Self-inflicted injuries
Any critical illness resulting from a physical or mental existed before the issuing of the policy date.
Any disease or illness other than the specified critical illnesses on the policy documents
Sexually transmitted diseases
HIV AIDS infections/ Venereal diseases
Expenses related to Maternity, childbirth, and pregnancy
Congenital abnormalities or disorders
Mental disorders or illnesses
Cosmetic surgeries and Robotic surgeries
Accidental injuries due to war, nuclear invasions
How to Contact Tata AIG Health Insurance?
Tata AIG Health Insurance Customer Care Number - 1800 266 7780
Address - Peninsula Business Park, Tower A, 15th Floor, G.K.Marg, Lower Parel, Mumbai - 400 013, Maharashtra, India.