About TATA AIG MediCare Plus
TATA AIG Health Insurance Company offers an ideal top-up plan called MediCare Plus that is specifically designed as an affordable and pocket-friendly option. MediCare Plus comes with various benefits and features to suit all your medical requirements, ensuring healthy and secure well-being for you and your family. This plan provides comprehensive coverage and compensates the policyholder in case the sum insured gets exhausted.
Key Features of TATA AIG MediCare Plus
Tata AIG provides the best service and products to its customers. It offers various plans, but what plans to choose is a big question here. MediCare Plus is an affordable plan that suits all your medical requirements on a go. But, one should always be aware of the terms and conditions of the availed policy, so let's understand the key features and benefits that might help you to lead a financially secure life,
The policy can be availed for a longer tenure of up to 3 years.
It offers you an option of Global cover that covers the expenses incurred for medical treatments outside India.
Get the higher sum insured options i.e., up to Rs1 Crore.
You can avail of a high cumulative bonus of up to 100%
In this plan, a policyholder is not required to have a pre-policy check-up.
It also provides consumable benefits
Deductible options are also available of Rs 2 lakh, Rs. 3 lakh, Rs. 5 lakh, Rs. 10 lakh, Rs. 15 lakh & Rs. 20 lakh.
This plan offers you the tax benefits on the paid premium under 80(D) of the Income Tax Act.
You are eligible for the free look period under individual health insurance policies, but it is not applicable on renewals or at the time of migrating or porting the policy. A 15 days of free look period is allowed for the insured from the date of receipt of the policy documents to review the terms and conditions of the policy.
Eligibility
Minimum Entry Age
Children - 91 days - 5 years
Adult - 18 years
Maximum Entry Age
65 years
Number of members covered under this plan
Up to 7 members are covered
(Self, Spouse, up to 3 dependent children, 2 dependant parents)
Residential status
Indian citizens
**Last Updated on 05-05-2021
Coverages under TATA AIG MediCare Plus
TATA AIG MediCare Plus helps you to benefit in multiple ways. Let's have a look at the below section to understand the coverage option available under this plan;
Inpatient Hospitalization

Medicare Plus plan covers the expenses incurred on the hospitalization due to injury/illness during the policy tenure. This requires the policyholder to be admitted to the hospital for inpatient treatment.

Pre-Hospitalization

Medical expenses incurred up to 60 days before the date of admission to the hospital.

Post-Hospitalization

Medical expenses incurred up to 90 days after the date of discharge from the hospital.

Daycare Treatments

Offers coverage for the listed daycare treatments i.e., about 540+ in the policy's brochure caused due to certain illness/disease/injury during the policy tenure taken at a Daycare center or a hospital.

Domiciliary Treatment

MediCare plus policy provides you the coverage of medical expenses for availing the treatment at home which might require hospitalization in later stages. In case of domiciliary hospitalization, this plan also covers pre and post-hospitalization expenses.

Organ Donor

Covers medical expenses on harvesting the organ for the process of organ transplantation.

AYUSH

The medical expenses incurred on inpatient treatments taken under Ayurveda, Unani, Sidha, or Homeopathy are also covered under this plan.

Cover for Ambulance

Covered expenses incurred during the transportation of policyholder to the hospital in a registered ambulance in case of an emergency hospitalization or transferring the insured from one hospital to the other. The medical facilities and treatments are subject to Rs3000 per hospitalization under this plan.

Inpatient Dental Treatments

The expenses on dental treatments caused due to an accident/injury are also covered.

Consumable Benefit

Get coverage for the expenses incurred for certain consumables specified in the policy which are consumed during the hospitalization tenure.

Preventive Health Check-up

Expenses for preventive health checkups are covered up to 1% of the previous year's policy that is subject to a maximum of Rs. 10,000 per policy once in a time of every two consecutive claim-free years.

Cumulative Bonus

Get an increase of 50% in cumulative bonus for every claim year. This is subjected up to a maximum of 100%. During the policy year when a claim is made, the cumulative bonus reduces up to 50% in the following year.

Global Cover

MediCare Policy provides you an option of Global cover in which the medical expenses associated with inpatient and daycare treatments of the policyholder are covered. This applies to the expenses incurred outside India but the diagnosis was made in India.

Second Opinion

This plan provides a second opinion from your doctor or medical practitioner in case the insured is diagnosed with the listed illnesses during the policy term.
Additional Benefits
Renewability

Get the lifetime renewability option for your policy provided when the premium is paid without any break.

Network Hospitals

TATA AIG provides cashless facilities at 6200+ hospitals across India.

Deductible

All the claims that come under this policy shall only be payable when the aggregate of covered medical expenses (in terms of hospitalization) is more than the deductible that is mentioned in the policy documents/brochures.

Tele-Medical Examination

Pre policy health check-up table

| | | |
| --- | --- | --- |
| Age / Sum Insured | Up to 50 lakhs | More than 50 lakhs |
| Up to 65 years | No PPC | Tele MER |
| 46-65 years | Tele MER | Tele MER |

**Last Updated on 05-05-2021

**PPC - Pre- Policy Check-Up

**Tele- MER - Tele Medical Examination
Plan Details
Type of Plan
Top-up Health Insurance Plan
Type of Coverage
Individual
Family Floater
Sum Insured
Up to Rs 1 Crore
Sum Insured options
3 lakh
5 lakh
10 lakh
15 lakh
20 lakh
25 lakh
50 lakh
1 crore
Policy Tenure
1/2/3 year
COVID-19
Coverage is Available
Deductible options
2 lakh
3 lakh
5 lakh
10 lakh
15 lakh
20 lakh
You can choose any of the combinations of the sum insured and deductible
**Last Updated on 05-05-2021
Sample Rates of Premium
This graph illustrates the premium amount payable at different ages for policy tenure 1 year and sum insured Rs. 5 lakhs with the deductible amount of Rs.2 lakhs.
Premium rates for MediCare Plus Individual Plan at different ages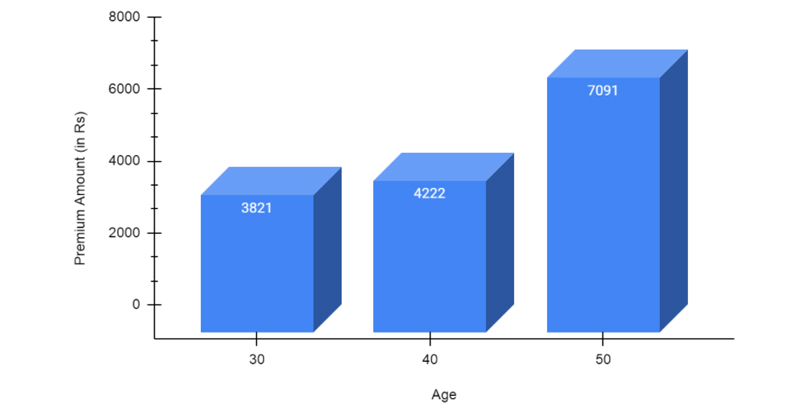 In this graph, the premium to be paid at 30 years is Rs. 3821 and at 40 years, it increased to Rs.4222. The premium amount is increasing with age because of certain factors such as medical conditions, smoking habits, lifestyle, pre-existing illnesses, etc.
What, if you want to cover your family members under a single plan. Then you can opt for a family floater plan offered by MediCare Plus. This graph shows the premium amount payable by a family (assuming the age to be self: 30 years, Spouse: 28 years, Son- 10 years, Daughter-5 years) at the different sum insured options with a deductible amount of Rs. 2 lakhs. Let's understand this with the help of a graph.
Premium rates for MediCare Plus Family Plan at different sum insured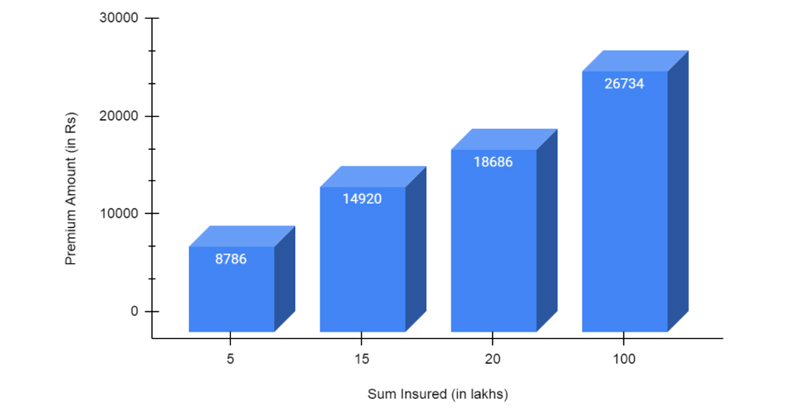 Both plans, individual and family floater are ideal plans for you and your family but if you have little kids at your home, then having a family floater plan is better. The family plan provides good coverage for a lower cost than the number of individual plans in a family. If in case one of your family members has a chronic medical history or an adverse health condition, then go for individual health cover because that will help you in the long run. At last, the selection of the plans depends on your requirements and medical needs. Go through the policy carefully and choose your plans wisely.
Discount Offering under MediCare Plus
Long term Discount
10% Discount on premium in case a policyholder avails a policy for a term of 3 years
5 % discount on premium in case a policyholder avails a policy for a term of 2 years.
Family Floater Discount
If 2 members are covered in a family floater plan then a 20% of discount is applicable.
If 3 members are covered in a family floater plan then a 28% of discount is applicable.
If more than 3 members are covered in a family floater plan then a 32% of discount is applicable.
**Last Updated on 05-05-2021
Exclusions of TATA AIG MediCare Plan
Alcoholic/drug/substance abuse
Congenital anomalies, defects, or diseases are not covered.
Does not cover Alcoholic pancreatitis
Medical expenses related to the treatment of eyesight correction because of the refractive error i.e., less than 7.5 dioptres.
Self-inflicted injuries
Attempted suicide
Any policyholder attempting to commit a breach of law with criminal intent.
Treatment is done by a doctor or medical practitioner which is outside his expertise is not covered.
For detailed information about the exclusions, please refer to policy brochures/documents.
Waiting Periods
Initial waiting periods for 30 days from the beginning of the policy (this is not applicable for accidents).
After a waiting period of 24 months, certain listed diseases/illnesses will be covered under this plan.
Any pre-existing illnesses will be covered after a waiting period of 36 months.
How to buy this TATA AIG MediCare Plan?
Visit the official website of TATA AIG Insurance company and choose 'Health' by clicking on 'All Products'.
Select the category for whom you want to buy the plan and click 'Get Plan'.
Fill in the required details like your contact number, dob, and click on the 'See Plan'.
Check the plans as per your needs, tap the 'Buy' button, and make the payment.
Your policy document will be mailed to you at your registered email address.
Claim Process of MediCare Plus
For cashless claims:
Call on our toll-free number 1800 266 7780/ 1800 229 966 (for senior citizens) in case of any assistance at the time of hospitalization or you can reach out at healthclaimsupport@tataaig.com
If you want to check the list of network hospitals, refer to the company's website or PolicyX.com network hospital page.
For Reimbursement
Later, you can file for reimbursement under TATA AIG health insurance. To do that, the insured must collect all bills, and prescriptions related to the treatment and submit the same along with the claim form to the insurance company or TPA.
The insurer will analyze your claim and might ask for additional documents (if required).
If it gets approved, the company will transfer the amount directly into your account and in case of rejection, you will receive the reason for the same.