About Hyundai India
Hyundai motors is one of the major car manufacturers in the Indian market today. This Korean carmaker entered the Indian automobile sphere in 1998 with the much-loved Santro and has ruled the sector over the years. It offers a variety of cars ranging from entry level hatchback Eon to luxury SUVs like Tucson in the Indian market. The company also offers great sales and service all across the country, boosting the faith of the customers in the brand.
Top 5 Hyundai Car Models
1. Hyundai Grand i10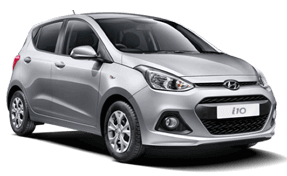 The Grand i10 has constantly been featuring amongst the top 10 most selling cars in the country. Its premium build, generous equipment and spacious cabin have made the car a must-have. Due to its amazing features and affordable price point, it is one of the most in-demand cars in the Indian market.
2. Hyundai Venue
Hyundai Venue is the latest offering from the brand in the sub-compact SUV sector. It has quickly become the leader in the sector with its impressive looks and striking features. Its amazing dynamics coupled with the new age technology features such as Blue Link make it a force to reckon with. Its 6 speed Kappa Dual VTVT engine offers amazing performance, making it popular with SUV lovers.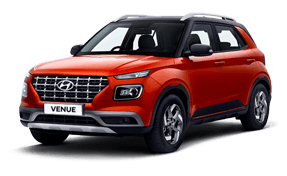 3. Hyundai Santro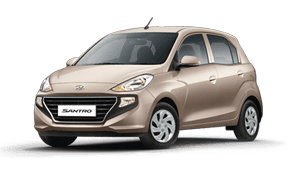 Truly justifying its tag line 'India's Favorite Family Car', the Hyundai Santro has been ruling the Indian market in the hatchback sector for decades. It has an impressive presence and well-crafted design that delivers convenience and comfort at an affordable price tag. It comes in two fuel efficient variants- 1.1 Epsilon MPi Petrol engine and 1.1 Epsilon MPi CNG engine.
4. Hyundai i20
This is considered to be the first premium hatchback model launched in the country which made Hyundai a household name as a premium brand. Currently in the second generation, the Hyundai Elite i20 is undoubtedly the largest selling Hyundai model in India.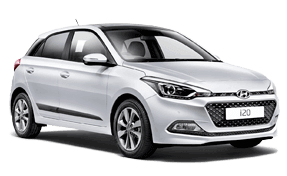 5. Hyundai Creta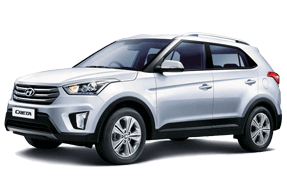 The Creta was Hyundai's answer to the recent craze for compact SUVs in the Indian market. It offers a well-rounded premium package with excellent design, great mileage, exciting new features as well as smooth driving experience, making it one of the best-selling SUVs in India.
Hyundai Car Insurance Price
A lot of key factors come into play when determining the premium amount to be paid for Hyundai Car insurance. These include:
Type/Category of Insurance Cover
City of Registration (Delhi)
Car Engine Type/Category
Any Car Alterations or Modifications Installed by the dealer at the time of purchase
Year of Registration (2020)
Previous Claim Record or History
Claim Frequency
Insured Declared Value or IDV
Model and Make of Car
Employment Title/Profession/Status of owner
Advanced Safety Devices
| | | | | | |
| --- | --- | --- | --- | --- | --- |
| Car Model | Variant | Price of the Car | IDV* | Zero depreciation (Add on)* | Premium (Basic)* |
| Creta | Hyundai Creta 1.6 EX Petrol (1591 cc) | Rs. 10,92,000 | Rs. 9,41,715 | Rs. 5,179 | Rs. 37,263 |
| Santro | Santro Era Executive Petrol (1086 cc) | Rs. 4,57,000 | Rs. 3,52,742 | Rs. 1,411 | Rs. 13,587 |
| Venue | 1.2 Kappa E (MT) Petrol 1197 | Rs. 6,07,000 | Rs. 5,52,500 | Rs. 3,039 | Rs. 16,789 |
| Grand i10 | 1.2 Era Petrol (1197 cc) | Rs. 6,05,040 | Rs. 5,50,457 | Rs. 1,866 | Rs. 13,868 |
| Elite i20 | 1.2 DVTVT 5SP Asta Petrol (1197 cc) | Rs. 8,15,993 | Rs. 7,28,727 | Rs. 3,644 | Rs. 28,673 |
*The values are calculated on the basis of city (Delhi) and year of registration (2020).
Hyundai Car Insurance Inclusions and Exclusions
The car insurance would usually cover damages due to:
Inclusions
Fire & Explosion
Terrorism
Accidental & External Damage
Landslide
Riot & Strike
Earthquake
Burglary, housebreaking or Theft
Malicious Act
Storm and Flood
Exclusions
The car insurance would not cover damages and repairs such as:
Damages because of driving while intoxicated or driving under the influence.
Damages due to an accident outside the discussed geographical limits or boundaries.
Damages caused due to reasons such as wars or insurgency.
Car used for unlawful or illegal motives/purposes.
Discounts
You can obtain different kinds of discounts along with your Hyundai Car Insurance, including:
No Claim Bonus: No-Claim Bonus can be obtained for Hyundai Car Insurance if you don't claim any withdrawals in a year. This will help reduce your premium rate.
Voluntary Deductibles: By voluntarily paying a part of the admissible claim amount, you can get some discount in your premium.
Anti-Theft Device: You will get a discount on the premium by installing anti-theft devices in your vehicle.
AAI Membership: Members of Automobile Association of India are entitled to get a discount on the premium.
Add-On Covers
To get additional protection, you can take add-on covers on top of the insurance cover.
Zero Depreciation Cover: This cover will protect you from the depreciation caused due to replacement or repair of parts such as glass, plastic, fiber, or rubber.
Medical expenses: If the driver/passenger of the car is injured in an accident, this add-on will cover the medical expenses.
Consumables Cover: Expenses sustained on consumables and parts including oil, nuts or bolts can be reimbursed using this add-on cover.
Key Replacement: If you lose your key by mistake or your car lock is stolen, its cost will be reimbursed with the help of this add-on.
How can you renew your Hyundai Car Insurance?
There is an easy and reliable way to renew your Hyundai car insurance- PolicyX.com. Just follow the below steps-
Go to the top-right corner of this web page and fill the form.
Fill your car details, choose the 'renewal option' and click 'continue'.
Enter your personal details and you will land on our quotes page.
Compare different plans and select the one that matches your needs.
Pay the premium and you will receive its confirmation on your registered email id.
If you have any query regarding your policy or renewal process, you can speak to our representatives on 1800-4200-269.