About Bharti AXA Health Insurance
Bharti AXA General Insurance Company Limited is a joint venture between the global insurance firm leader in financial protection – AXA (26% stakes) and Bharti Enterprises (74% stakes), a well renowned Indian based venture. Bharti AXA General Insurance Company is the first organization in the insurance industry to receive the dual certifications within the first five years of operations in 2009 (ISO 9001:2008 and ISO 27001:2005). The company has come out with a wide range of effective healthcare solutions at affordable prices. The cashless facility, multiple sum insured options and easy claim settlement process makes it an ideal choice for your next health insurance purchase.
Highlights of Bharti AXA Health Insurance
| | |
| --- | --- |
| Network Hospitals | 4500+ (Cashless Hospitalization) |
| Claim Settlement Ratio | 77% |
| Renewability | Lifetime |
| Waiting Period for Pre-existing Disease | 4 years |
Table Data updated on 21-09-2020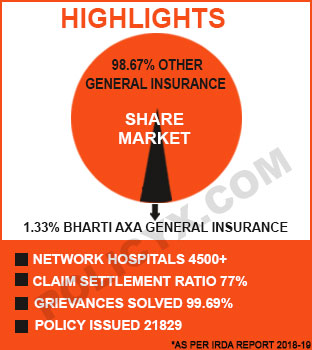 What Are The Different Types of Bharti AXA Health Insurance Plans?
1. Bharti AXA Smart Health Insurance Policy
Bharti AXA Smart Health Insurance Policy provides financial protection against all hospitalization expenses. It also offers discounts on renewing the policy on time. On every successive claim-free year, it provides a 100% cumulative bonus.
Special Features:
The plan offers a sum insured amount between Rs. 3 lakh to 5 lakh as per the need of an individual
It comes out with the pre-hospitalization cover for 60 days and post-hospitalization cover for 90 days.
Any type of daycare treatment charges is also covered under the Smart Health Insurance Plan.
In case of critical illness, a lump sum amount is payable to the policyholder under the policy.
Ambulance charges up to Rs. 3000 per event can be reimbursed.
The policyholder can get the benefit of free annual health check-up once every 4 years.
Eligibility
| | |
| --- | --- |
| Entry age | 91 days – 65 years |
| Policy period | 12 months |
| Renewability | Lifetime |
| Basis | Individual or Family Floater |
| Sum insured | 3 lakhs, 4 lakhs, 5 lakhs |
Table Data updated on 21-09-2020
2. Bharti AXA Smart Super Health Insurance Plan
This plan not only provides coverage for hospitalization expenses but also offers several add-on benefits. The Smart Super Health Insurance Policy comes out in three variants from which you can choose the optimum sum insured according to your requirements-
Value Plan
Classic Plan
Uber Plan
Special Features:
The plan covers pre and post hospitalization charges (60 days before and 90 days after the hospitalization).
AYUSH treatments, charges including organ donors and in-home hospitalizations are also covered under the plan.
Ambulance charges up to Rs. 3000 per case can be reimbursed.
Outpatient expenses are also covered such as emergency treatment, a dental check-up with convalescence benefit.
Additional benefits like hospital cash and maternity expenses are available under the plan.
Total sum insured will be paid on the diagnosis of a listed critical illness.
Eligibility
Entry age
As per the policy document
Cover Available
Individual or family floater
Sum insured
Value Plan: Rs. (5-7.5) lakhs
Classic Plan: Rs. (15-20) lakhs
Uber Plan: Rs. 20 lakhs to 1 Crore
Benefits
100% no claim bonus
Table Data updated on 21-09-2020
What Are The Different Factors That Affect Health Insurance Premiums?
Age: The age of policyholders matters when it comes to buying a health insurance policy. As we grow older, the human body tends to become more prone to health diseases, illness and the same thing results in an increased premium amount
Members: The number of family members also matters while you are looking for a health insurance policy. If you are alone and do not have anyone to look after, then an individual health insurance plan is the best, whereas if you have a family to look after, then a family floater plan will be better. In the case of the family floater, the sum insured will be more than the sum insured for individual health insurance.
Pre-existing disease: Pre-existing diseases play an important role in the health insurance premium calculation. If the policy seeker is already suffering from any disease, he/she would have to pay an extra premium. The premium would be high for a person with pre-existing disease.
Sum insured: Sum insured is the maximum amount that a policyholder can get from the insurance provider at the time of claim. It is very crucial to calculate the sum insured properly. The higher the sum insured, the higher will be the premium.
How To Renew Bharti AXA Health Insurance online?
Bharti AXA General Insurance Company allows its customers to renew their existing health insurance policy directly from its website. The steps are mentioned below:-
Visit the website of the company and click on the 'Renew' option.
Click on the tab "Bharti AXA Health Insurance" and click on 'Renew'.
Fill the basic details about your policy such as policy no., policy expiry date, name, email id, and mobile number.
After submitting the online application form, the company will redirect you to the payment page where you have to recharge the premium using net banking/credit/debit card.
What Documents Are Required To Buy Bharti AXA Health Insurance?
KYC - ID proof, age proof and proof of address such as PAN card, Adhaar card, Passport, Voter ID, driving license, birth certificate, etc.
Medical check-up/report (if specified and mandatory by your health insurance policy).
How To File a Claim Under Bharti AXA Health Insurance?
Two ways of making claim under Bharti AXA Health Insurance Policies are –
Cashless Claim Process
The cashless claim can be made if the individual got treatment from the network hospital.
In the network hospital, fill up the cashless claim request form with all relevant details like policy number, etc. and submit the same at the insurance help desk or just fax it at the number which is indicated in the mentioned form.
After the authorization of your claim, you will receive an authorization letter by Bharti AXA General Insurance or from Third-party administrator (TPA). The company or TPA may set the bill directly with the hospital.
In case of rejection, a letter with the reason for claim rejection will be sent along with the response.
In case of planned treatment at the network hospitals, the policyholder can fill the claim cashless request forms and submit it at the insurance desk of the hospital, 4 days prior.
The policyholder and the hospital will be informed within 6 hours of receiving the cashless claim via email and SMS.
Reimbursement Claim Process
In the case of reimbursement, Bharti AXA General Insurance should be informed within 48 hours of hospitalization.
Under the same, the policyholder has to pay all bills at the hospital. Later he/she needs to file a claim. For the same, it is important to keep all original documents of hospitalization.
After submission of the important documents, Bharti AXA General Insurance will release the payment within 21 days of the submission.
Documents Required-
Prescriptions.
Hospitalization document in which doctors have suggested the same.
Final original bills and every other bill you paid for your treatment at the hospital.
All test reports, their bills, and receipts/ Original test (lab) records.
Bills of all external medicines with original prescription if any.
Medical fitness certificate.
Attending doctor's prescription/statement.
Complete claim form.