Reliance Arogya Sanjeevani Insurance Plan
In this unprecedented time, covering you and your family is a necessity. Reliance Arogya Sanjeevani Insurance Plan comes with a wide variety of benefits such as in-patient hospitalization, daycare treatments, AYUSH treatments, and ambulance charges along with a large sum of insured options i.e., ranging from Rs. 1 lakh to Rs. 5 lakhs.
Eligibility of Reliance Arogya Sanjeevani
Entry Age
Child: 91 days to 25 years
Adult: 18 years to 65 years
Type of Plan
Individual and Family Floater
Policy Tenure
1 year
Sum Insured
1 lakh, 2 lakhs, 3 lakhs, 4 lakhs, and 5 lakhs
**Last Updated on August, 2021
Key Features and Benefits of Reliance Arogya Sanjeevani Policy
There are a number of plans available in the market but what plan to choose? It solely depends on your requirements. One should always be aware of the key features and benefits of the availed policy. Let's understand the key features.
Inpatient Hospitalization Care

This plan covers the medical expenses incurred on hospitalization for more than 24 hours due to an illness/injury/accident such as room rent charges, nursing, and boarding charges, and ICU charges. It includes:

| | |
| --- | --- |
| Room Rent, nursing, boarding expenses | Up to 2% of the sum insured subjected to a maximum of Rs. 5,000/per day |
| ICU/ICCU charges | Up to 5% sum insured subjected to maximum of Rs. 10,000 per day |
| Fees of Doctor/Medical Practitioner | Covered |
| Operation Theatre charges, surgical applications, medicine, and drugs expenses | Covered |

**Last Updated on August, 2021

Special medical procedures

Some of the special treatments listed on the policy documents are covered under this plan up to 50% of the sum insured.

Robotic Surgeries

Oral Chemotherapy
Bronchial Thermoplasty
Balloon Sinuplasty
High-Intensity Focused Ultrasound
Stimulation of Deep brain
Stem cell therapy
Vaporization of the prostate
Intra Operative Neuro Monitoring (IONM)
Radio Surgeries

Day Care Procedures

This plan provides coverage for the expenses incurred during daycare treatments taken at a hospital or diagnostic center. Hospitalization of 24 hours is compulsory in the daycare treatment.

Treatment of Cataract

Cataract treatment also gets covered up to 25% of the sum insured or Rs. 40,000 whichever is lower for one eye under the first policy year.

AYUSH Benefit

Medical expenses of Ayurvedic, Unani, Sidha, and Homeopathic treatments are also covered under this plan without any sub-limits.

Pre-Hospitalization

The plan covers the medical expenses for 30 days before the date of hospitalization.

Post-Hospitalization

The plan covers the medical expenses for up to 60 days from the date of discharge from the hospital.

Road Ambulance Charges

Road ambulance service includes the transportation of policyholders from one place to another along with all the required emergency services. These services are covered under this plan up to Rs. 2000 per hospitalization.

Plastic surgery and dental treatments

The plan provides coverage for plastic surgery and dental treatments caused due to accident/disease and illness.

Co-payment

Plan provides 5% co-payment for all claims.
Sample Premium Rates
This graph illustrates the premium payable by an individual at different ages for a sum insured of Rs. 5 lakhs. Let's understand the premium rates with the help of a graph.
Premium Payable by an individual at different ages under Arogya Sanjeevani Plan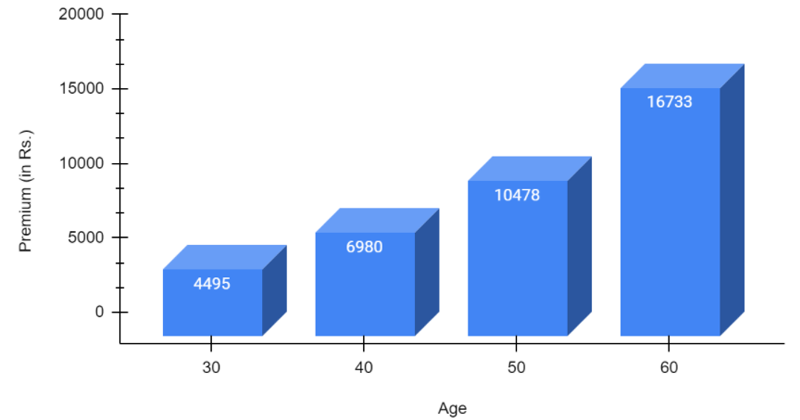 Above we have discussed the premium amount at different ages. But what about the amount of premium for different sum insured options. The plan offers coverage from Rs. 1 lakh to Rs 5 lakhs.
Premium Payable by an individual at a different sum insured under Arogya Sanjeevani Plan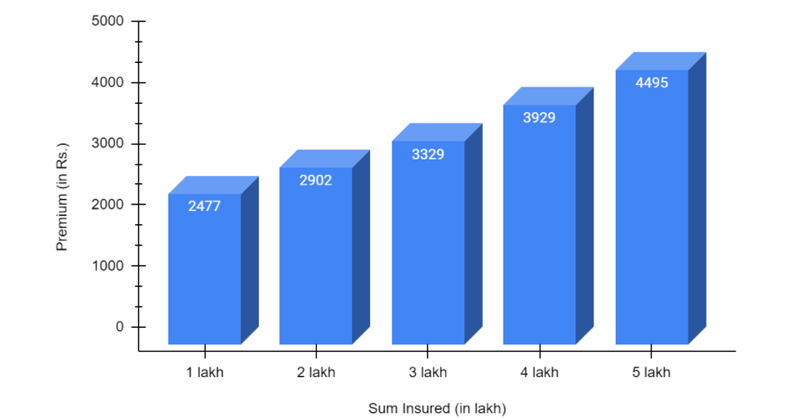 Waiting Periods
| | |
| --- | --- |
| Type of waiting period | Specifications |
| First waiting period | After the issuing of the first policy, a waiting period of 30 days is applicable to all claims unless the policyholder suffers from an accident. |
| Waiting Period for Pre-existing diseases | Pre-existing illnesses and their direct complications are not covered until the completion of 4 months of continuous coverage have elapsed since the policy starts. |
| Specific Waiting Period | A specific waiting period of 24/48 months is applicable to listed diseases in policy documents. |
**Last Updated on August, 2021
Policy Cancellation
| | |
| --- | --- |
| Time for which policy in force | Premium Refund |
| For up to 15 days | All the premium amount that is paid will be refunded. |
**Last Updated on August, 2021
Exclusions of Reliance Arogya Sanjeevani Insurance Plan
Take a look at some of the major exclusions of this policy.
Intentional/self-inflicted injuries
Dental Treatment (unless it is because of accident/injury)
War/chemical/nuclear attack
Breach of law with criminal intent
Cosmetic or plastic surgery due to accident/injury/illness
External congenital anomaly
Alcohol/drug/substance abuse
Hazardous or adventurous sports
Dietary Supplements and substances
Investigation and evaluation/wellness and rejuvenation
Change of Gender treatments
Infertility treatments
Overseas treatment
What Is The Process To Claim Reliance Health Insurance?
Cashless Claim:
If you are admitted to one of Reliance's partnered network hospitals, you have to follow the below steps-
Inform the company about your hospitalization.
All the authorization forms are required to be submitted on time along with the health cards and photo ID at the hospital desk.
After all the submissions, the hospital will contact Reliance Health Insurance for approval.
The insurance company will settle all the bills after verification.
Reimbursement Claim:
Here you have the option to get yourself treated at any hospital (apart from the network) and file for reimbursement with the following steps-
Inform the insurance company about the hospitalization as soon as possible.
Pay for the treatment and collect all the necessary documents (original copy) before you leave the hospital.
All original documents have to be submitted within 15 days of post-hospitalization treatment to get the reimbursement.
The company will verify the claim request and transfer the payment on approval.
Documents Required
Valid ID Proof
Original reports of diagnostic tests, radiology reports, and payment receipts.
Original hospital bills and discharge certificate signed by a medical practitioner.
Medical practitioner's prescription for consultation, medicine, and medical tests.
Post Mortem Report (if applicable).
Others requested by the company.