Reliance Health Gain Policy
Reliance Health Gain Insurance Plan is an health plan that provides coverage for daycare treatments, pre and post-hospitalization, expenses related to COVID-19, and other related hospitalization expenses under this plan.
Health Gain Policy is available in individual and family floater options, cashless facilities, restoration benefits, and other add-on features. This plan comes in 2 variants i.e., Plan A and Plan B. Both are ideal plans and offer similar benefits, but Plan B provides wide coverage in terms of extra cover, sub-limit, and sum insured options.
Eligibility of Reliance Health Gain Insurance Plan
Entry Age (Minimum)
Dependent children - 91 days to 25 years under Floater plan
Children above 5 years can be covered as an individual (with at least 1 member aged 18 years or above)
Entry Age (Maximum)
65 years
Exit Age
No Exit Age. Lifelong Renewability option is available
Individual Policy
A maximum of 6 members can be covered
Floater Policy
A maximum of 6 members can be covered under the same floater plan
**Last Updated on July, 2021
Key Features of Reliance Health Gain Insurance Plan
Before buying any health plan, it is important to understand the plan and its features thoroughly. Let's have a look at some of the listed features below:
The Reliance Health Gain Policy is specifically designed for women and girls with several benefits. There are different options of discount available such as 5% privileged premium discounts for children and women.
Reliance Health Gain Policy comes with an easy payment instalment mode. You can pay premiums easily monthly or quarterly wise.
When a medical claim exhausts all your sum insured, then in that case the insurance company automatically restores 100% of the amount. You can use 20% of the sum insured for any illness for which claims have been done previously and for a new or unrelated illness, 100% of the sum insured can be used.
If an individual who is covered under this policy gets detected with any of the listed critical illnesses, then their cover or policy can be renewed once free of cost. The covered critical illnesses are:

Cancer of particular severity
Multiple Sclerosis
Coronary Artery Bypass Graft
Heart stroke that results in permanent symptoms

The sum insured of the policy can be doubled after four consecutive claim-free years.
The plan offers lifelong renewability that saves your pocket from additional medical expenses.
This plan also offers coverage for Senior Citizens (above 65 years) for up to 3 lakhs sum insured only.
Get the tax savings to benefit on premiums paid under section 80 (D) of the Income Tax Act, 1961.
Under this plan, a policyholder gets complimentary wellness programs and services using our health portal and Assist app. This application helps you track your health and you can also seek medical advice and doctor consultation on call.
Benefits of Reliance Health Gain Insurance Plan
The major benefits of Reliance Health Gain Insurance Plan are:
Inpatient Treatment

In this, a patient is provided with a 24-hour care facility. This plan provides coverage for hospitalization expenses for in-patient treatment of covered illnesses, where the policyholder is hospitalized for more than 24 hours consecutively.

Day Care Treatments

The plan provides coverage for the daycare procedures where the policyholder needs less than 24 hours of hospitalization. Refer to the policy wording for the complete list of daycare treatments.

Pre & Post Hospitalization

The plan offers coverage to the insured up to 60 days before the hospitalization as well as 60 days after the discharge from the hospital.

Organ Donor

This plan covers the expenses incurred on organ donor treatment. A 50% of the sum insured is covered under the plan for a maximum of up to Rs. 5 lakhs.

Road Ambulance Cover

Expenses are covered for transporting the patient from one hospital to the other in case of medical emergencies.

Domiciliary Hospitalization

In some cases when it is not possible to move a patient to the hospital then the treatment is conducted at home which can also be covered under this plan.

Sum Insured Reinstatement

When you have exhausted all your sum insured and cumulative bonus, and still you want additional hospitalization expenses for any illness, then the company refills the sum insured free of cost.

Cumulative Bonus

When you do not make a claim in any policy time, then 33.33% of the cumulative bonus on your sum insured is provided to you at the end of each claim-free year.
Coverage Details of Reliance Health Gain Insurance Plan
Benefits
Plan A
Plan B
Sum Insured
Rs. 3 lakhs, Rs. 6 lakhs, Rs. 9 lakhs
Rs. 12 lakhs, Rs. 15 lakhs, Rs. 18 lakhs
Domestic Road Ambulance
Up to Rs. 1,500
Up to Rs. 3,000
Guarantee for policy service
Rs. 10,000 Sum insured for the delay in the issuance of policy
Rs. 20,000 Sum insured for the delay in the issuance of policy
No Claim Renewal in Accidental Death Cover
NA
Death cover of Rs 1 lakh of Personal accident
Pre and post hospitalization expenses
Up to 60 days
Inpatient hospitalization expenses
Covered up to the sum insured
Day Care treatments
Covered up to the sum insured
Expenses on organ donor treatment
50% of base sum insured subject to a limit of Rs. 5 lakhs
Wellness Programs
Yes
AYUSH Treatment
Covered up to 100% of sum insured
Modern and advanced treatments
Covered up to 50% of sum insured
Eligibility for Room Rent
A single private room is available
**Last Updated on July, 2021
Discount offerings by Reliance Health Gain Insurance Plan
Family Discount

Family discount depends on the family's size when you have more than insured members in your family individually in the existing policy instead of having a family floater plan. At that time, the policyholder is eligible for a 5% or 10 % discount.

Discount for Single women or girl child

You are eligible for a 5% discount if you have insured a little girl or a single woman in your family.

Discount on Policy Tenure

7.5% of discount for 2 years policy period
Sample Premium Rates of Reliance Health Gain Insurance Plan
This table illustrates the Premium payable by an individual at different ages for a sum insured Rs. 3 lakhs. Let's understand this with the help of a graph.
Premium Payable by an individual at different ages under Health Gain Plan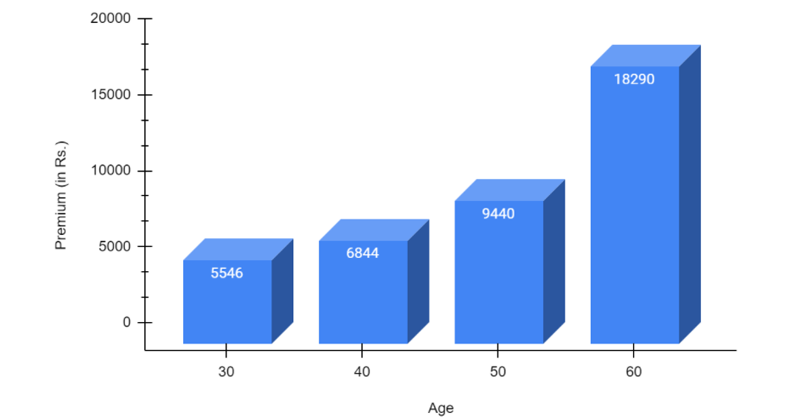 Here, you can see, with the increase in age, the premium amount is also increasing. For example, at 30 years of age, the premium is Rs. 5546 whereas, at 40 years of age, it increased to Rs. 6844. The premium increases with age because of the changes in lifestyle, pre-existed illnesses/diseases, smoking habits. The premium of a smoker is greater in comparison to the premium of a non-smoker because the smoker is at a higher risk of getting illnesses.
Exclusions of Reliance Health Gain Policy
Take a look at some of the major exclusions of this policy.
Dental treatment
Intentional/self-inflicted injuries
Non-Allopathy Treatment except AYUSH
War/chemical/nuclear attack
Breach of law with criminal intent
Cosmetic or plastic surgery due to accident/injury/illness
External congenital anomaly
Alcohol/drug/substance abuse
Hazardous or adventurous sports
Dietary Supplements and substances
Investigation and evaluation/wellness and rejuvenation
Buying Process of Reliance Health Gain Insurance Plan
The buying process of the Reliance Health Gain Insurance Plan is quite easy and smooth. Follow the below-listed steps,
Visit the official website of Reliance General Insurance.
Click on the 'Health' tab, and fill the form.
Click on 'Check our Prices', and the next page will show you the premium details of the most suitable plan.
Click on 'Continue to Buy' and make the payment online.
Once done, the policy document will be sent to your registered email.
Claim Process of Reliance Health Gain Policy
There are two options available for processing claims: Cashless claims and Reimbursement claims. Cashless claims do not require you to pay single money from your pocket when you are admitted to a network hospital at the time of a medical emergency. After submitting your pre-authorization form and other related documents, you are eligible for a cashless claim.
When you are hospitalized in a non-network hospital that is not enlisted with your insurer, then the patient is required to pay all the medical bills, but after informing the insurer and submitting all the required documents, the insurer refunds all the money in your respective bank account.
For processing the claim:
Call on their toll-free number 1800 3009 that is also provided on your health card.
Submit all the required documentation to the Reliance Care Portal i.e., R-Care.
In the case of Network hospitals - R-CARE will arrange a claim process for a cashless facility.
In the case of a non-network hospital - A reimbursement claim is done.