SBI Arogya Top-up Policy
SBI Arogya Top-up Policy is designed to offer additional coverage to the policyholder in case of a medical emergency. The plan comes into action when the coverage of the basic health insurance plan is exhausted due to the claims made.
This Top-Up Health Plan overcomes the inflation over and above your existing basic health insurance plan and allows the insured to continue the treatment without worrying about the cost of treatment.
The plan is available for any individual as well as for his family.
Let's explore more about the plan:
Eligibility Criteria of SBI Arogya Top-up Policy
| | |
| --- | --- |
| Entry age | 3 months to 65 years |
| Sum assured | Rs 1 Lakhs to Rs 50 Lakhs |
| Policy tenure | 1, 2 or 3 years |
| Deductible | Rs 1 Lakhs to Rs 10 Lakhs |
**Last Updated on August, 2021
Key Features SBI Arogya Top-up Policy
SBI Arogya Top-up enhances your basic health insurance policy. Below are the features mentioned of this plan for your reference:
Cashless Treatment

SBI Arogya Top-up Policy allows you to grab the cashless facility at SBI partnered network hospitals (6000+). Under the same, you don't have to spend any amount on the hospital bills; the plan will take care of the same on your behalf.

Co-Payment & Deductible

Co-payment is a process under which you have to pay a part of the hospital bill while filing the claim. Under the SBI Arogya Top-up policy, there is no co-pay clause. However, there is a clause related to the deductible which needs to be exhausted before you file any claim.

No-medical Check-Up

It does not ask for any pre-acceptance medical checkup to get insured until the age of 55 years.

AYUSH Benefits:

The plan also provides coverage against alternative treatment which includes ayurvedic, Unani, or homoeopathy, taken in a government hospital up to the sum insured limit.

Domiciliary Hospitalization

SBI Arogya Top-up Policy is there to cover all expenses related to domiciliary hospitalisation (treatment at home) that takes place due to any genuine reason.

Restoration of The Sum Insured

It is an exclusive feature that allows the 100% restoration of the sum insured. You might have to pay an additional premium to avail of this benefit.

Discounts

The plan offers a discount on choosing a family floater option or insuring for a long tenure.

Tax Benefits

The plan also comes out with tax benefits under section 80D of the Income Tax Act, 1961 for the premiums that you pay towards keeping your policy active. Maximum tax exemption- Rs.25,000 for self, dependent children & spouse, Rs.25,000 for parents and Rs.50,000 for old-age parents.
Sample Illustration of SBI Arogya Top-Up Plan
Let's take an example of an individual who is 30 years old and see how much premium he needs to pay for choosing the different sum insured and deductible amount:
Deductible (In Rs.)
Sum Insured Options (in Rs.)
10 Lakhs
25 Lakhs
50 Lakhs
1 Lakhs
3,009
3,673
4,197
5 Lakhs
663
872
1,024
10 Lakhs
200
200
200
**Last Updated on August, 2021
Graph Representing the Premium payable by an Individual Under SBI Arogya Top-up Plan:
Premium Rates of SBI Arogya Top-up Policy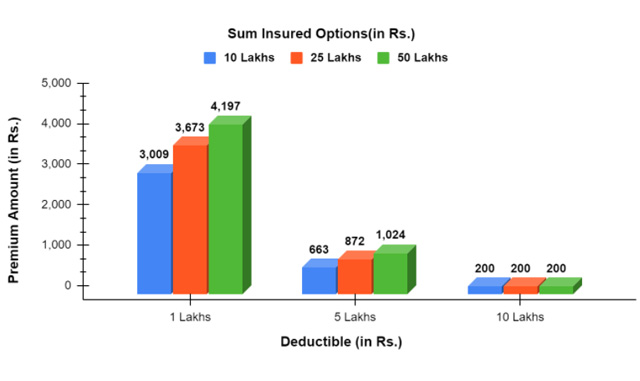 What Is Covered Under SBI Arogya Top-Up Plan?
In-patient Hospitalization
Covered
Pre-Hospitalization Expenses
Covered, up to 60 days
Post-Hospitalization Expenses
Covered, up to 90 days
Day Care Expense
Covers up to 141 daycare procedures.
Maternity Expenses
Covered after first 9 months
Ambulance Expense
Available up to Rs. 5000 per event
Domiciliary Hospitalization
Available
Alternative Treatment
Covers the Allopathic treatment or Modem medicines and includes Ayurveda, Unani, Sidha and Homeopathy (AYUSH)
HIV/AIDS Cover
Covered, up to Rs.1,00,000 except for the conditions which are permanently excluded
Mental Illness Cover
Covered, up to Rs.1,00,000
Genetic Disorder
Covered, up to Rs.1,00,000
Internal Congenital Diseases
Covered up to the Limit of Rs. 10% of Sum Insured.
Waiting Period
Pre-existing Diseases
48 Months
First Thirty Days Period
30 Days, except for accidents
Certain Specific Illnesses
12 Months & 90 Days
**Last Updated on August, 2021
What Is Not Covered Under SBI Arogya Top-Up Plan?
Injuries that take place because of war or warlike activities.
Any disease or illnesses that come out within the initial 30 days of commencement of the plan except the accidental ones.
Aesthetic and cosmetic treatment.
Any venereal diseases or sexually transmitted diseases.
Convalescence expenses.
Injuries occur because of nuclear weapons or radioactivity.
Medical treatments associated with weight loss, obesity, and weight management.
Injuries that took place under the influence of alcohol or drugs.
Self-injuries and attempt to suicide.
How To Buy SBI Arogya Top-Up Plan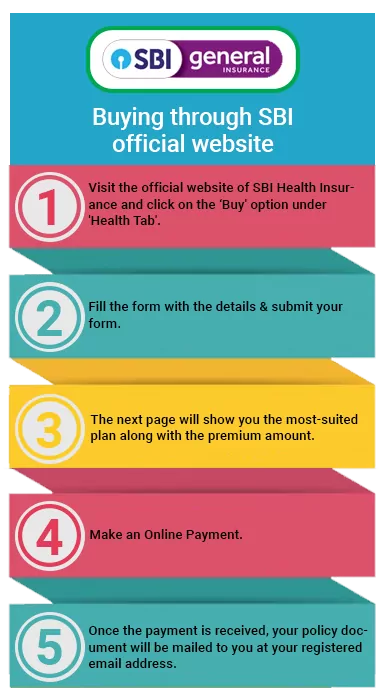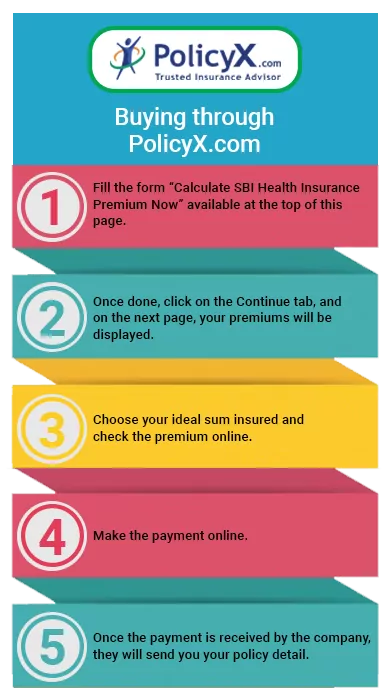 What Is the Claim Process for SBI Arogya Top-Up Plan?
SBI Health Insurance offers a direct process to file the claims. Let's take a look at it.
Inform the company about the claim by dialing the toll-free number: 1800 22 1111, or SMS 'CLAIM' to 561612.
One of the SBI customer representatives will reach out to you within 24 hours of filing the claim with details of the required documents and further steps.
Submit all the required documents.
The company will initiate the process and settle all relevant claims within 30 days of the final survey report.
Find Out What Customers Are Saying
(Showing latest 5 reviews only)
October 12, 2021
Avantika Nagpal
Kolkata
October 8, 2021
Rekha Tyagi
Kolkata
September 2, 2021
Kuwali Rai
Gandhinagar
September 1, 2021
Vishwanber Sharma
Guwahati
April 29, 2021
Meenal Varun Joshi
Agra
Last updated on August, 2021