SBI Loan Insurance Policy
SBI Loan Insurance policy offers comprehensive coverage to the policyholder and helps them to repay their loan in case of medical emergencies arising due to critical illnesses or accidents, that lead to loss of job or death.
The plan proves to be useful in meeting the primary cause affecting loan repayment.
Read along to explore more about the plan:
Eligibility Criteria of SBI Loan Insurance Policy
Age at Entry
Minimum: 18 years
Maximum: 65 years
Sum Insured
Up to Rs. 1 Crore
Policy Tenure
Maximum for 3 years
Coverage Offered against
Critical Illness
Accident
Job Loss
Critical Illnesses Covered
13 Illnesses
**Last Updated on August, 2021
What Is Covered Under SBI Loan Insurance Policy
Critical Illnesses

The plan covers 13 critical illnesses and pays the Outstanding Loan Amount or Sum Insured based on the option chosen by the policyholder. The critical illnesses covered are:

A. The first diagnosis of the below-mentioned Illnesses more specifically described below:

Cancer of Specified Severity
Kidney Failure Requiring Regular Dialysis
Primary Pulmonary Arterial Hypertension
Multiple Sclerosis With Persisting Symptoms

B. Undergoing for the first time of the following surgical procedures, more specifically described below:

Major Organ/ Bone Marrow Transplant
Open Chest CABG
Aorta Graft Surgery
Open Heart Replacement or Repair of Heart Valves

C. Occurrence for the first time of the following medical events more specifically described below:

Stroke Resulting in Permanent Symptoms
First Heart Attack of Specified Severity
Coma of Specified Severity
Total blindness
Permanent Paralysis of Limbs

Exclusions:

Any pre-existing illness
Any critical illness discovered within 90 days of the policy
Self-medication or unauthorized treatment
Congenital illness or defects and/or treatment administered for them
Hormone Replacement Therapy; contraceptive procedures
Gender change or cosmetic surgery or treatment/procedures associated with the same

Personal Accident

The plan pays out the outstanding loan amount or sum insured based on the option chosen by the policyholder in case of the Death or Permanent Total Disablement that occurred due to an accident.

Exclusions:

Payment under more than one category specified i.e Death or Permanent Total Displacement
Any infirmity/conditions existing before the inception of the policy
Persons learning to operate an aircraft or operating as crew or participating in adventure sports including winter sports, hazardous activities, and the like
Death or permanent total disability arising out of illness
Venereal diseases or insanity

Loss Of Job

The plan pays out the maximum of 3 EMIs in the unfortunate event of temporary unemployment or dismissal or retrenchment.

Exclusions:

Termination, dismissal, temporary suspension, or retrenchment due to fraud or dishonesty, poor performance
Businessmen; self-employed persons
Employees on a casual, temporary or contractual basis
Unemployment due to resignation, retirement whether voluntary or otherwise
Unemployment at inception or arising within first 90 days of Inception
What Is Not Covered Under SBI Loan Insurance Policy
Other than the above-mentioned exclusions, the plan does not offer coverage against:
War, invasion; acts of terrorism, riot, or malicious damage
or such similar perils
Nuclear perils; ionizing radiations
Drug abuse or alcoholism
Self-inflicted injury attempted suicide or suicide
HIV/AIDS
Consequential loss or indirect expenses
How To Buy SBI Loan Insurance Policy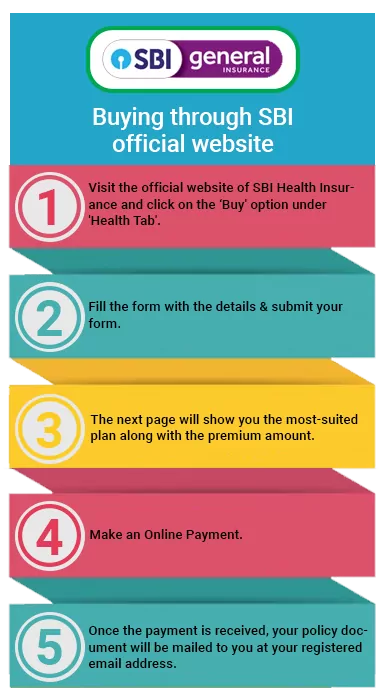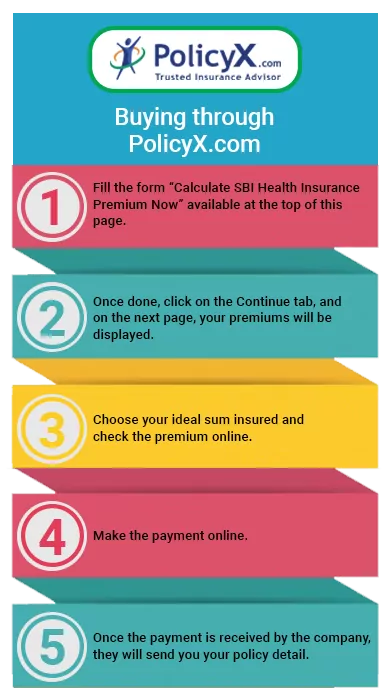 What Is the Claim Process for SBI Loan Insurance Policy?
SBI Health Insurance offers a direct process to file the claims. Let's take a look at it.
Inform the company about the claim by dialing the toll-free number: 1800 22 1111, or SMS 'CLAIM' to 561612.
One of the SBI customer representatives will reach out to you within 24 hours of filing the claim with details of the required documents and further steps.
Submit all the required documents.
The company will initiate the process and settle all relevant claims within 30 days of the final survey report.
Find Out What Customers Are Saying
(Showing latest 5 reviews only)
October 12, 2021
Avantika Nagpal
Kolkata
October 8, 2021
Rekha Tyagi
Kolkata
September 2, 2021
Kuwali Rai
Gandhinagar
September 1, 2021
Vishwanber Sharma
Guwahati
April 29, 2021
Meenal Varun Joshi
Agra
Last updated on August, 2021