A car insurance policy takes care of unforeseen eventualities and damages as a result of calamities, accidents, fires, and thefts. As per law, you must possess a policy to drive on the Indian roads. Typically, policies for car insurance last for a year. It means must renew it before or on the day of expiry. 
What Happens After a Car Insurance Lapses?
If a car insurance policy expires, you will be unable to reap the benefits of the subscription. Here they are for your reference.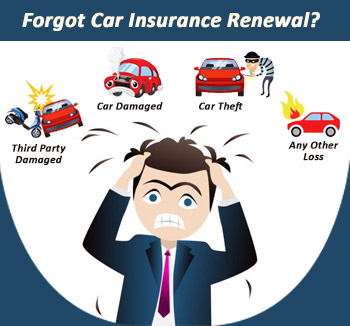 No compensations
Compensation for unexpected damages will no longer be available. You may have to pay for all the losses that the car might incur after policy expiration.
Legal consequences
You could get in trouble with the law since it is mandatory to possess an insurance policy for your vehicle. In the event of a mishap, if you are unable to produce one, fines could be applicable. 
No claim bonuses 
Car insurance policy premiums usually attract a no claim bonus, a discount offered on your current premium if you haven't claimed the previous year. To benefit from this offer, you must renew your car insurance policy after it expires.
How To Renew Your Car Insurance Policy?
There are two means to renew your car insurance policy. Both are listed below- 
Visit the branch of your respective insurance provider and speak to the customer representative to renew your policy. You can also get in touch with the customer care team via call or email. 
Visit the website of your respective insurance provider and renew your policy within a few minutes. 
You can also take the help of PolicyX.com to renew your policy. Our insurance experts will guide you at every step of the way. 
Know: How To Check Car Insurance Policy Status?
Points To Remember
Renew your car insurance policy immediately if the expiry date is near.
You must not drive your car without a valid insurance policy. You could be at high risk, especially if there happens to be a mishap.
To avoid repeated renewals, you can opt for a long-term policy when you are recommencing insurance.
FAQs
How do I know when my car insurance policy expires?
If you have obtained your insurance online, then you should receive an email with all the details including the expiry date.
Is it possible to renew my policy before the date of expiry?
Yes, this is the most recommended way of renewal. Even before the expiry of your car insurance policy, apply for renewal so that there are no gaps.
How much do I have to pay in fines if I get caught driving a car without a policy?
You could end up paying up to Rs. 2,000 in fines and penalties to the traffic police. You can also get imprisonment for up to 3 months.