The Car Insurance policy covers your car against many kinds of risks such as theft, fire, etc. It also includes any kind of damage that can happen in your car irrespective of the model and make you have. Off lately it also provides inbuilt cover of third party loss.
That means if some damage happens to any other car than Insurance covers the same. In order to safeguard your car, you must buy a car Insurance policy. There are many add-ons that can assist with extra protection.
There are lots of benefits that can be availed with the help of these car insurance plans as well. Whatever plan you may choose to take it has to be renewed after regular intervals as chosen by you. It can be monthly, quarterly, bi-annually or yearly. If you are not able to pay the amount after this period than your car insurance expires.
Consequences of Missing the Car Insurance Renewal
Car Insurance plays an important role in protecting your car against any damage. The car insurance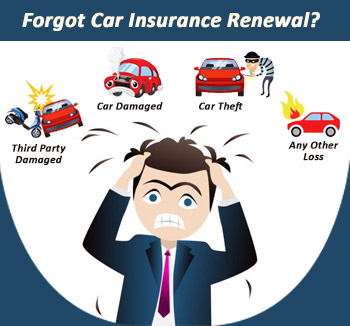 policy must be renewed regularly to enjoy its complete benefits. You must keep track of the due date of the renewal to avoid a policy lapse. In spite of setting the reminder, if you miss the due date then your policy is at a greater risk of getting lapsed. The grace period of a maximum of 30 days is facilitated in most of the policies. If the policy is not renewed even after the grace period than there are 100% chances of the policy lapse.
Some of the risks associated if our policy gets lapsed are
No coverage on car damage

Car theft

Third-party damage

Any other loss covered by the policy
To ensure you don't suffer from such risks you must immediately renew your car Insurance policy To do so you can contact car insurance policy agents and ask the possible risk that you may have. You can also inquire about how to renew your policy.
Some of the steps that can be taken to avoid these risks until you get your car Insurance renewal are as follows.
Avoid driving the long-distance

Park at a safe & trusted place

Always lock your car

Drive slowly

Don't drive at all
The best thing to do is to renew the policy as soon as possible. The penalty that a policyholder needs to pay if there is a huge gap in the renewal is mentioned below.
More cost of the premium

Denial of renewal

Less Coverage

Less IDV*

Affect on NCB*
No matter how difficult it is to get the car insurance policy renewal we must get it done as soon as possible as It can prevent further loss. "Better late than never" is the ideal proverb in such situations.
What you must know about the car Insurance policy?
People are often careless or unaware of the benefits of car Insurance. Because of this attitude, they may miss out on the renewal date. As a result, they need to pay a heavy cost for the same. Missing car insurance is not an option in India. It's one of the mandatory documents that every car owner must possess. Before going into details about the car insurance, we must understand a few terms associated with the same. This will help us in understanding the relevance of car insurance in detail.
IDV*
IDV is an insured declared value of your car. This value is decided by the Insurance companies. This amount is declared based on many parameters. One of the major factors in determining this value is the depreciation value of the car. Other aspects that make a difference in determining the IDV may be the engine capacity of the vehicle. The frequency of claims taken by the policyholder and the gap in the renewal also affects the IDV.
NCB*
No claim bonus is one of the unique and best features of any car insurance plan. It keeps on increasing after the end of every non-claim year. It can increase up to a maximum value of 50 %. Because of this feature of car insurance policy, small claims are often discouraged. If you plan to take smaller claims than you may end up losing heavy discounts. It's always better to do an analysis before going for any claims. Usually, the claims less than Rs 10,000 should be avoided as for this claim, the amount that you may get might be just Rs. 4,000 after all the deductions. However, the discount on the premium on renewal might be much higher.
The percentage of no claims bonus can be illustrated below.
| | |
| --- | --- |
| End of year | NCB discount percentage (% age) |
| 1st Year | 20 |
| 2nd Year | 25 |
| 3rd Year | 35 |
| 4th Year | 45 |
| 5th Year | 50 |
Third-Party Cover
Third-party cover is the amount covered for the damage done to the other vehicles. Earlier this used to be an add-on in the car Insurance policy. Now it's an inbuilt feature for the Insurance policies. This has been included in the car Insurance policy as it's very important to cover the damage done to the third party. This may make people more conscious while driving. NCB is not applicable in the case of third party cover.
Add-Ons
Most of the car Insurance companies enables many add-ons that can be used along with car insurance. These add-ons are available at a very nominal cost. Some of the add-ons are like engine protect, key replacement, car towing services, etc.
Garage Facility
Most of the car Insurance company provides the garage facility for car services. Their garage is available pan India. Some of the Insurance players along with the garage facilities are tabulated below.
| | |
| --- | --- |
| Car Insurance Players | Garage Facility |
| ICICI Lombard Motor Insurance | 5500 |
| Bajaj Allianz Car Insurance | 4000 |
| Tata AIG Car Insurance | 3800 |
| Reliance Car Insurance | 3800 |
| Royal Sundaram Car Insurance | 3300 |
| Bharati Axa Car Insurance | 2500 |
Why You Should Have Car Insurance?
Car protection
A car insurance plan can protect your vehicles against any sort of risk. The car can be at risk of getting damaged because of accidents, theft or any other unexpected hazard. The best way to protect your valuable car is by buying good car insurance plans. Many plans are easily available online. You can also compare their premium before selecting a suitable car policy for yourself. Car premium calculator on the online comparison sites uses specialized algorithms to show you quotes from all the available car Insurance players. After the comparison, it's easy to make an informed decision.
Add-on facility
By paying a nominal additional fee, you can also have the desired add-ons to have extra protection for your cars. There are various add-ons available in many car insurance policies. These add-ons can be related to the key replacement, engine protects, car towing services and many more. You can always buy add-ons as per our requirement. Some add-ons like car-towing service is a necessity.
Women's safety
There are special benefits extended to the women drivers for the late-night hours. The facility such as car towing, arranging cabs or hotel accommodation is available freely in many car insurance plans. In others, it's available at a very nominal additional cost.
Financial management
In the absence of car Insurance, any expenses levied on the car for its repair or other contingency need to be borne by the vehicle owner. With a good car Insurance policy, these expenses can be managed by the car insurance policy. Good car Insurance policy can save us from any financial crisis as we are saved in incurring a huge cost.
Saving tax
As per section 80 c & 80 d, we can save the amount of premium paid for car insurance in the tax. We can always declare the cost paid for the car insurance premium while filling our returns. There are dual benefits of the same, first, we are saving the tax, secondly, we are investing the saved money where we can get better benefits.
Adhere to the traffic rules
With the facility like NCB, people usually plan to avoid small claims. Also since third party cover, it's not applicable, people drive carefully and adhere to the traffic rule to the extent possible. This assists in managing traffic rules and regulations as well.
With so much insight about the car insurance, I am sure you will never miss out on renewing it on time.