About Maruti Suzuki India
Maruti Suzuki India Ltd. is one of the leading passenger car manufacturers in India. It is a subsidiary of the Japanese automobile major Suzuki. Started in 1981, the company has dominated the automobile industry in India with its range of passenger cars becoming popular. Its wide range of workshops and authorized service stations has ensured that the company has become the preferred choice of car buyers.
Top 4 Maruti Suzuki Car Models
The top four Maruti cars sold in India are:
1. Alto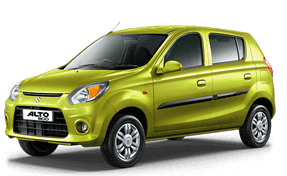 The Alto is the top-selling model from Maruti and is the preferred entry-level car. The car has a new design with a focus on looks. It has a seating capacity for 5 persons. The fuel tank capacity is 35 litres and runs on petrol. It has a CNG option. It has a 5 speed MT with 796cc volume. The car has 145/80 R12 tubeless tyres. It offers a 17.78 touch screen infotainment system and has a mileage of 22.05 km/l for petrol and 31.59 km/l for CNG. Its key features are dual airbags for safety, smart reverse parking sensor, and ABS with EBD.
2. Dzire
The Dzire is the second best-seller car from Maruti Suzuki offered in both Petrol and Diesel variants. The sedan car gives a mileage of 21.21 km/l for petrol and 28.4 lm/l for diesel. The car has an engine capacity of 1197 cc. It has 5 MT transmission and offers Alloy tires 185/65 R15. It can seat 5 passengers and has a tank capacity of 37 litres. The car offers features like an auto gear shift, push the start-stop button, and smart keyless entry. It has dual airbags, ABS with EBD, and Suzuki HEARTECT platform for safety.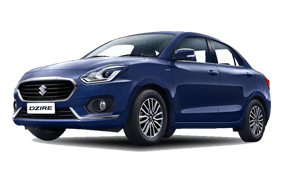 3. Swift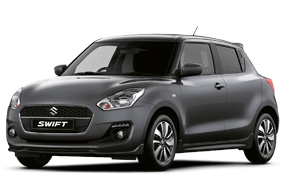 Swift has been one of the most popular cars from Maruti and has been a steady performer. Available in both diesel and petrol variants, the Swift has an exciting front grille design and has a smart play infotainment system. It offers a mileage of 21.21 km/l for petrol and 28.40 lm/l for diesel. The 1197 cc engine car has 165/80 R14 tyres. The car's fuel capacity is 37 litres and it can seat 5 passengers. Auto-gear shift, smart key, push start-stop button, ABS with EBD, dual airbags, and reverse parking sensor with the camera are its key features.
4. Baleno
The Baleno is one of the old favourites of Maruti. The Nexa New Baleno uses smart hybrid technology and has a 3D grille for enhanced design. It has LED projector lamps, and feature tilt and telescopic steering. It has a 1.2 litre VVT engine with 5 speed MT. There is also a variant with the DDisS 190 engine. Its safety features include ABS + EBD, dual airbags, and reverse parking assist sensor. The petrol car offers a mileage of 23.87 km/l and the diesel variant a mileage of 27.39 km/l. The fuel tank capacity is 37 litres.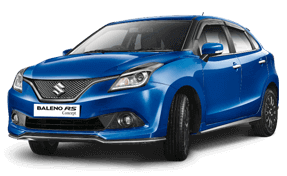 Importance of Buying Maruti Suzuki Car Insurance
Buying insurance for your Maruti Suzuki car gives you benefits like:
You can drive with peace of mind knowing that you are protected against the risk of an accident. You are covered for damage to the car by accident, fire, and other such instances.
Getting insurance ensures coverage in case of theft.
Liability towards a third party due to an accident is covered under car insurance.
Benefits are provided to nominees in case of death of the insured in an accident.
Towing of the vehicle for repair and on-road assistance can be covered by car insurance.
Maruti Suzuki Car Insurance Price
The car insurance premium depends on factors like the model, engine type, year of registration, and add ons required. The following are premium rates for the top cars:
| | | | | |
| --- | --- | --- | --- | --- |
| Car Model | Variant | IDV | Zero depreciation (Add on)* | Premium (Basic)* |
| Alto | Std 796 cc Petrol | 2,52,190 | 1,261 | 10,017 |
| Dzire | LXi Petrol 1197 cc | 5,28,203 | 2,641 | 18,207 |
| Dzire | LDi Diesel 1248 cc | 6,23,203 | 3,116 | 20,789 |
| Swift | LXi Petrol 1298 cc | 4,67,685 | 2,338 | 16,442 |
| Swift | LDi Petrol 1248 cc | 5,69,053 | 9,958 | 38,500 |
| Baleno | Sigma 1.2 1197 cc Petrol | 5,27,073 | 2,635 | 17,319 |
| Baleno | Sigma 1.3 1248 cc Diesel | 6,18,565 | 3,093 | 19,691 |
*Prices quoted at Delhi prices for 2020 basic model
Maruti Suzuki Car Insurance Inclusions & Exclusions
Inclusions
The inclusions as a part of the Maruti Suzuki insurance policy include:
Damage to the car in an accident is covered.
Damage to a third party is also covered.
Theft and burglary would be included in the policy.
Fire, lightning, and explosions are covered in the policy.
Acts of God like floods, earthquakes, etc.
Disasters caused by humans like terror attacks and riots.
If someone is injured in an accident, the person/family can be compensated for losses.
Damage to property due to an accident is also covered.
Exclusions
The following are exclusions from your policy:
Regular wear and tear.
Breakdown of the vehicle for electrical/mechanical causes.
Tyre damage.
Driving while violating the laws of the land (without a license, drunk driving, driving by the underage driver).
Using the car to carry goods, or in racing, or for hire.
Damage caused due to war or nuclear accidents.
Accidents caused deliberately or accidents that the insurer deems to be fraudulent.
Using the car beyond the permitted geographical limits.
Discounts
When you get your Maruti Suzuki car insured, you can expect the following discounts:
No Claim Bonus: You are rewarded for every year of safe driving without any claims. The bonus keeps adding each year and you can get a maximum of 50% no claim bonus.
Security Devices: When you install an ARAI approved security device in your car, you can get a discount.
AAI membership: Members of the Automobile Association of India are entitled to special discounts.
Increasing Deductible: If you opt for a higher deductible amount at the time of taking the policy, your premium amount will be reduced.
Add-ons
Add-ons are available for your Maruti car insurance policy. These include:
Zero-Depreciation Cover: This allows you to get the full amount of the car from the insurer if your car meets with an accident and depreciation will not be considered.
24 x 7 Road Assistance: It offers assistance on the road for its car driver at all times. You can get assistance like towing, flat tire repair, and battery service.
Engine Protection Cover: Engine damage is excluded and this add-on protects you against repair costs due to engine failure.
Accident Cover: This add-on provides accident insurance to passengers who were in your car at the time of the accident.
Return to Invoice Cover: There is a difference between the invoice amount and the IDV of the car. This add-on will help you cover the gap in case of an accident to help you get the on-road price of the car.
Key Replacement Cover: In case you lose the car key, the cost of replacing the car keys is covered with this add-on.
Consumables Cover: Consumables like grease, AC gas, engine oil, etc are not covered under the car insurance policy. This add-on will help you cover the costs of consumables at the time of repair.