The Motor Vehicles Act of 1988 makes it mandatory to have at least Third Party Insurance coverage to be able to run on Indian roads. However, Third Party Insurances must be coupled with a Comprehensive Car Insurance to ensure that you are building on a flexible financial cushion which comes into play in the event of damage or death involving an accident. 
Since comprehensive coverage can be a bit steep when it comes to the premium, there is a unique scheme that allows you to claim a discount on the premium prices known as the No Claim Bonus. 
In this article, we shall learn more about No Claim Bonuses with an illustration of how it works. Also, we will answer some of the most common questions on No Claim Bonus for you to have a better understanding of the scheme.
What is No Claim Bonus or NCB?
No Claim Bonus can simply be described as a reward offered by the insurer to the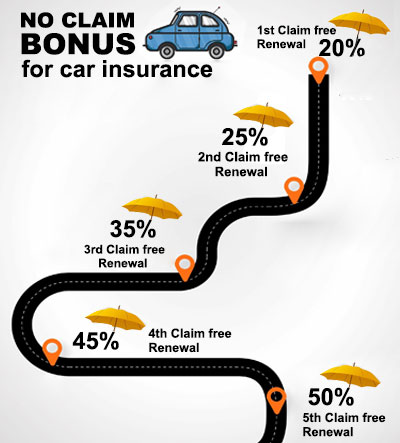 policyholder for not making any claims during the policy tenure. In essence, No Claim Bonus will allow you to claim a discount on the premium, provided that you have not made an insurance claim in the previous year(s). You can get a discount ranging from 20% to 50% (depending on the NCB accumulated).
Illustration 
On second renewal, Mr. X is entitled to receive a 25% discount in the premium amounting to INR 15,000 in case he has not made any claims yet. 
We see that the policyholder is eligible to get a discount of INR 3,750 on the amount of premium if he does not make a claim for the tenure of the policy.
As per IRDA rules, there is an annual increase in the No Claim Bonus percentage. The table below clears the air around the hike in No Claim Bonus percentage at each renewal. 
| | |
| --- | --- |
| Years  | No Claim Bonus Percentage (%) |
| 1st Claim-free Renewal  | 20 |
| 2nd Claim-free Renewal  | 25 |
| 3rd Claim-free Renewal  | 35 |
| 4th Claim-free Renewal  | 45 |
| 5th Claim-free Renewal  | 50 |
Features of No Claim Bonus
There are plenty of features of No Claim Bonus, some of which are elaborated on below. 
NCB is not a Right 
No Claim Bonus is not a right available to the policyholder at the purchase of a policy. It is a reward by the insurer for not making a claim, available only at policy renewals. The nature of this discount is such that the policyholder does not get a discount right off the bat. However, the policyholder can start claiming the discount after the first renewal of the policy. With every claim-free year, the percentage of the discount increases.
Transferable in Nature
NCB is transferable. NBC accumulated on a vehicle can be transferred to another, provided that the policyholder is the same. If you are switching your insurance service provider, you can also transfer accumulated NCB from your previous insurer to the next one. However, you must get an NCB certificate from your existing insurance service provider to be able to transfer the bonus accumulated.
Not Available for Third Party Insurance 
NBC only offers the benefits of discounts on the Own Damage Cover. It is not applicable if you only have a Third Party Coverage. The benefit is also not applicable to the add-ons that you take in addition to the Comprehensive policy.
Termination of NCB 
If you make a claim during the policy year, you will not be eligible to receive No Claim Bonus on policy renewal. The NCB stands at a risk of being terminated if you do not renew the policy within 90 days post the date of expiry. 
Proof of Validity of NCB 
No Claim Bonus proof is valid for 2 years. If you do not have your car insurance policy for more than 2 years, you will lose the accumulated NCB. 
NCB Add-on 
The NCB is an optional feature that keeps the accumulated bonus intact even if you make a claim during the policy tenure. The NCB add-on covers a prefixed number of claims without terminating the No Claim Bonus. 
Thus, No Claim Bonus is a determining factor in choosing a car insurance policy. Make sure you invest in a policy that allows maximum NCB!