SBI Arogya Plus Policy
A plan like SBI Arogya Plus Plan is a necessity in today's date when the cost of the medical treatment is rising at a higher pace. It helps you focus on the healing process rather than your medical expenses, by managing all the OPD and medical bills
Here are all the details which can guide in making decisions in favor of your health and finance.
Features of SBI Arogya Plus Policy
The features of the health Insurance plan have been explained in detail below:
Health Checkup Before Buying The Policy: All do not need to go through the pre-insurance health checkup. Pre-insurance health checkup is compulsory only for the policy buyers more than 55 years of age.
Waiting Period: A waiting period of 30 days is applied to the policy, from the date of inception of the policy. After the completion of this tenure, only the insured can avail of cashless treatment/ reimbursement for treatment for a certain disease.
Pre-Existing Condition: SBI Arogya Plus Policy has a fixed waiting period for the treatment coverage of pre-existing diseases. After the completion of the first 4 years of coverage, the insured is eligible for the treatment of the pre-existing illness. A waiting period of 1 year applies to a specified disease or condition.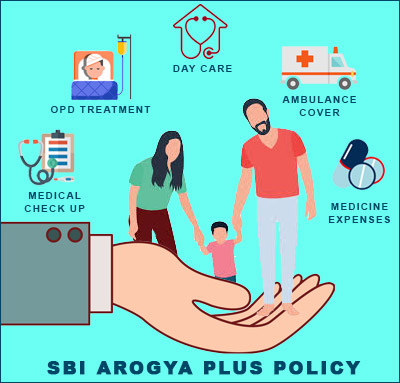 Free Look Period: According to the procedure under the plan, 15 days free look period is provided to the insured to finalize the policy. In any case, if the insured is not satisfied with the plan then he has full right to cancel the policy.
Variants Of Plans: There are several options for coverage under individual plans and family floater plan.
Daycare facility: There is the availability of a daycare facility for the insured of the SBI Arogya Plus Plan.
Grace Period: A grace period of 30 days is provided to the policyholder to pay the premium for renewal. In case of failure, the policy is subjected to lapse.
Hospitalization Cost: TIn the case of inpatient hospitalization, all the medical expenses incurred are managed and paid out under the plan. There are procedures for both pre-hospitalization and post-hospitalization expenses coverage.
Eligibility Criteria
The eligibility to buy the Arogya Plus policy has been mentioned in the tabular form.
| | |
| --- | --- |
| Criteria | Details |
| Minimum Entry Age | Above 3 months |
| Maximum Entry Age | 65 years |
| Maximum Exit Age | No Bars |
| Members Included (Family Floater) | Self, spouse, maximum 2 children, dependent parents and depend on parents in law. |
Sum Insured Options
There are three options when we talk about the sum insured and the same has been mentioned in the table:
| | |
| --- | --- |
| Criteria | Details |
| Sum Amount Option | Rs.1 Lacs, Rs.2 Lacs, Rs. 3 Lacs |
| Tenure For Individual Plan | 1, 2, 3 year/s |
| Tenure For Family Floater Plan | Only 1 year |
SBI Arogya Plus Policy Premium
Premiums play an essential role in keeping a policy live. It is mandatory to pay premiums on time if one wants to prevent the policy from the lapse. For an easy reference, two tables have been represented mentioning the premiums to be paid according to age-wise and respective insured sum for Arogya Plus Policy.
Calculated OPD Charges As Per Premium:
The policy schedules mention all about OPD charges that can be covered under the plan. Here are a few tables mentioned for the easy referral of the insured that how much OPD charge coverage s/he would get under the particular premium.
SBI Arogya Plus Individual Plan OPD Charges Coverage For Premium (Rs. 8900)
| | | | |
| --- | --- | --- | --- |
| Age (Years) | (SI) Rs.1 Lac | (SI) Rs.2 Lacs | (SI) Rs.3 Lacs |
| 0.25 - 18 | 7000 | 5500 | 4000 |
| 19 - 35 | 7000 | 5500 | 4000 |
| 36 - 40 | 6500 | 5500 | 4000 |
| 41 - 45 | 6500 | 3500 | 2000 |
| 61 -65 | 2000 | 500 | 500 |
SBI Arogya Plus Family Floater Plan OPD Charges Coverage For Premium (Rs. 8900)
For (2 Adults + 2 Children)
| | | | |
| --- | --- | --- | --- |
| Age (Years) | (SI) Rs.1 Lac | (SI) Rs.2 Lacs | (SI) Rs.3 Lacs |
| 0.25 - 18 | N/A | N/A | N/A |
| 19 - 35 | 4000 | 1500 | 500 |
| 36 - 40 | 3500 | 500 | 500 |
| 41 - 45 | 3000 | 500 | 500 |
| 61 -65 | 500 | 500 | 500 |
Coverage/ Benefits Of SBI Arogya Plus Policy
Here is a list of all the coverage/ benefits provided to the policy buyers of Arogya Plus Plan:
Medical Practitioners Fees: All the doctor's consultancy fees can be covered under the SBI Arogya Plus subjected coverage of the illness under the plan.
Boarding Expenses: This plan also provides coverage for boarding expenses. Room Rent: There is provision under the plan following which the room rent get the coverage.
Nursing Expenses: All the nursing expenses get coverage under the plan.
Intensive Care Unit: The expenses incurred under the ICU also gets coverage under SBI Arogya Plus.
Other Coverages: Anesthesia, blood, oxygen, operation theatre expenses, surgical appliances, medicines and consumables, diagnostic expenses, and x-ray, dialysis, chemotherapy, radiotherapy, cost of a pacemaker, prosthesis/internal implants, Dressing, ordinary splints, and plaster casts, and many medical expenses incurred as an integral part of the operation.
Physiotherapy: Under the inpatient care, physiotherapy is a part of the treatment.
Diagnostic Procedures: All the expense incurred in the diagnostic procedure of disease gets the cover.
Drugs/Medicines: Drugs, medicines, and consumables consumed during the time duration of hospitalization are paid off.
OPD Treatment: Expenses for OPD consultation and treatment up to specified limit gets coverage.
Ambulance Cover: An ambulance expense of Rs. 5000 is provided to the insured in case of emergency hospitalization.
Domiciliary Hospitalization: In certain cases, it might happen that you are not in a condition to travel to the network hospital. Under such a situation the insured can take the benefit of domiciliary hospitalization but only after presenting proper documents mentioning suggestions from the doctor for any such care.
Pre-Hospitalization: Any treatment cost 60 days before the hospitalization gets coverage under the pre-hospitalization expense
Post-Hospitalization: Any treatment costs 90 days after discharge from the hospital are covered under the post-hospitalization expenses.
Daycare Procedures: Daycare procedures are provided for 142 days.
Alternative Treatment Cover: Treatments took from government hospitals or institutes recognized by the government get coverage under the SBI Arogya Plus Policy.
Maternity Cover: Maternity expenses are considered and covered under up to the OPD limit of the policy.
Tax Benefit: The premiums paid under the plan are tax exempted under section 80 D of the income tax act, 1961. The tax benefits are subjected to the changes brought in tax laws.
Exclusions
The treatment operated outside India does not get the coverage.
Nuclear weapon/material inflicted injury.
Hostilities, war, an act of a foreign enemy, invasions, etc.
Intentionally self-inflicted injury, or injury due to violation of any law.
Epidemic disease recognized by WHO or Indian Government.
Cosmetic or aesthetic treatments of any description, Lasik treatment for refractive error. Any form of plastic surgery (unless necessary or the treatment of illness or accidental bodily injury)
Vaccination or inoculation except as part of the post-bite treatment of animal bite.
Treatment for de-addiction from drug or alcohol or other substance.
Treatment for any mental illness or psychiatric or psychological ailment/ condition.
Any condition directly or indirectly caused by or associated with human immunodeficiency virus or variant/ mutual viruses and or any syndrome or condition of a similar kind commonly referred to as AIDs.
Stem cell implantation/ surgery, condition or any genetic disorder is also not covered under this plan.
Any experimental and unproven treatment.
Treatments in health hydro, spas, nature care clinics, and the like.
Disease/ illness or injury whilst performing duties as a serving member of a military or police force.
SBI Arogya Plus Policy Review
The plan has been liked by the policyholder to such an extent that it makes the plan to be recommended to others. The excellent facilities and add on discounts provided under the plan give you a reason to buy a policy like SBI Arogya Plus Plan.