SBI Arogya Plus Policy
SBI Arogya Plus Plan offers financial protection to you and your family during a medical emergency. The plan ensures that the policyholder concentrates on his/her treatment without worrying about the treatment expenses.
Arogya Plus Policy by SBI General Insurance is available on an individual and family floater sum insured basis and offers an array of benefits to the policyholder.
Here are all the details that you need to know about the plan
Eligibility Criteria of SBI Arogya Plus
| | |
| --- | --- |
| Minimum Entry Age | Above 3 months |
| Maximum Entry Age | 65 years |
| Maximum Exit Age | No Bars |
| Members Included (Family Floater) | Self, spouse, maximum 2 children, dependent parents and depend on parents in law. |
| Sum Amount Option | Rs.1 Lakhs, Rs.2 Lakhs, Rs. 3 Lakhs |
**Last Updated on August, 2021
Key Features of SBI Arogya Plus Policy
The features of the health insurance plan have been explained in detail below:
In-Patient Hospitalization

The plan covers all the expenses incurred during the hospitalization such as Anesthesia, blood, oxygen, operation theatre expenses, surgical appliances, medicines and consumables, diagnostic expenses, and x-ray, dialysis, chemotherapy, radiotherapy, cost of a pacemaker, prosthesis/internal implants, Dressing, ordinary splints, and plaster casts, and many medical expenses incurred as an integral part of the operation.

No Health Checkup Required

All do not need to go through the pre-insurance health checkup. Pre-insurance health checkup is compulsory only for policy buyers more than 55 years of age.

Domiciliary Hospitalization

In certain cases, where the patient is unable to travel or there is the unavailability of beds, then in such cases, the plan will allow the policyholder to avail domiciliary hospitalization.

Free Look Period

According to the procedure under the plan, 15 days free look period is provided to the insured to finalize the policy. In any case, if the insured is not satisfied with the plan then he/she has full right to cancel the policy.

Grace Period

A grace period of 30 days is provided to the policyholder to pay the premium for renewal. In case of failure, the policy is subjected to lapse.

Hospitalization Cost

In the case of inpatient hospitalization, all the medical expenses incurred are managed and paid out under the plan. There are procedures for covering both pre-hospitalization and post-hospitalization expenses.

Tax Benefit

The premiums paid under the plan are tax exempted under section 80 D of the income tax act, 1961.
Calculated OPD Charges As Per Premium
Below-mentioned are all the OPD charges that can be covered under the plan. The below tables gives the illustration of OPD charge coverage under the particular premium of Rs. 8,900.
Under SBI Arogya Plus Policy, one can avail of the outpatient treatment up to the below-mentioned amount.
SBI Arogya Plus Individual Plan OPD Charges Coverage For Premium Rs. 8,900
Age ( in Years)
Sum Insured Options (in Rs.)
1 Lakhs
2 Lakhs
3 Lakhs
0.25 - 40
7,000
5,500
4,000
41 - 45
6,500
3,500
2,000
61 -65
2,000
500
500
**Last Updated on August, 2021
Graph illustrating OPD Charges Coverage For Premium Rs. 8,900 under SBI Arogya Plus Individual Plan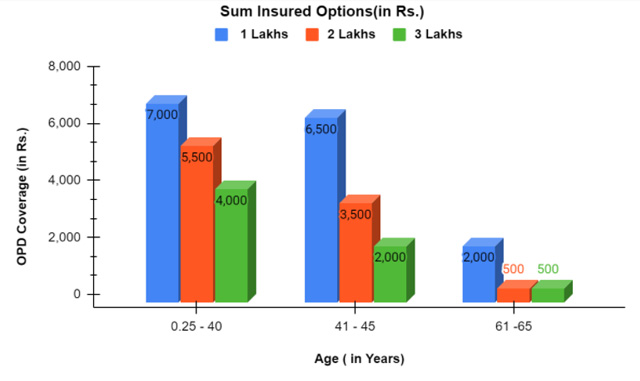 What Is Covered Under SBI Arogya Plus Policy?
In-patient Hospitalization
Covered
Pre-Hospitalization Expenses
Covered, up to 60 days
Post-Hospitalization Expenses
Covered, up to 90 days
Hospitalization Expenses
All the expenses incurred after the hospitalization is covered under this according to the policy.
Day Care Expense
Covers up to 141 daycare procedures.
Ambulance Expense
Actual ambulance expenses or INR 1500 whichever is lower will be reimbursed
Domiciliary Hospitalization
Available
Alternative Treatment
Covers the Allopathic treatment or Modem medicines and includes Ayurveda, Unani, Sidha and Homeopathy (AYUSH)
Maternity Expense
Covered up to the OPD limit of the policy.
HIV/AIDS Cover
Covered, up to Rs.50,000 except for the conditions which are permanently excluded
Mental Illness Cover
Covered, up to Rs.50,000
Genetic Disorder
Covered, up to Rs.50,000
Internal Congenital Diseases
Covered up to the Limit of Rs. 10% of Sum Insured.
Waiting Period
Pre-existing Diseases
48 Months
First Thirty Days Period
30 Days, except for accidents
Certain Specific Illnesses
12 Months & 90 Days
**Last Updated on August, 2021
What Is Not Covered Under SBI Arogya Plus Policy?
The treatment operated outside India does not get coverage.
Nuclear weapon/material inflicted injury.
Hostilities, war, an act of a foreign enemy, invasions, etc.
Intentionally self-inflicted injury, or injury due to violation of any law.
Epidemic disease recognized by WHO or Indian Government.
Cosmetic or aesthetic treatments of any description, Lasik treatment for refractive error. Any form of plastic surgery (unless necessary or the treatment of illness or accidental bodily injury)
Vaccination or inoculation except as part of the post-bite treatment of animal bite.
How To Buy SBI Arogya Plus Policy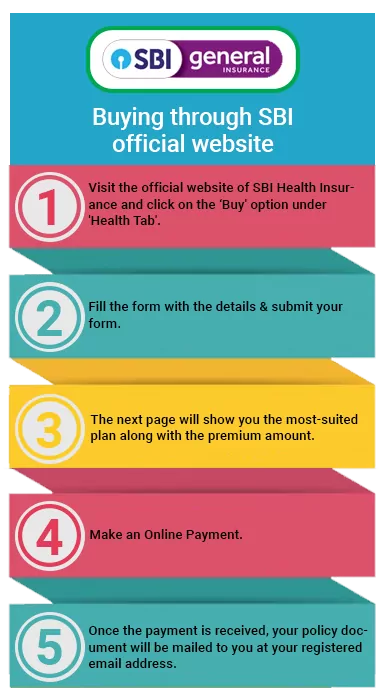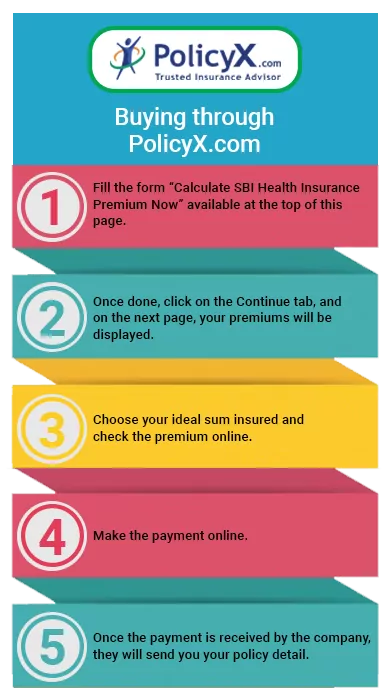 What Is the Claim Process for SBI Arogya Plus Policy?
SBI Health Insurance offers a direct process to file the claims. Let's take a look at it.
Inform the company about the claim by dialing the toll-free number: 1800 22 1111, or SMS 'CLAIM' to 561612.
One of the SBI customer representatives will reach out to you within 24 hours of filing the claim with details of the required documents and further steps.
Submit all the required documents.
The company will initiate the process and settle all relevant claims within 30 days of the final survey report.
Find Out What Customers Are Saying
(Showing latest 5 reviews only)
October 12, 2021
Avantika Nagpal
Kolkata
October 8, 2021
Rekha Tyagi
Kolkata
September 2, 2021
Kuwali Rai
Gandhinagar
September 1, 2021
Vishwanber Sharma
Guwahati
April 29, 2021
Meenal Varun Joshi
Agra
Last updated on August, 2021