SBI Arogya Premier Policy
SBI Arogya Premier Policy is designed to cater to all the healthcare needs of you and your family. The policy offers hospitalization coverage, domiciliary hospitalization, day-care treatments, etc.
With this health insurance plan by SBI Health, one can seek medical treatment and advice from top medical experts without any stress.
Read along to explore more about this plan:
Eligibility Criteria of SBI Arogya Premier Policy
| | |
| --- | --- |
| Minimum age of entry | 3 months |
| Maximum age of entry | 65 years |
| Family Members Covered | Prosper, spouse, dependent children, parents, and parents in law. |
| Sum Insured | Rs. 10 lakhs to Rs. 30 lakhs |
| Policy Term | 1, 2, or 3 years |
**Last Updated on August, 2021
Key Features Of SBI Arogya Premier Policy
No-Pre Medical Tests Required

There is no pre-insurance medical check-up for policy buyers less than 55 years of age subjected to the condition that the buyer does not have any medical history. In case one has any medical history then it is to be mentioned to the health insurance company at the time buying SBI Arogya Premier Policy.

Automatic Reinstatement of the Sum Insured

If your sum insured gets exhausted due to the claims made, then without paying any additional premium, the plan will automatically reinstate the insured sum to the vase amount.

Cumulative Bonus year

For every claim-free year, the insured gets a cumulative bonus of 10% of the insured sum. It can maximum go up to 50%.

Health Check-up

For each 4 consecutive claim-free years of policy renewed continuously, the plan will reimburse the health check-up expenses up to INR.5000 per person.

Ayush Treatments Covered

It also covers ayurvedic, Unani, Siddha, and homoeopathy treatment expenses.

Tax Benefits

The insured also gets tax benefits under SBI Arogya Premier Plan subject to the changes in income tax laws.
Sample Premium Illustration of SBI Arogya Premier
Here is a chart representation of the premiums for a rough idea in both the cases- individual policy and family floater policy. Let's look at both cases:
Premium Calculation For a 30-years-old Individual
| | | | | | |
| --- | --- | --- | --- | --- | --- |
| Sum Insured (in Rs.) | 10 Lakhs | 15 Lakhs | 20 Lakhs | 25 Lakhs | 30 Lakhs |
| Premium Amount (in Rs.) | 9,385 | 10,677 | 11,598 | 12,290 | 12,834 |
**Last Updated on August, 2021
Premium Amount Paid by an Individual under SBI Arogya Premier Plan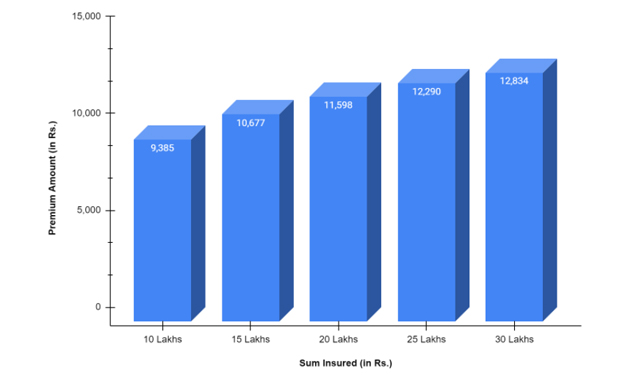 Premium Calculation For Family of Husband(30 years), wife(25 years), and kid(2 years)
| | | | | | |
| --- | --- | --- | --- | --- | --- |
| Sum Insured (in Rs.) | 10 Lakhs | 15 Lakhs | 20 Lakhs | 25 Lakhs | 30 Lakhs |
| Premium Amount (in Rs.) | 22,273 | 25,507 | 27,813 | 29,544 | 30,906 |
**Last Updated on August, 2021
Premium Amount Paid by a Family under SBI Arogya Premier Plan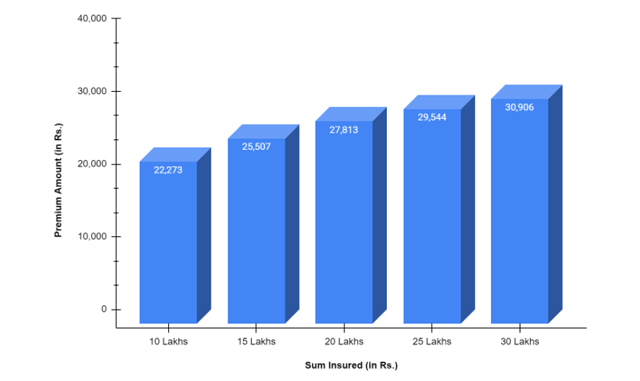 What is Covered Under SBI Arogya Premier Policy?
There is a wide range of coverage provided under the SBI Arogya Premier Plan subjected to certain terms and conditions. A list of coverages has been mentioned below:
Pre-Hospitalization Expenses
Under pre-hospitalization, the coverage is limited to 60 days before the hospitalization.
Post-Hospitalization Expenses
In the case of post-hospitalization, the coverage extends a maximum to 90 days after getting discharged from the hospital.
Hospitalization Expenses
All the expenses incurred after the hospitalization are covered under this according to the policy.
Day Care Expense
There is coverage for 142 days under daycare expenses.
Ambulance Expense
Ambulance charges and air ambulance charges can go maximum up to Rs.1,00,000.
Domiciliary Hospitalization
In case the insured is suffering from illness or injury and he is not in a condition to travel to the hospital then there is a provision under which SBI Arogya Premier Plan provides coverage for domiciliary hospitalization.
Alternative Treatment Form government Hospitalization Cover
In case the insured takes treatment from the government hospital then also the expenses get covered under the plan.
Maternity Expense
The insured can get the maternity cover but it is initiated after a waiting period of the first 9 months.
Organ Donor Expense
The policy provides coverage for organ donor costing. All the expenses incurred in organ transplantation are covered.
Health Checkup
For health checkups, there is reimbursement of Rs.5000 under the SBI Arogya Premier Policy of Rs.5000 if the insured does not claim for 4 consecutive years.
Waiting Period
Pre-existing Diseases
48 Months
First Thirty Days Period
30 Days, except for accidents
Certain Specific Illnesses
12 Months & 90 Days
Maternity Waiting Period
9 Months
**Last Updated on August, 2021
What is Not Covered Under SBI Arogya Premier Policy?
The plan will not cover any expenses on the treatment of illnesses such as Ulcers, Tonsillectomy, Hernia, Cataract, Sinusitis, Gall Bladder Stones, Chronic Renal Failure during the first year of operation of the policy.
Injury or Death due to Suicide
Stay in a hospital without undertaking any active regular treatment by the medical practitioner
Any expenses incurred during the treatment of injuries occurred during adventurous activities.
How To Buy SBI Arogya Premier Policy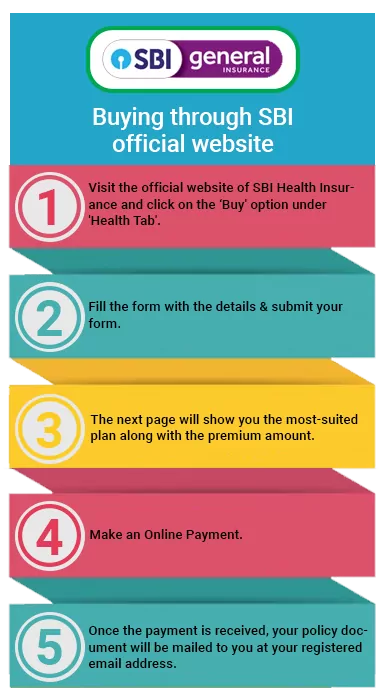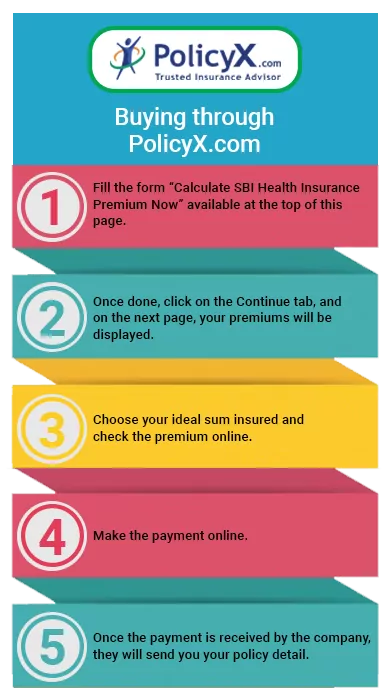 What Is the Claim Process for SBI Arogya Premier Policy?
SBI Health Insurance offers a direct process to file the claims. Let's take a look at it.
Inform the company about the claim by dialing the toll-free number: 1800 22 1111, or SMS 'CLAIM' to 561612.
One of the SBI customer representatives will reach out to you within 24 hours of filing the claim with details of the required documents and further steps.
Submit all the required documents.
The company will initiate the process and settle all relevant claims within 30 days of the final survey report.