In today's environment, you must save money to safeguard yourself against any kind of unforeseen circumstances that your future may withhold for you. There are many avenues in which we can do investment daily.
The idea of investing is to ensure that whatever surplus money we have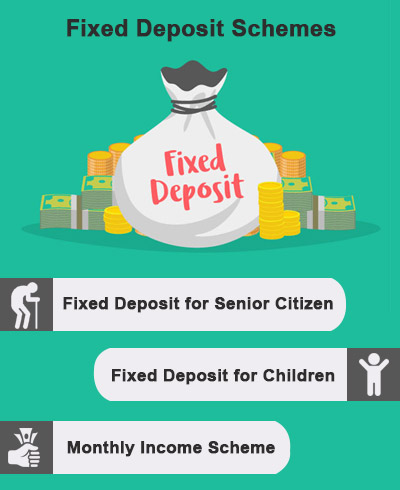 with ourselves, we park them in various avenues of investment. Each of these avenues offers a separate rate of interest and have unique terms and conditions. Now, the safest and most reliable mode of investment after Sovereign Bonds issued by the Government of India is a fixed deposit. These fixed deposits are like a contract that you enter with the bank. In this contract, you tell them that you will park a certain amount of money with them for a period. Against which, the bank will pay you interest on a half-yearly or yearly basis as the contract might entail. Now, each bank offers a different rate of interest on their fixed deposits. These fixed deposit rates are determined by many factors like
Fiscal policy of the country
The lending ability of the bank
Lending rate of the bank
Book size of the bank
The economic policy of the country
Bank Repo Rate
And so on.
Also Read: Quick Guide to Post Office Monthly Income Scheme
Before investing in fixed deposits these are a few features that one must keep in mind
Fixed deposits can be placed in single or joint name
It is a contract that you enter with the bank. That means, that if you prematurely break the fixed deposit you might have to pay a penalty on the same.
You can place a fixed deposit at any age. That means it can also be placed in a minor's name
A senior citizen enjoys a higher rate of interest across all banks in fixed deposits
The rate of interest on fixed deposits differ for resident and nonresident individuals
The interest earned on fixed deposits is subject to taxation.
Banks can deduct TDS on the interest earned on fixed deposits.
As an investor, you can give Form 15 H or G, as might apply to the bank to instruct them not to cut TDS on interest earned on fixed deposit as you would declare the same as income while filing your tax returns.
Here Are a Few of The Best-fixed Deposit Schemes in India
ICICI Bank's – Dream Retirement Plan
This is a great term deposit that allows one to save and prepare for one's retirement plan. It is an investment scheme, where one can multiply the surplus funds placed in the deposit. As an investor, one will get a fixed amount every year and the principal amount at the time of maturity alone. The minimum amount to place a dream retirement plan FD is about INR 2000, tenure is 10 years and the rate of interest is 8.5 %.
ICICI Bank – Dream Education Plan Fixed Deposit Scheme
After the State Bank of India which is the largest bank in India comes ICICI bank. Just like the dream retirement plan, there is also a dream education plan fixed deposit scheme. This is mainly for those who want to invest in a fixed deposit for their child's future education requirement. Since, compared to various life insurance policies, a fixed deposit is low in terms of charges, people prefer to opt for the same. The fixed deposit has an investment period and a benefit tenure. During the benefit tenure, amounts are paid on an annual basis and the entire sum is received at the time of maturity. The time frame of investment for such a fixed deposit ranges from 1 to 10 years and offers an interest rate of 8.5 %. The minimum amount to start this fixed deposit is INR 500. As an investor one needs to remember, that this is mainly for the child and hence the child needs to hold an ICICI bank Youngsters account to place this fixed deposit.
You May Like: National Pension Scheme (NPS) – 2 Mins Quick Guide
Vijaya Bank- V Vaibhav Scheme
This is another amazing form of fixed deposit where one can place short term fixed deposits that range up to a year. It offers a high rate of interest of 9.1 %. These are auto-renewable and can go on for years. The minimum amount of criteria differs from place to place.
For Rural Residents: Minimum amount is INR 10,000
For Semi-Urban Residents: Minimum amount is INR 25,000
For Urban Residents: Minimum Amount is INR 50,000
For Metro Residents: Minimum amount is INR 1,00,000
Jammu & Kashmir Bank – Super Earner Deposits Scheme
Jammu & Kashmir is also known as J & K Bank. This super earner deposit scheme offered by them is a floating rate of interest. Unlike other fixed deposits that are at a fixed rate of interest, here the rate of applicable interest might increase or decrease depending on the bank.
The above few are the best-fixed deposit policies currently in India.