TATA AIG Medi Raksha Plan
The MediRaksha plan launched by Tata AIG Health Insurance is a simple, affordable, and pocket-friendly plan that is designed to support you and your family financially during health and medical emergencies. This basic plan covers emergencies and illnesses and other surgical treatments. It offers a number of benefits and offerings within a range of sum insured Rs. 50,000 to Rs. 1 Lakh to its policyholders.
Key Features of Medi Raksha Plan
There are several health insurance plans available in the market these days, but which one to choose? We at PolicyX.com will help and guide you properly regarding this plan. Unfortunately, very few of us make an effort to understand the key features of availed health insurance plans. No doubt, the Medi-Raksha plan is one of the best and ideal health insurance plans offered by Tata AIG. But why do we consider this plan over others? We have listed some of the important key features of the Medi-Raksha plan, let's explore them out for better understanding and to lead a financially happy life.
This plan provides an option of lifetime renewability provided the premium is paid without any break on the basis of age and coverage. With this benefit, the policyholder can ensure that the policy can be renewed for life long with no age limits or any other restrictions.
MediRaksha plan provides you a free look period in which you have the option of cancelling your policy if you are dissatisfied with the terms and conditions. As per IRDAI, the free look period of 15 days is applicable from the date of receipt of the policy.
Get the Income-tax benefits on the paid premiums under section 80(D) of the Income Tax Act. If one wants to purchase this policy for self/spouse/children, then the policyholder can claim a deduction of Rs. 25,000. In case, you are buying for your parents or senior citizens at your home, then you can get a tax deduction benefit of Rs 30,000.
Claim settlement is one of the important aspects any insurance company can provide to their customers/policyholders. Medi Raksha plan provides a quick and hassle-free claim experience and offers ease on timely claims settlement.
This plan requires no medical check-up up to 55 years of age.
Family floater options are also available under this plan
Various discounts are available such as you can avail 10% family discount in an Individual plan if the plan covers 2 or more members.
In case of a claim, no loading on renewal of premium is available.
This policy offers more coverage and greater financial security that covers up to seven members (spouse, parents, and three children). Now you can secure yourself and your family members under this plan.
Eligibility
| | |
| --- | --- |
| Entry Age | 18 years -65 years |
| Number of members covered | Maximum of 7 members (Self/spouse/parents/three childrens) |
| Renewability | Lifetime |
**Last Updated on 05-05-2021
Benefits of Medi-Raksha Health Insurance Plan
Let's understand the benefits of the Medi Raksha Plan,
Inpatient Treatment

Medi-Raksha plan provides the coverage of medical expenses incurred at the hospitalization due to accident/injury or illness. It also covers the Room rent charges as per the sub-limits, boarding and nursing expenses, ICU/ICCU, consumables and medicinal and drug.

Sub-limits on room rent applicable is 1% of sum insured per day and 2% of sum insured on per day ICU.

Pre and post-hospitalization

You can get the compensation by the insurer of up to 1% claim admissible amount or actual expenses whichever is less per day of hospitalization towards the coverage of medical expenses incurred before hospitalization for 30 days and 60 days after discharge from the hospital.

Daycare treatments

Under this plan expenses of 144 listed daycare procedures are covered which do not require hospitalization for a minimum of 24 hours to raise a claim.

Organ Donor

Covers the medical expenses for the treatment of an organ donor for harvesting the donated organs.

Medical Health Check-up

No medical check-up is required up to 55 years of age. You can also avail 1% of the sum insured in the 4th year of the policy subject to a maximum of Rs. 1000 per policyholder. This is applicable only one time at the end of every continuous four claim-free years.

Network Hospitals

Tata AIG provides quality health care services with a network of 3000+ hospitals across India that provides cashless hospitalization. You are required to submit ID proof and your cashless cards to avail of cashless facilities in hospitals.

Claim settlement process

The claims are settled by Tata AIG in a very quick and hassle-free manner. This helps you to focus on the recovery of claims on time following the submission of all the required documents.

Portability

If a policyholder wants to port his/her policy to Tata AIG, then apply at least 45 days before the renewal date of premiums of the current policy. This should be remembered that all the accrued benefits and exclusions will also be transferred without any interference.

Co-payment-

This is a requirement of a cost-sharing that is applicable under this health insurance plan. It offers a co-payment of 15% on each and every claim.
Plan Details
Minimum sum insured
Rs. 50,000
Maximum sum insured
Rs. 1 Lakh
Type of Coverage
Individual/family floater
Grace Period
30 days for renewing the policy
Termination of policy
3 months before the policy expiring date
Waiting Period
Any illness and pre-existing condition that is listed on the policy's documents will be covered after a waiting period of 24 and 48 months respectively.
Pre Policy Checkup
Age
50,000
75,000
1,00,000
18-55
NA
NA
NA
56-60
Medical Examination Report (MER)
Routine Urine Examination(RUA)
Fasting Blood Sugar (FBS)
Electro Cardio Gram (ECG)
61-65
Medical Examination Report (MER)
Routine Urine Examination(RUA)
Fasting Blood Sugar (FBS)
Electro Cardio Gram (ECG)
Complete Blood Count (CBC)
Lipids
Serum Glutamic Oxaloacetic Transaminase (SGOT)
Total proteins
Serum Creatinine
Prostate-Specific Antigen (PSA) for males
Ultrasonogram (USG) for females
**Last Updated on 05-05-2021
Sample Premium Rates
This table illustrates the premiums payable by an individual under MediRaksha Plan at different ages and sum insured. Let's understand the premium prices for this plan with the help of the graph,
| | | | |
| --- | --- | --- | --- |
| Age (in years) | SI - 50,000 (in lakhs) | SI-75,000 (in lakhs) | SI - 1,00,000 (in lakhs) |
| 30 | 1527 | 1803 | 1986 |
| 40 | 1677 | 2034 | 2281 |
| 50 | 2216 | 2741 | 3114 |
| 60 | 3206 | 4064 | 4698 |
**Last Updated on 05-05-2021
Graph Illustrating Premium Amount Payable Under at Different Ages and Sum Insured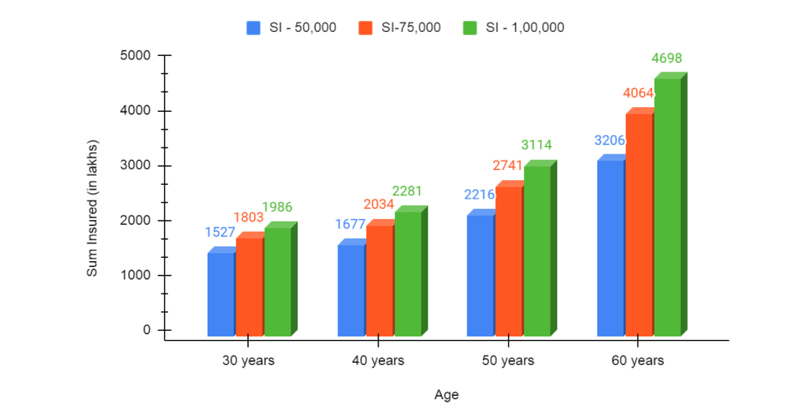 Exclusions of TATA AIG Medi-Raksha plan
Here are some of the major exclusions,
Self-inflicted injuries
Drug/alcohol/substance abuse
Sexually transmitted diseases
HIV AIDS infections/ Venereal diseases
Expenses related to Maternity, childbirth, and pregnancy
Congenital abnormalities or disorders
Mental disorders or illnesses
Cosmetic surgeries and Robotic surgeries
Accidental injuries due to war, nuclear invasions
How TATA AIG Medi-Raksha claim can be processed?
Cashless claims
For a quick and a hassle-free claim experience with Tata AIG, follow the steps below
At the time of hospitalization, get admitted to one of the network hospitals that has a tie-up with TATA AIG. You can check the list of network hospitals on the company's website.
After validating your identity to the hospital, submit all your documents along with the pre-authorization request to the company.
Then the company will review your claim request and confirm the network hospital by email and a copy of the same will also be shared with you.
The company will settle the claim with the hospital after the completion of all the formalities.
Reimbursement Claims
If the hospital in which you are admitted does not cover under your insurer then TATA AIG provides an option of reimbursement.
You can file for reimbursement under TATA AIG health insurance. The insured should collect all bills, and prescriptions related to the treatment and submit the same along with the claim form to the insurance company or TPA.
The insurance company will analyze your claim and might ask for additional documents (if required).
If it gets approved, the company will transfer the amount directly into your account and in case of rejection, you will receive the reason for the same.
Documents for the Claim process
The first letter of consultation and prescription provided by your doctor or medical practitioner
Duly filled and signed claim application form
Discharge card
Summary of daycare procedure from the hospital
Original photo ID proof
Cashless cards