About Bajaj Allianz Arogya Sanjeevani Policy
Arogya Sanjeevani Policy by Bajaj Allianz Health Insurance protects you and your family from the financial burden and stress during hospitalization. With this plan, you don't have to worry about your savings and can deal with any kind of medical emergency. A co-payment of 5% applies to every admissible claim under this policy. on the way. With this plan, you can protect your healthcare needs, by paying affordable premiums.
This plan caters to various health and medical needs of their customers by providing coverage for AYUSH treatments, pre and post-hospitalization, modern treatment methods, and advancements.
Key Features of Bajaj Allianz Arogya Sanjeevani Policy
No doubt, Bajaj Allianz is a trustworthy insurance company among customers and delivers amazing products and services. But what ideal plans does it offer? which is the best plan for you? Nowadays, health insurance is a necessity but very few of us are aware of the terms and conditions, benefits, and features of our policy. Here we are discussing the key features of this Arogya Sanjeevani plan, let's see how these features help you to lead a financially happy and healthy life,
Cumulative Bonus

If you renew your Arogya Sanjeevani Policy without a break and do not file any claim for the previous year, the basic sum insured will be increased by 5% in respect of each claim-free policy year.

Type of Policy

Arogya Sanjeevani Health Insurance Plans are available in two types: Individual and Family Floater.

Flexible Payment Modes

Bajaj Allianz offers flexible payment modes. You can pay the amount either in full or in instalments i.e., Half-yearly, quarterly and Monthly.

Renewability

This plan offers a lifetime renewability option with a quick and smooth process.

Freelook Periods

You are eligible for the free look period at the starting period of the policy and not at the time of renewals or porting the policies. A period of 15 days is allowed to an insured person from the date of the policy receipt.

Portability

The policyholder or the insured has the option to port the policy to other insurers. If the insured is currently covered and has been continuously covered without having any lapses under any health plan, then the proposed person will get all the benefits in the waiting periods.

Discounts

Get a variety of discounts with this plan such as family discounts and Online/Direct Business discounts.

Discounts for family

If 2 eligible family members are covered under a single plan, then you are eligible for a 10% of the family discount. Also, a 15 %discount shall be offered if more than 2 of any eligible members of the family are covered under this plan. One of the amazing benefits is that this family discount will be offered for both new policies and the renewed policies.

Discounts for Online or Direct Business - 5% of Discount will be offered for policies that are underwritten via direct/online media.
Eligibility of Bajaj Allianz Arogya Sanjeevani Policy
Entry Age
For Adults - 18-65 years
For Dependent Children - 3 months -25 years
Policy Term
1 year
Premium Paying Term
Pay the premium on an installment basis: Annual, Health Yearly, Quarterly, or Monthly.
Members covered under this plan
Self, Spouse, Dependent Children, Parents, parent-in-laws
**Last Updated on 26-04-2021
Coverages under Arogya Sanjeevani Policy
Coverage
Minimum Sum Insured
Maximum Sum Insured
Details
Hospitalization
Rs. 1,00,000
Rs. 25,00,000
For Room rent, Boarding and Nursing - 2% of sum insured , maximum of Rs. 5000/ day
For ICU - 5% of sum insured for a maximum of Rs.10,000/day
For Road Ambulance - Maximum of Rs. 2000/ hospitalization
AYUSH
Rs. 1,00,000
Rs. 25,00,000
Cataract
This plan provides coverage of 25% of the sum insured or up to Rs. 40,000/ eye in 1 policy year - whichever is lower
Pre-Hospitalization
Covered up to the sum insured
30 days
Post-Hospitalization
60 days
Modern Treatment Approaches
Covers 50% of Hospitalization sum insured
All the treatment methods are listed in the Policy Brochure.
Co-Pay
5% co-pay on all claims
**Last Updated on 26-04-2021
Benefits under the Arogya Sanjeevani Policy
The benefits of the Arogya Sanjeevani Plan are as follows :
Wide Coverage Option

Aarogya Sanjeevani health insurance provides coverage for the medical expenses incurred on hospitalization that involves:

Room Rent, Boarding, and Expenses on Nursing
Intensive Care Unit Expenses
Cover of Road Ambulance
Modern Treatment Methods and Advancements listed on the policy Annexures
Day Care Treatments

AYUSH Treatments

Medical expenses incurred for patient care treatment under AYUSH that involves Ayurveda, Yoga and Naturopathy, Unani, Sidha, and Homeopathy system of Alternative medicine. This provides coverage during each policy year up to the limit of the sum insured in any AYUSH listed hospital. For more information, please refer to the policy documents and brochures on the company's website.

Cataract Treatment

It covers the medical treatment expenses incurred on cataracts that are subject to a limit of 25% sum insured or Rs. 40,000/-

Coverage of Medical Procedures

Pre and Post Hospitalization

In pre-hospitalization, this plan provides coverage for medical expenses up to 30 days before the policyholder is admitted to the hospital

Post-hospitalization

It covers medical costs up to 90 days after the policyholder is discharged from the hospital. Arogya Sanjeevani Health Insurance plan covers the expenses of the following medical procedures:

Oral chemotherapy
Immunotherapy
Stem cell therapy
Intra vitreal injections
Prostate vaporisation
Robotic surgeries
Stereotactic radio surgeries
Intra Operative Neuro Monitoring (IONM)
Balloon Sinuplasty
Sample Premium Rates
This table illustrates the premium payable by individuals and families for 1 year at different ages of the sum insured Rs. 5 Lakhs. The age of an individual and the eldest member is assumed to be 30 years. Family members include spouse and 2 children.
| | | |
| --- | --- | --- |
| Age | Premiums of Individuals | Premiums of Family Floater |
| 30 | 5,320 | 14,896 |
| 40 | 6,412 | 17,955 |
| 50 | 10,117 | 28,239 |
**Last Updated on 26-04-2021
Premium Rates of Individual and Family health insurance at different ages under Arogya Sanjeevani Plan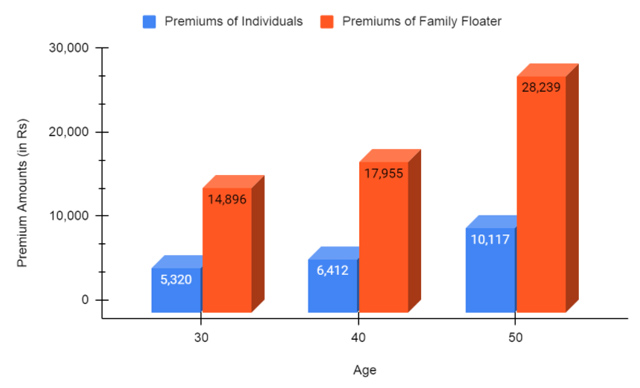 After seeing this graph of premium payable by individuals and family at different ages, What do you think? Which is the best option for you and your family? Let's understand this in detail.
Based on certain factors such as age, medical expenses, treatment cost, medical history, profession, gender, or any alcohol/substance abuse, the premium amounts vary with age. As you see, with the increase in age, the premium is also increasing for both individual and family floater basis. Above we have discussed in detail this plan and why the plan is the best option for you, so in continuation with that What if you want to cover your family members under a single policy? Then go for the family floater plan offered by Arogya Sanjeevani Policy.
Bajaj Allianz Arogya Sanjeevani Family health insurance plan protects you and your family members under a single plan. Unlike Individual policies where there is a dedicated sum insured amount, here there is a single sum insured amount that is shared between the family members. For example, If there are a couple and their 2 children having a family health plan with a sum insured of Rs. 5 lakh, then all 4 members of the family share the Rs. 5 lakh sum insured. This simply means that the maximum liability of the policyholder towards the entire family for a particular year stands at Rs. 5 lakh irrespective of which individual is admitted to the hospital.
The sum insured options in the Arogya Sanjeevani Family plan is 1.5 -5 lakh whereas for individuals it is 1-5 lakh. At the age of 30 years, the individual is required to pay Rs. 5320 for the sum insured Rs. 5 Lakh and the in case of a family plan, Rs. 14,896 is to be paid. The premium amount in a family plan to be paid is more in comparison to an individual, but it offers more benefits and caters to all your medical and financial needs. A family floater health insurance plan can be a smart and ideal option for both financial and overall health.
So based on all these factors which are discussed above, we can say that both are the ideal plans but what to choose, solely depends on your requirements like whether you want affordable premium rates with a good coverage amount or you want different sum insured options or renewability. This is to remind you that Bajaj Allianz is a trusted insurance company that provides various products and plans keeping the benefits of the customers in mind. Therefore, it is always advisable to go through your insurance company policies, wordings, and brochures.
Exclusions of Aarogya Sanjeevani Policy
The major exclusions are as follows:
The company shall not be liable for the expenses related to the pre-existing diseases treatment and its direct complications until the expiry of 48 months after the date of starting of the policy.
Expenses associated with any surgical treatment of obesity
Change of Gender treatments
Cosmetic or Plastic surgery
Do not cover expenses on treatments arising from the insured person committing or attempting to commit a breach of law with criminal intent.
Hazardous or Adventurous sports
Does not provide coverage for losses incurred due to participation in illegal activities.
Attempt to suicide.
Use of alcohol or drugs.
HIV/AIDS
Infertility and in-vitro fertilization.
How to buy Arogya Sanjeevani Policy?
Here is a simple process of buying a Health Guard plan online. Let's take a look at it.
From Bajaj Allianz's Website
Visit the official website of Bajaj Allianz and click on 'Buy Now' under 'Now buy health insurance.
Fill in all the details in the proposal form and check the premium details.
Ensure that the information provided in the form is accurate and correct.
Pay the premium via available payment options.
Once the payment is done, the policy will be sent to your registered email id.
Note- You can also contact the nearest Bajaj Allianz branch to purchase this policy.
For more information about this plan, please get in touch with the customer care team of PolicyX.com at 1800-4200-269.
What is the claim process of the Bajaj Allianz Health Guard Plan?
Bajaj Allianz Insurance offers two types of claim processes for the convenience of its customers. They are as follows-
Cashless Claim
Reimbursement Claim
Cashless claim
In this cashless claim, you are not required to pay a single penny to the hospital at the time of hospitalization. The policyholder has to seek treatment at the insurance company's network hospitalto avail of the cashless treatment facility. This process is described below-
Inform the company about the treatment and show your cashless card at the hospital insurance desk.
Fill in all the details and carefully complete the pre-authorization form available at the hospital insurance desk/Bajaj's website.
The hospital sends this form to the insurance company.
An approval/Rejection letter is required to be sent to the hospital from the claim management team of Bajaj Allianz General Insurance, and the policyholder will be informed of the issue.
After getting approval from the insurer after the treatment, the company pays the hospital bills directly.
Reimbursement Claim
What if? when you get hospitalized in a non-network hospital for medical treatment,
If you are admitted to a non-network hospital, you will have to pay for the treatment.
After discharge, download the claim form from the company's official website or get it from the nearest branch of the company.
Submit the required documents along with the form to the company.
The company's claim team will review the claim details.
If the claim is approved, the company will transfer the funds directly to the registered bank account.