Bajaj Allianz Health Infinity
We all want to provide the best facilities to our families when it comes to Health Insurance. Bajaj Allianz General Insurance has come up with a unique health plan i.e., Bajaj Allianz Health Infinity, that is specifically designed to give the best health insurance facilities to you and your family in case of an unforeseen event such as hospitalization due to injury/illness. This plan offers you an option of the unlimited sum insured and an insured person can claim all the hospitalization costs.
Let's get to know more about this plan for your quick and smooth understanding.
Eligibility
| | |
| --- | --- |
| Minimum Entry Age for Adults | 18 years |
| Maximum Entry Age for Adults | 65 years |
| Minimum Entry Age for Dependent Children | 3 months |
| Maximum Entry Age for Dependent Children | 25 years |
| Residential Status | Indians only (This policy can be opted by Non-Resident Indians including PIOs and OCIs. However, the policy will be issued during their stay in India, and the premium is paid in Indian currency & by Indian Account only) |
| Who all can be covered? | Self, Spouse, Dependent Children & Parents |
| Policy Term | 1year, 2 years, 3 year |
**Last Updated on 26-04-2021
Key Features of Bajaj Allianz Health Infinity Plan
With the availability of number of health insurance plans available in the market, selecting the best health insurance plan is a quite difficult task. We all feel health insurance is a necessity, but very few of us are aware of the policy features. So let's understand them in detail:
This is a comprehensive health plan without any limit on the sum insured.
It offers an opportunity to choose a health policy as per the day room rent.
This medical plan provides in-patient hospitalization treatment expenses without any sub-limit.
This plan offers coverage for the medical expenses incurred in Pre and post-hospitalization facilities for up to 60 and 90 days respectively.
Coverages for Road Ambulances up to Rs. 5000 per hospitalization.
Preventive Health Check-Up at the end of every 3 policy years, equal to per day room rent opted up to Rs.5000/person (whichever is less).
Under this medical policy, no pre-policy medical tests are required for up to 45 years (subject to clean proposal form).
Pre-existing disease covered after 36 months from your first Health Policy.
Offers lifetime renewal facility.
The policyholder may cancel this health policy by giving 15 days written notice and in such an event, the company shall refund the premium for the unexpired policy period.
Benefits of Bajaj Allianz Health Infinity
This comprehensive mediclaim policy offers some benefits and facilities that help you in leading a financially secure and happier life. Here, we are discussing a few of the benefits of this plan. Let's have a look at them,
In-patient Hospitalization Expenses

If the insured is hospitalized due to illness or accidental bodily injury sustained or contracted during the policy period, then the company will compensate for the reasonable, and customary medical expenses.

Pre-hospitalization Costs

If the medical costs incurred during the 60 days immediately before the policyholder was hospitalized and if such medical expenses were incurred for the same illness/injury for which subsequent hospitalization was required, is born by the company.

Post-hospitalization Expenses

If the medical expenses incurred during the 90 days immediately after the insured is discharged and if such costs are incurred in respect of the same illness/injury for which the earlier hospitalization was required, is born by the company.

Per Day Room Rent

Under this medical plan, one can avail of room rental options ranging from Rs.2000 to 50,000 per day.

Emergency Road Ambulance

If an emergency arises and you need to hurry to the hospital, your ambulance costs are compensated up to Rs.5000 per hospitalization.

Day Care Facility

The insurer will pay the insured medical expenses for daycare procedures/surgeries taken as an inpatient in a hospital or daycare centre but not in the outpatient department.

Discounts

You can avail of discounts on different grounds as mentioned in the earlier 'Coverage Details' section. For more information, visit the policy brochure and documents.

Preventive Health Checkup

This plan provides a free preventive health check-up after every continuous period of 3 years for which this plan is held.
Coverages under Bajaj Allianz Health Infinity Plan
Bajaj Allianz Health Infinity Plan helps you to benefit in multiple ways. Let's have a look at the below table to understand the coverage option available under this plan,
Parameters
Coverage
Pre -hospitalization
60 days
Post-hospitalization
90 days
Road Ambulance Facility
Provides coverage up to Rs. 5000 per hospitalization
Day Care facilities
Yes
Pre-existing diseases
Covered after 36 months from your first health policy
Income tax savings
Provides tax benefits
Grace Period
15 & 30 days
Family Discount
If 2 or more eligible family members are covered under a single policy, then a 5% of family discount is offered.
Wellness discount
5% discount at each renewal if he/she submits certain medical test reports
Long term policy discount
4 % discount if the policy opts for 2 years.
8 % discount if the policy opts for 3 years
Employee discount
20% discount on premium rates to employees of Bajaj Allianz & its group companies. (Applicable only if the policy is booked indirect office code).
Online discount
5% discount for the policies purchased online/ through website/direct customers.
Per Day Room Rent Options
INR 3000/day
INR 20000/day
INR 4000/day
INR 25000/day
INR 5000/day
INR 30000/day
INR 8000/day
INR 35000/day
INR 10000/day
INR 40000/day
INR 15000/day
INR 50000/day
**Last Updated on 26-04-2021
List of Specific Diseases Covered under this policy after the waiting period is over:
| | |
| --- | --- |
| 1. Gastrointestinal Ulcers | 11. Dysfunctional Uterine Bleeding |
| 2. Cataracts | 12. Fibromyoma |
| 3. Any type of fistula | 13. Endometriosis |
| 4. Macular Degeneration | 14. Hysterectomy |
| 5. Benign Prostatic Hypertrophy | 15. Uterine Prolapse |
| 6. Hernias | 16. Stones in Urinary and Biliary systems |
| 7. Sinuses (All types) | 17. Surgeries of ears/tonsils/adenoids/paranasal sinuses |
| 8. Ano Fissure | 18. Surgeries of all tumours/cysts/nodules (exception of Malignant tumour or growth) |
| 9. Haemorrhoids | 19. Parkinson's Disease |
| 10. Hydrocele | 20. Alzheimer's Disease |
**Last Updated on 26-04-2021
Sample Premium Rates of Bajaj Allianz Health Infinity Plan
This table illustrates the premium amount of 1 year for different Room Rent prices at a co-payment of 20%.
| | |
| --- | --- |
| Room Rent | Premium Amount(in Rs.) |
| 5000 | 10763 |
| 10000 | 12916 |
| 25000 | 19668 |
| 50000 | 29304 |
**Last Updated on 26-04-2021
Let's understand this with the help of a graph,
Premium Rates of Health Infinity Plan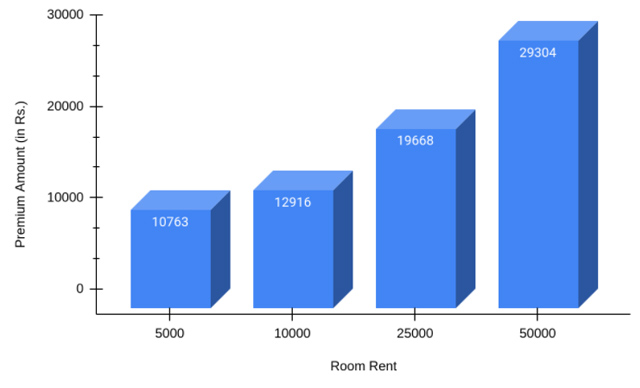 As per the graph, the premium amount is increasing with the increase in the room rent. For example, for a room rent of 5,000, the premium amount is Rs. 10,763 whereas, for Room Rent of 10,000, the premium is Rs.12,916. Go through the graph carefully and choose your plan wisely.
Here, we have talked about the premium amount of 1 year but let's learn more for successive policy term years
Premium Rates of Health Infinity Plan with different Policy terms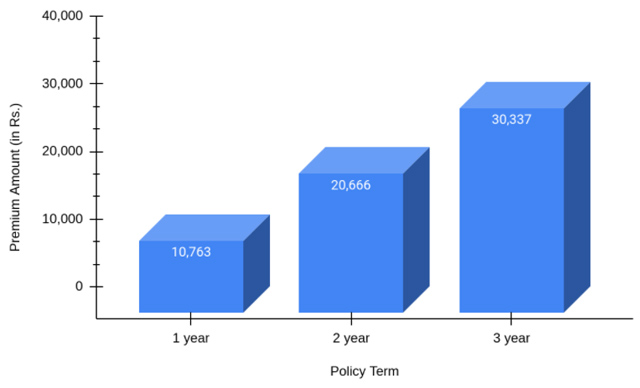 The co-payment options will be applicable for claims for both Network and Non-Network Hospitals. This table illustrates co-payment options based on Room Rent.
| | |
| --- | --- |
| Room Rent Options | Co-payment options |
| Rs. 3000/day | 20%/25% |
| Rs. 4000/day | 20%/25% |
| Rs. 5000/day | 20%/25% |
| Rs. 8000/day | 20%/25% |
| Rs. 10000/day | 15%/20%/25% |
| Rs. 15000/day | 15%/20%/25% |
| Rs. 20000/day | 15%/20%/25% |
| Rs. 25000/day | 15%/20%/25% |
| Rs. 30000/day | 15%/20%/25% |
| Rs. 35000/day | 15%/20%/25% |
| Rs. 40000/day | 15%/20%/25% |
| Rs. 50000/day | 15%/20%/25% |
**Last Updated on 26-04-2021
Exclusions of Bajaj Allianz Health Infinity Plan
The major exclusions are mentioned below:
Any expenses due to dental reasons.
Hospitalization due to war or due to a nuclear, chemical, or biological weapon and radiation of any kind.
Self-inflicted injuries.
Expenses arising due to HIV or AIDS and related diseases.
External congenital diseases, cosmetic surgery, and weight control treatments.
Circumcision unless required for the treatment of illness or accidental bodily injury.
Surgeries conducted without the advice of the doctor.
Expenses related to any treatment necessitated due to participation in hazardous or adventure sports.
The cost of spectacles, hearing aids, crutches, contact lenses, dentures, artificial teeth, and some other external appliances and/or devices.
Experimental, investigative, and unproven treatment devices and pharmacological regimens.
Problems arising from taking any intoxicating substances.
Dietary supplements and substances can be purchased without a prescription.
Pregnancy or maternity-related expenses.
Treatment for any other system other than modern medicine (also known as Allopathy).
Any treatment received outside India is not covered.
How to Buy Bajaj Allianz Health Infinity Plan?
Follow the below-stated steps to buy this health plan online.
Go to the official website of Bajaj Allianz General Insurance.
Click on 'Insure' and then on 'Health Infinity' plan under the 'Health' tab.
Enter your name and click on 'Get a Quote'.
Fill in all the details and check the premium details.
Pay the premium online and the policy document will be mailed to your registered email id.
For more information about this plan, please get in touch with the customer service team of PolicyX.com at 1800-4200-269.
What is the claim procedure of the Bajaj Allianz Health Infinity Plan?
The claim process can be of two types Cashless Claim and Reimbursement claim. Both the claim processes are discussed here with proper steps. Have a look.
Cashless Claim
The insured or his/her representative must inform the company (Health Administration Team) for pre-authorization of treatment in a written manner.
In the case of planned hospitalization, intimate admission 48 hours before hospitalization.
In case of emergency hospitalization, intimate within 24 hours of hospitalization.
After receiving the insured's pre-authorization duly filled and signed form along with other documents, the company's representative will respond with approval, rejection, or with more information.
After reviewing and scrutinizing the insured's request, the company may (if satisfied) send the insured or the network hospital an authorization letter.
If the procedure above is followed correctly, the insured doesn't have to pay the bill amount to the hospital. The company is liable to pay the expenses of in-patient hospitalization.
Disclaimer: Pre-authorization does not guarantee that all costs and expenses will be covered. The company reserves the right to review each claim for medical expenses and accordingly, coverage will be determined on the terms and conditions of this policy. The insured needs to pay the deductibles (if any).
Reimbursement Claim
Here, you can get admitted to any non-network hospital according to your convenience. The amount will be paid directly by you, not the hospital.
After discharge, collect all the documents (along with the claim form) and submit the same to BAGIC HAT.
The team will review your claim request and may demand more documents (if required).
After the verification is over and if the claim is approved, the company will settle your claim.
Documents Required for Filing a Claim
Claim form with NEFT details & cancelled cheque duly signed by insured.
Original/Attested copies of Discharge Summary / Discharge Certificate / Death Summary with Surgical & anaesthetics notes.
Attested copies of indoor case papers (Optional).
Original copies final hospital bill with the break-up of surgical charges, surgeon's fees, OT charges, etc.
Original paid receipt against the final hospital bill.
Original bills towards investigations done/laboratory bills.
Original copies of investigation reports against investigations done.
Original bills and receipts paid for transportation from a Registered Ambulance Service Provider. Treating medical practitioner certificate to transfer the injured person to a higher medical centre for further treatment (if applicable).
First consultation letter for the current ailment.
In case of implant surgery, invoice & sticker.
In cases where fraud is suspected, the company may call for any additional document(s) in addition to the documents listed above.
Aadhar card & PAN card copies.
Others requested by the company.
You need to send all the documents to the below-mentioned address:
Bajaj Allianz General Insurance Company
2nd Floor, Bajaj Finserv Building, Behind Weikfield IT park,
Off Nagar Road, Viman Nagar, Pune 411014|
Toll free: 1800-103-2529, 1800-22-5858
Note: For safety, it would be advisable to keep the documents both in original form and photocopied form.
Cancellation of Bajaj Allianz Health Infinity
Bajaj Allianz Health Infinity plan provides you with an option to cancel the policy within 15 days written notice and the premium amount is refunded for the unexpired period of the policy.
Period Tenure
Premium Refund
Policy Term-1 year
Policy Term-2 year
Policy Term-3 year
Within 15 Days
According to the Free lookup period
More than 15 days but less than 3 months
65%
75%
80%
More than 3 months but less than 6 months
45%
65%
75%
More than 6 months but less than 12 months
0%
45%
60%
More than 12 months but less than 15 months
30%
50%
More than 15 months but less than 18 months
20%
45%
More than 18 months but less than 24 months
0%
30%
More than 24 months but less than 27 months
20%
More than 27 months but less than 30 months
15%
More than 30 months but less than 36 months
0%
**Last Updated on 26-04-2021
How to Contact Bajaj Allianz Health Insurance?
Contact Address
Health Administration Team,
Bajaj Allianz General Insurance Co. Ltd.
2nd floor, Bajaj Finserv Building, Behind Weikfield IT Park, Off Nagar Road, Viman Nagar-Pune - 411 014.
Contact Number
Toll Free No. 1-800-225858 (for for BSNL/MTNL lines only) or 1-800-1025858 (for Bharti users - mobile / landline) or 020-30305858
Official Email ID- www.bajajallianz.com
24*7 helpline number- 1800-103-2529 (toll free) / 020-30305858
Health toll-free number- 1800-103-2529
Exclusive Email address (for senior citizens)- seniorcitizen@bajajallianz.co.in