What is Cancer Insurance?
Cancer is one of the leading causes of human deaths worldwide. It not only drains one mentally but financially as well. To provide full support to cancer patients, health insurance companies in India offer cancer insurance plans. A cancer insurance plan covers several types of expenses associated with cancer treatment such as hospitalization, chemotherapy, surgery, radiation, etc. The insured gets the required funds at different stages of diagnosis (minor, major, and critical).
Importance of Cancer Insurance Policy
Cancer is a disease that needs regular treatments/supervision. Often, such treatments are highly expensive. To pay the bills, it is recommended to buy a cancer plan. It acts as a financial cushion and takes care of all the bills related to cancer treatments like chemotherapy, radiotherapy, and surgeries. Cancer plans offer exclusive coverage including a wide range of medical facilities.
Why do you need a cancer insurance plan?
Cancer insurance is worth considering if you-
Have a family history of cancer.
You do not have sufficient savings to deal with unexpected medical emergencies.
You are the only earning member.
Your regular health insurance plan is not adequate enough to provide the required coverage.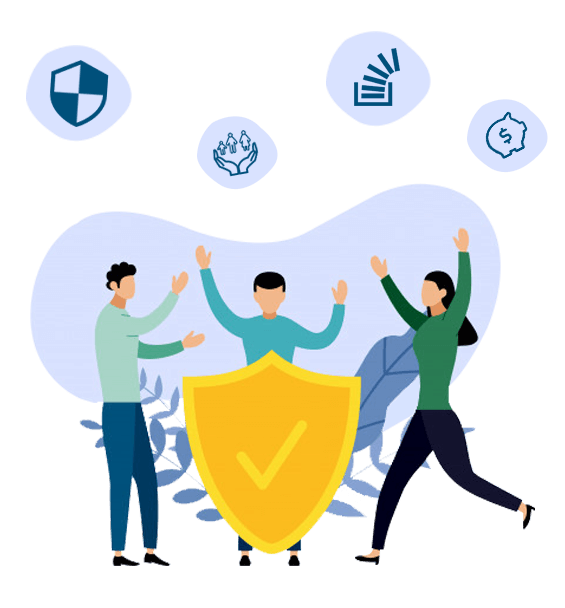 How much cover do you need for cancer insurance?
The ideal cancer insurance amount should be based on the future expenses of treatments that includes recovery, medicines, hospitalisation, additional living expenses and diagnostic tests. Calculate an estimate and invest accordingly.
If I already have health insurance, do I need a specific cancer insurance plan?
If a person already has a health insurance plan, then also a person needs to invest in a cancer insurance plan. The reason being- a regular health insurance plan only offers limited coverage against cancer treatment as it falls under the critical illness plan.
A critical ailment plan only provides a lump-sum benefit and does not waive future premiums payable by the insured. Such things can be taken care of by a dedicated cancer care product.Also, a regular health insurance plan will not be able to provide the required coverage at all stages of cancer treatment.
What are the different types of Cancer Insurance?
Several companies offer cancer insurance plans, which are advantageous to cover the expenses of your cancer treatments. The different types of cancer insurance plans are as follows-
Stomach cancer
Lung cancer
Breast cancer
Hypo larynx cancer
Ovarian cancer
What are the benefits of Cancer Insurance?
Tax Benefits
Cancer Care Policies in India are eligible for tax benefits of up to Rs.25,000 under Section 80D of the Income Tax Act, 1961.
Cashless Treatment
Cancer insurance allows you to receive cashless treatment at a network hospital under which you don't have to pay a single penny for your quality treatment.
Discounts
Cancer plans come with several discounts and additional benefits to provide more ease to customers.
Health Check-Up
Depending on the cancer insurance coverage you choose, you can avail an annual master check-up at premium facilities.
Lump-Sum Pay
It offers coverage of different stages of cancer. The policyholder can get a lump sum based on the diagnosis report. If the policyholder does not take advantage of any kind of claim within a year, the sum insured will be increased followed by a percentage that has been specified in the terms of the insurance plans.
Auto-Renewal
Cancer plans are mostly subjected to auto-renewal. This helps us to prepare for long term coverage.
Online Application
You can invest in a cancer insurance plan through a simple online process that hardly takes 5 minutes to get you insured.
Best Cancer Insurance Plans In India
| | | | | |
| --- | --- | --- | --- | --- |
| Company | Plan | Entry age | Maturity age | Sum insured |
| LIC of India | | 20-65 years | 50-75 years | 10 to 50 lakhs |
| Max Life | Max Life Cancer Insurance Plan | 25-65 years | 75 years (maximum) | 10 to 50 lakhs |
| HDFC Life Insurance | HDFC Life Cancer Care | 5-65 years | N.A. | 10 to 50 lakhs |
| SBI Life | | 6-65 years | 75 years (maximum) | 10 to 50 lakhs |
| ICICI Prudential  | | 18-65 years | 23-75 years | 2 to 50 lakhs |
Table Data updated on 04-12-2020
Apart from the above-stated plans, we have prepared a detailed list of the top 5 cancer insurance plans in India 2020.
Things To Remember While Buying Cancer Insurance
Below are a few things that you should consider while investing in a cancer insurance policy.
Make sure that your plan covers all the stages of cancer. Most of the cancer plan provides 30% of payment on the early stage of cancer and 70% of the payment on its major stage.
Make sure to go for a high sum insured option as the expenses of the cancer treatment are rising day-by-day. Doing so will make you have sufficient money at the time of treatment.
Make sure to choose the cancer plan that carries coverage for a longer tenure.
Choose the premium payment option as per your convenience.
Compare the available cancer insurance plans and choose the best deal.
How To Buy Cancer Insurance Online?
There are several ways to invest in a cancer insurance plan but investing in the same through the online platform like PolicyX.com is considered to be the best. The portal allows you to compare multiple cancer insurance plans from renewed insurance companies on a single page.
The simple process to buy a cancer insurance plan is stated below.
Scroll up to the 'Free Quotes From Top Companies' given at the top-right corner of this page.
Provide basic details such as DOB, annual income, gender, etc.
Click on the tab 'Continue'.
Provide your phone number, name, and city.
Click on the tab 'Proceed'.
Check the available quotes from the top insurance companies in India.
Choose the desired plan and tap on 'Buy This Plan' at the right corner of the chosen plan.
Click on the tab 'Proceed to Buy'.
Enter your 'Email id' and click on the tab 'Submit'.
It will take you to the company's official page.
Make the payment using available payment options.
You will receive a confirmation along with the policy documents on your registered email address.
How to file a Cancer Insurance Claim?
Here is a step by step process to file a claim.
Claim Intimation
You have to intimate your insurance provider. This can be done through means like mail, call or message. The claimant can visit the branch of the insurance provider in person as well.
Claim Processing
After receiving a claim form and relevant documents from you, the insurance company will verify all the details and will find out if you are eligible to claim or not. The documents required can be different for diverse cancer types.
Settlement
After the evaluation of all the documents, the insurance company will either accept or reject your claim application. On acceptance, the company will clear the expenses with the network hospital. If it is a reimbursement case, the amount will be credited to the claimant's account.
Documents required
Proof of Identity
Proof of Age
Medical and diagnostic test reports that indicate the stage of the disease and treatment required
Any other document that the insurance company may ask for while processing the claim