Cancer Insurance
Cancer insurance policy is a financial instrument that offers coverage against expensive cancer treatment. This insurance policy is specifically designed to provide financial assistance when cancer is diagnosed. Cancer insurance policy at PolicyX offers complete protection at all stages of cancer. Cancer treatment is very costly and this policy assists you by reimbursing the treatment cost. We are committed to offering you the best deals in the market and exceptional services. We offer
Importance Of Purchasing A Cancer Insurance Policy
Cancer is a disease that needs very expensive treatment to get relief or to be cured. The insurance for cancer is a great solution that will give you the essential financial support to manage associated expenses for the treatment of cancer.
Cancer is a specific disease that needs a larger amount of cost for diagnosis as well as treatments. The cost is also associated with hospitalization, chemotherapy, surgery, radiation and so on. The importance of purchasing one of the best cancer insurance plans involved in several areas and these areas are as follows.
Financial Safeguard
The cost of medicine, different types of health checkups and hospitalization are increasing day by day. As a result of this, comprehensive cancer insurance has become one of the most recommended investments for an individual. It acts as a financial safeguard against the excessively high expenditure of different types of medical treatment such as chemotherapy, radiotherapy and surgical procedure according to the specific need to treat cancer diseases.
Exclusive Coverage
It offers exclusive coverage including a wide range of medical facilities. Usually, Cancer Insurance Plans are available at a reasonable premium. Before purchasing a Cancer Insurance Policy, you should examine the offered coverage by the specific policy.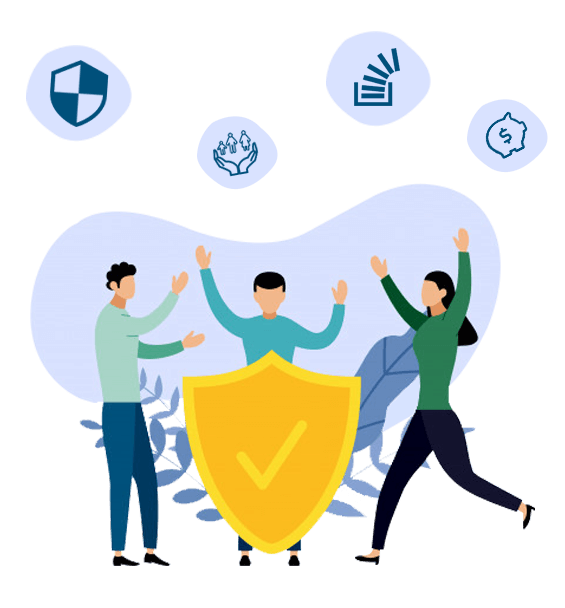 Payment For A Large Amount Of Money
When you will choose one of the best Cancer Insurance plans, it will offer you a guaranteed large amount of money in case of an emergency for the treatment of your cancer.
Benefits For Tax
If you purchase a policy of cancer insurance, you will get tax benefits as well.
Benefits Of Having An Excellent Cancer Cover
Cancer is the most common health problem and the treatment is very costly. Today people have started grabbing benefits from the cancer insurance plan to deal with high prices. Here are some benefits that the insurance plan covers.
Tax Benefits
The best Cancer Care Policies in India are eligible for tax benefits of up to Rs.25,000 and this is in reference to Section 80D as per the Income Tax Act, 1961. Senior citizens are also eligible for higher tax benefits under Indian law.
Customer Support
Along with the cancer insurance plan, you will get a dedicated team of experts to stand with you in case of an emergency. It will be there to solve all your queries. Your all issues and doubts regarding policy or claim will be taken care of.
Discounts
Companies come out with several discounts and additional benefits along with cancer insurance plans to provide more ease to customers. It will help you in saving more. Discounts usually vary from plan to plan and company to company.
Health Check-Up
Most of the Cancer Insurance Policies also motivate their customers to have an annual check-up. Depending on the cancer insurance coverage you choose, you can be offered a wide range of services which and an annual master check-up for all the covered members under the policy at premium facilities.
Lump Sum Pay
It offers coverage of different stages of cancer. The policyholder can get a lump sum on the basis of diagnosis report. If the policyholder does not take advantage of any kind of claim within a year, the assured sum will be increased followed by a percentage that has been specified already in the terms of the insurance plans.
Auto-Renewal
The Cancer Cover policies are mostly subjected to auto-renewal. This helps us prepare for long term coverage. Cancer is an unforeseen situation. Lifetime coverage with auto-renewal benefits help in crisis situations. No matter what happens you will be prepared as the financial coverage is taken care of.
No Claim Bonus
For every claim-free year, there is a predefined bonus called no-claim bonus that you as an insured will receive. It will be added to your plan each and every year.
Online Application
You can invest in a cancer insurance plan through a simple online purchase option that hardly takes 5 minutes to get you insured with the appropriate cancer insurance.
Cashless Treatment
Cancer insurance allows you to receive cashless treatment at in-network hospitals without paying a single penny and you receive the best treatment.
Types of Cancer Insurance Plans
Cancer insurance is an effective solution to fulfill the requirement of money to maintain your cancer treatment. There are several companies that offer cancer insurance plans which are advantageous to treat your cancer including other benefits. Some of the best cancer insurance plans are as follows.
The different types of cancer insurance plans are as follows
Insurance plan for stomach cancer
Insurance plan for lung cancer
Insurance plan for breast cancer
Insurance plan for hypo larynx cancer
Insurance plan for ovarian cancer
Best Cancer Insurance Plans In India For 2019
There is no doubt in saying that to deal with cancer and its expensive treatment, it is highly important to choose the best cancer insurance plan. There are many companies out there who claim to offer the best cancer insurance plans but you have to choose the best out of all that can easily go well according to your needs.
The name of some best cancer insurance plans 2019 are Max Life Cancer Insurance Plan, HDFC Life Cancer Care Plan, LIC's Cancer Cover, SBI Life-Sampoorn Cancer Suraksha Plan, and Exide Life Sanjeevani Plan.
Best Cancer Insurance Plans
| | | | | | |
| --- | --- | --- | --- | --- | --- |
| Qualified criteria | Limitation of age | Range of guaranteed sum | Range of policy term | Waiting period | Premium payment periodicity |
| HDFC Life cancer care | 18 years to 65 years | Minimum of Rs.10 lakhs to maximum of an Rs.40 lakhs | Minimum of 10 years to a maximum of 20 years | 180 Days | Available options in every month, quarterly, half-yearly or every year |
| Aegon Life iCancer insurance plan | 18 years to 65 years | Minimum of Rs.10 lakhs to maximum of an 50 lakhs | 5 years to 70 years subtracting entry age | 180 Days | Available options for every month or every year |
| Future Generali cancer protect | Options for major lives from 18 years to 65 years and minor lives from 1 year to 17 years | Major lives with Rs.10 lakhs to Rs.40 lakhs and minor lives for Rs.1 lakhs | Major lives for 10 years to 80 years subtracting entry age and Minor lives for 18 years subtracting entry age or 10 years and higher term with regular premium and 5 years terms with single premium | 180 Days | Available options for regular premium every month and every year and for a single lump sum for one time |
| ICICI Pru Heart/Cancer Protect | 20 years to 60 years | Minimum of Rs.5 lakhs to a Maximum of Rs.25 lakhs | Minimum of 10 years to a maximum of 70 years | 6 Months | Available options for every month, half-yearly or every year |
| PNB Metlife Cancer Insurance | 18 years to 65 years | Minimum of Rs.5 lakhs to a maximum of an Rs.40 lakhs | Minimum of 10 years to a maximum of 20 years | 180 Days | Available options for every month, half-yearly or every year |
Table Data updated on 15-07-2020
Cancer Insurance Plans That Pay A Lump Sum At The Time Of Treatment
Unlike the commercial health insurances cover inpatient stay and charges related to many diseases together including the advanced stages of cancer. Cancer Insurance Policies are designed to give protection and care during the diagnosis and treatment of cancer and covers the treatment from chemotherapy to cancer-related rehabilitation. These policies cover cancers like
Lung Cancer
Brain Cancer
Colon
Throat Cancer
Colorectal Cancer
The only type of cancer which is not covered under this type of policy is skin cancer. The speciality of cancer insurance is that unlike other health insurances which only covers cancer at very advanced stages when there is practically very little left to be done. The cancer insurance gives out a lump sum to the family of the insurer as soon as the cancer is diagnosed, so that the initial treatment, and the inpatient stay can be covered without any hassles. And the best part is that, radiation, chemotherapy and radiation therapies are also covered at different stages of treatment.
Therefore, it can be safely said that unlike other commercial insurance which gives partial coverage to cancer leaving the majority of the financial responsibility to the patient's family which becomes a huge financial burden for the patient's family.
Cancer coverage also comes with auto-renewal benefits that help in crisis situations. No matter what happens you will be prepared as the financial coverage is taken care of. Besides, policies are eligible for tax benefits of up to Rs.25, 000 as given in Section 80D as per the Income Tax Act, 1961. Senior citizens can also claim for higher tax benefits under Indian law.
Difference Between Cancer, Health Insurance & Critical Illness Rider Plans
Cancer Insurance
Critical illness rider plans
Health Insurance
Benefits
It covers complete expenses for the treatment of cancer
This policy is based on benefits
You can utilize it for paying expenses on medicine or you can use is as an alternative option of your income
It offers the facilities on the basis of a plan which provides the advantages for a lump sum if your critical illness is identified after diagnosis.
The available money can be utilized to treat your diseases or expenses of recuperation.
It offers the benefits so that the insurer can reimburse the expenses of hospital or offers the facilities of ideal cashless treatment including the extra cost of diagnosis, hospitalization, medicine and treatment and many more.
Cancer Cover
Insurance providers provide a plan for cancer insurance which is advantageous to get a complete coverage for the treatment of every stage of cancer disease such as a pre-stage primary stage and major stage.
It provides some general complicated illness which will be mentioned within the official papers of the policy. The pay-out will be made according to your expenses.
It provides the coverage of actual expenses of surgical as well as medicine. There is a restriction for the coverage of only hospital expenses and there is a strict sub-limit considering the room rent and so on.
Time Period
You will get the facilities of this policy for a long period like 20 years.
You will get the facilities of this policy for a long period like 20 year.
You will have to make a renewal of this policy every 1 or 2 years.
Points To Remember While Buying A Cancer Insurance Plan
To get the best cancer insurance plan an individual must ensure that they are going through the terms and conditions of the policy to understand it. If the points which are discussed below are part of an insurance plan, then be rest assured that you are getting the best cancer insurance plan 2019. Here are the things to consider before buying a cancer insurance plan
Make sure that your plan is covering all the stages of cancer. Most of the cancer plan makes 30% of payment on the early stage of cancer and 70% of the payment on its major stage.
Always grab the benefit from such plan which is having high sum assured. This is due to reason as the expenses of the cancer treatment are rising day-by-day. Doing so, will make you to have sufficient money during the time of treatment.
Every cancer insurance policy having its duration, just grab the benefit from such a policy which last for long.
Grab the benefit from the premium payment option, using this you can pay annually, monthly or on a quarterly basis.
Compare the available insurance plan options and choose the best deals
Buy Online, you can be aware of all the plans available and which one is more beneficial and suitable according to your requirement. Online platform provides more options to compare the plans.
Why Cancer Insurance Comparison Is Important?
Cancer insurance is one of the most demanded insurance policies of today's era where the ratio of cancer patients is really high. To deal with the expensive cost of the same, an appropriate cancer insurance is all you need. However, the availability of multiple options makes it quite tough to get the best cancer insurance plan out of all. You can easily get the best one out of all if you compare all the available plans.
Cancer insurance comparison services helps you in choosing the best plan which can easily go well with your needs and budget as well. It will protect you from making any wrong purchase decision.
To choose the best
It helps you in choosing the best cancer insurance plan out of all.
Protect you from fraud cases
It offers transparent advice which makes it easier for you to stay away from false information.
Allow you to make the most of it
Health insurance comparison helps you with detailed information so that you can make the most of the chosen plan
Saves time and money
Comparison helps you in saving your hard earned money and time as well that you waste in choosing the wrong one.
Why Choose PolicyX.com For Your Cancer Insurance Purchase?
PolicyX.com is a one stop solution for all your insurance needs. The platform helps you with free quotes and comparison service which makes it quite easier for you to choose the best plan out of all. It brings all the helpful quotes on a single page so you don't have to visit all companies one by one, allowing you to compare on the basis of features, benefits, coverage, exclusions, premium and much more.
We at PolicyX.com are committed to offer unbiased quotes for hassle-free buying process. We don't make any false promises, we claim what we are and what we can offer?
PolicX.com is the leading online insurance web aggregator
Its is an IRDA registered portal which follows the norms of the same to run its operations smoothly
PolicyX.com offers unbiased quotes and free composition services to serve you better
The team of PolicyX.com made the entire buying process a lot easier for you
It has tie-ups with leading insurance companies such as Max Bupa Health Insurance, Religare, ICICI Lombard, HDFC Ergo Health and many more.
Allows you to compare top cancer insurance plans within a few seconds.
Documents Required
Identity proof
Age proof certificate
Disease report that show the cancer stage and the treatment type need to be done
Exclusion
There are some exclusions, it generally depends on insurer
Skin cancer
Cancer that occurred from sexually transmitted diseases: like HIV or AIDS
Cancer occurred from congenital conditions
Cancer Insurance Claim Process
Here is a step by step process to claim cancer insurance
Claim Intimation
You will need to intimate your insurance provider agency, all the companies have diverse mode to claim. You will need to fill online form available on the official website of the company, sometimes can be done through message or by visiting the branch. You will be asked to submit diagnosis reports or medical documents.
Claim Processing
After receiving a claim form and relevant documents from you, the insurance company will verify all the details and will find out if you are eligible to claim the individual policy. The documents required can be different for diverse cancer types.
Settlement
After evaluation of all the document received the insurance company will either accept or reject your claim application in such cases. If your form get accepted you will get claim amount within a given time.