It is not at all shocking that a smoker too can buy health insurance plans even though that few plans are there that mention smokers under 'Exclusions'. Instead, smokers are more prone to health issues since they smoke and should go for health insurance.
There is only one difference of premiums between a normal person taking a health insurance plan and a smoker buying a health plan.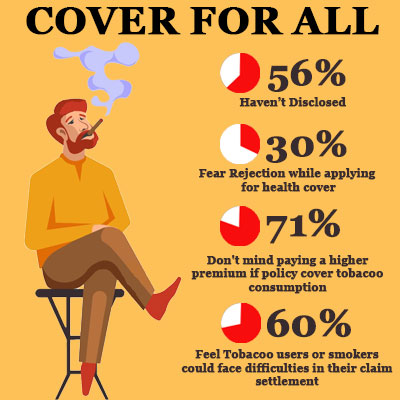 The health insurance plans for smokers have higher premiums comparatively. But one can surely avail the facility of securing one's health under health insurance for critical illness.
Parameters That Brings You Under Smoker Category
The nicotine used in any form brings an individual under the smoker category.
Insurance companies insist on medical tests to determine and detect regular smokers to decide their premiums according to health risk.
Traces of nicotine can be detected from blood, urine, hair, and saliva.
The time duration for which nicotine stays in your body depends on person to person's metabolism, age, frequency of smoking.
Before Buying Health Insurance You Should Be Aware Of Few Things
The common questions of an insurer when you go for buying health insurance can be:
Do you smoke?
In the last 6 months have you been using tobacco?
What is your smoking frequency per day?
The number of cigarettes you use daily?
If you agree to smoke cigarettes then the health insurance company demands a medical test according to the policy underwritten norms.
They also considered the age and the sum assured while offering you health insurance.
Smokers who have Type 2 diabetes can be refused for a health plan.
The pre-existing lifestyle disease and hypertension could also affect the health insurance plan and its premiums.
Never Hide Smoking Habits From Health Insurance Companies
Hiding smoking habits from your insurer can lead you in certain troubles like:
A dispute at the time of claiming the policy
A pre-existing disease caused due to smoking will not be entertained by the health insurance before the completion of the waiting period.
Updation of lifestyle changes to the insurer is as important as having insurance. For instance, an increase in the number of cigarettes or deteriorating health should be informed to the insurer.
NOTE: For a smooth Claim Settlement, you need to keep things clear cut.
Different Health Insurance Norms For Smokers And Non-Smokers
Things are normal for a normal person but if you deviate from the part of healthy habits you have to pay extra. Normal plans with normal premiums are available for non-smokers. 
The plans for smokers have higher premiums. Although you get a facility that is more suitable for you because you have higher life risk. Any illness that is related to the respiratory, lungs, hypertension, stroke are covered under the plan according to your life habits. The plan also depends on the age of the individual and the sum assured.
You may also like:- Cancer Insurance Versus a Critical Illness Plan
The False Myth Among People
Generally, people think that a smoker can not get a health insurance plan and moreover if he buys one it will be rejected at the time of claim settlement. This is foolishness.
One should read the policy properly and should go through all the medical tests claimed by the insurer. This would help him get a better and suitable plan. One should be honest a make true disclosure to the health insurance company. Get yourself out of rumors and insure yourself from a sudden illness.
Conclusion
The health insurance companies have plans for every age group and different lifestyles. All you need to do is be truthful to the insurance company while buying a plan and the insurance company will advise and help you choose the best health plan suitable to your lifestyle.