Just like any other insurance plan, children's health insurance plans are also getting popular in India. Studies reveal that children who have health insurance policies are much accessible to primary and preventive health care as compared to children who do not have any health insurance coverage. From dental care to regular checkups and emergency treatment, your child deserves the best possible medical care when needed.
This should be as similar to investing in their studies, tuition, and living. Unfortunately, most of the people are not even aware of such health insurance policies for their kids.
What is a Child Health Insurance Plan? 
For those who don't know, child health insurance plan provides health and medical care coverage to children exactly as health insurance does for people above 18 years. In some policies, children are covered along with the other family members or you can take a specific child health insurance plan as per your preference. When it comes to kids, most of the companies focus on child education plans or life insurance plans. This might be a reason why not everyone understands the potential of having a child health insurance for their kids.
Types of Health Insurance Plans Available for Kids 
Depending on your child's health care needs and your budget, there are various child health insurance plans available. However, going for a family floater plan is always a good option as it covers your entire family as well as your children for specific health benefits. The following are the types of child health plans, you can choose from.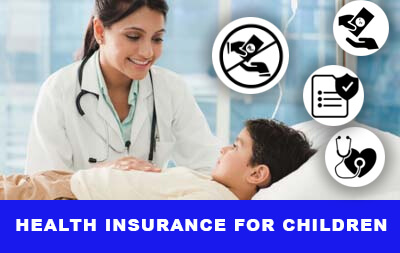 Individual Child Health Plans
Just as the name suggests, individual child health insurance policy is designed especially for children with numerous benefits such as cashless hospitalization, medical check-up, and comprehensive protection against illness and other mishaps. 
Advantages of individual child health insurance
As the health risks associated with kids are very low, the premium of such policies is affordable for the parents. Hence, you can save money on the premiums with protecting your child by getting good insurance for him/her.
Individual plans offer amazing benefits including comprehensive treatment benefits with partnered hospitals, and cashless payment methods, etc.
Being less risky for the kids, most of the policies offer no claim bonus by reducing the premium amount if there are no claims raised, in the predetermined amount of time. 
Must Read: Best Family Floater Health Insurance Plans in India
Family Floater Health Plans
This type of health insurance covers an entire family along with the primary policyholder. The different plan covers at least 4-7 members of the family, including policyholders, spouses, kids, and parents if possible. Family floater plans offer long term benefits to each member of the family and even a newborn baby can be covered to get health care benefits. 
When your child grows, he or she will be counted as a separate entity under the same plan and will get the same coverage as you. Family floater plans have an upper age limit for children who is a maximum of 25 years of age.
Advantages of Family Floater Plans for kids:
No need to manage multiple policies, and keep track of each plan. Plus, your whole family gets covered under a single plan, which saves your time and money.
While you want to add a family member in the plan, the insurer provides some benefits such as low premium cost or bonus so that would be a win-win situation for you.
Fixed premiums
You can get add-ons whenever you want. Plus, a tax benefit up to 30000 on such plans are awarded for Senior citizens, and 25000 for others.
Top Children Health Insurance in India
Insurance Company

Entry Age for Children

Highlights

Family Members Covered

Sum Assured

Religare Care




Minimum Age Required: 3 Months

Maximum Age Required: 18 Years

4500+ network hospitals
Waiting period up to 4 years
claim ratio 57.25

6

3 lakhs to 60 lakhs

Apollo Munich Optima Restore Family:

Minimum Age Required: 5 years

Maximum Age Required: 18 Years

Waiting period: 3 years
claim ratio: 55
multiple add-ons





6

3 lakhs to 50 lakhs

Star Family Health Optima

Minimum Age Required: 16 Days

Maximum Age Required: 18 years

7950+ network hospitals
claim ratio: 60.51
Waiting period up to 4 years

5

2 lakhs to 15 lakhs

Max BUPA Health Companion

Minimum Age Required: 3 years

Maximum Age Required: 18 years

Waiting period up to 4 years
Claim ratio: 52
Affordable premiums and NCB for 5 no claim years

6 (4 adults 2 children)

3 lakhs to 1 crore

HDFC Health Suraksha

Minimum Age Required: 3 years

Maximum Age Required: 18 years

4,800+ network hospitals
Incurred Claim Ratio: 50.76
Waiting period up to 4 years





4

3 lakhs to 7.5 lakhs

Bajaj Allianz Family Floater Health-Guard

Minimum Age Required: 3 months

Maximum Age Required: 18 years

Incurred Claim Ratio: 73.59
Waiting period up to 3 years
Tax benefits under section 80D

6

2 lakhs to 10 lakhs

Oriental Insurance Happy Family Floater Policy:




Minimum Age Required: 3 months

Maximum Age Required: 18 years

Incurred Claim Ratio: 114
Waiting period up to 3 years
available in two variants- gold and silver
tax benefits under section 80D

8 (6 adults + 2 children)

1 lakhs to 10 lakhs

SBI Life Smart Health Insurance




Minimum Age Required: 3 months

Maximum Age Required: 18 years

Incurred Claim Ratio: 54.41
Waiting period up to 3 years
Lump-sum surgical benefit coverage

6

1 lakhs to 5 lakhs
You May Like: How To Plan Your Health Insurance Cover?
According to the table, you can choose any of the family floater health insurance that not only keep your child covered but your entire family covered with all the essential health care benefits and NCB if you do not claim for a longer period. 
Benefits of Ensuring Your Child's Health
Though children are not at a higher risk of necessary getting health insurance plans but due to the ever-increasing disease and ratio of child illness, it is better to ensure that you are ready to provide the best health care to your little ones whenever needed. Plus, the medical care expenses in the country are not going to stop in the upcoming years so who would want their child to suffer because of financial inabilities. Here are some major benefits you can expect from child insurance plans.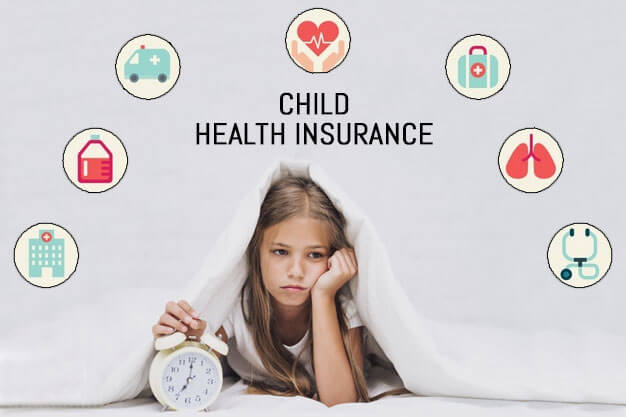 Health Outcomes: According to several studies, having health insurance can have a positive impact into adulthood, For instance, more awareness of such plans and peace of mind can lead to overall happiness not only for you but for your child as well. Children whose coverage began prenatally (before being born) had fewer preventable hospitalizations and fewer hospitalizations related to endocrine, nutritional, and metabolic diseases, and immune-system disorders. 
Peace of Mind: Giving birth to a child is among the most influential experiences one can have in their entire life.  And to keep your child happy, planning his or her future financially is as important as giving the best education and food while growing up. From the day of your child's birth to the day they become an adult, you must have peace of mind while creating their future. 
When you are the only earning member in the family, you must secure the health of your children so that in time of an emergency, you can focus on being there for your child rather than trying to find out the source to bear the medical expenses. Good health insurance is the best solution for each family who wants to avoid any sort of financial stress in case of an unwanted medical mishap.                                            
Additional Benefits:
Routine check-up
Cashless treatment in a repute partnered hospital
Ambulance coverage/ hospitalization
Medical awareness
Tax benefits
Add-ons and No claim bonus benefits 
Choosing the Right Children Health Insurance Policy
Family floater policies are comprehensive health care plan, gives multiple advantages in terms of your child's health. Under these policies, you can get value-added profits such as health risk estimate, health-related counseling and initial consultation from qualified physicians and experts.
While choosing a comprehensive health policy your child and other members of the family there are some standards you should look for, such as-
Policy offering coverage for your child aged at least 5 years and more.
Kids under 5 years should be included under the policy (if both parents are already) from the 91st day (3 months)
Policies allowing the largest amount of coverage for your child.
Although not applicable in the case of children, go for plans that cover pre-existing diseases.
Read everything in detail to avoid any mishaps in the future. 
How to Find Affordable yet Beneficial Health Insurance for Your Child?
Now that you are aware of the major factors you can consider in health insurance here are some of the steps you should take while finding a child health plan for your little one. 
1) Research: Just like any health insurance plan you must do your part by researching everything related to the policy terms, premium calculation, add-ons and so on. Once you get enough knowledge you can decide whether the policy you are being offered is suitable for you or not.
2) Find a reliable insurer: Before you finalize the health insurance for your child, find a professional agent or insurance company which has the most positive reviews and feedback from insured customers. Ask all your queries and let them know what your expectations are.
3) Check the claim benefits and premiums: Any health insurance policy is not beneficial if you are not able to fill the premium on time or getting the claimed amount when needed. So be smart enough to double-check the claim settlement ratio of the company as well as the premium which you can manage with your yearly expenses.
4) Know your health plan: Before you sign the documents, double-check if the policy covers all your desired health expenses. Go for a plan that covers more than 5 people of your family with higher benefits to each person covered. Also, do not forget to check if the policy has add-ons for your children as well. 
Understanding the policy contents of a children's health insurance policy is and checking exactly what is covered or excluded are the major elements that can help you make the right decision. To get the best plan for your family, you can compare the best family floater health insurance including child cover at PolicyX.com for the most reliable and honest comparisons depending on your needs.
Health Insurance Articles: A Smoker Too Can Buy A Health Insurance