The accelerating cost of healthcare is continuously oppressing the lower and middle-class families. Due to this inflation in the healthcare sector, health insurance policies are rapidly becoming a critical component of financial planning for any family.
The importance of health insurance becomes even more evident in the context of children. Besides raising children and providing for their living and education, one of the crucial areas that you'll need to financially insure- your child's health care. 
From birth to their preteens, every child needs special care because of their low immunity, which makes them more vulnerable to diseases. Thus, investing in child health insurance would be the best choice for you and your child.
What Are The Benefits of Ensuring Your Child's Health?
With the increase in the number of diseases, it is better to be always prepared to provide the best health care to your little ones. Here are some major benefits of opting for a child insurance policy: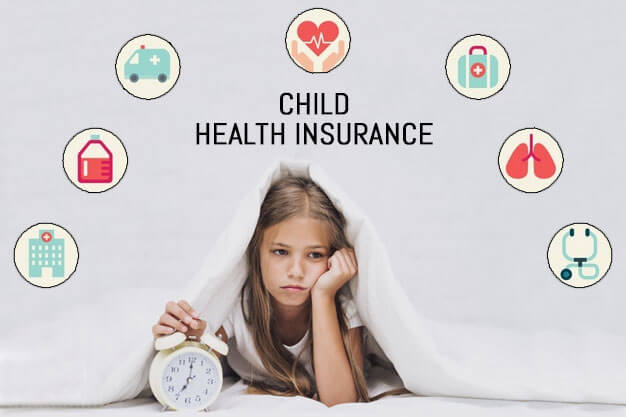 Do not have to worry about your financial inability: The healthcare industry has noticed a drastic hike in its services and care. Therefore, if your child needs any sort of health care facility, you won't feel a burden on your pocket.
Peace of Mind: Among the many turning points in life, the birth of a child may be one of the most important events. But at times, planning for your child's future and health expenses can become stressful. With a child insurance policy, you can ensure that no matter what the circumstances turn out to be, you will be prepared to give the best health facility to your child.
Other than these, there are many additional benefits of opting for child health insurance:
Cashless treatment in a network hospital
Ambulance coverage
Medical awareness
Routine check-up
Tax benefits
Types of Child Health Insurance
Individual Child Health Plans
Under this plan, your child will get health coverage with multiple benefits such as cashless hospitalizations and comprehensive coverage. Being a standalone plan, it has its own set of benefits. For example, the entire sum insured is dedicated to the treatment of your child. 
Apart from covering the treatment cost, individual child health policy in India may also provide coverage for ancillary services like lab tests, ambulance costs, etc.
Benefits:
Besides hospitalization, these plans cover medical check-ups, ambulance charges, specialist costs, etc. They also offer the following benefits:
Lower premiums 
No Claim Bonus
Under this plan, the coverage is provided to the entire family, including children. This is generally a long-term plan, and members can be added as early as birth. Under this policy, you can avail add-on benefits like health-related counselling and initial consultation from qualified physicians and experts.
All the expenses would be covered right from your child's birth, including a hospital stay and infant vaccinations. Your child will be entitled to all the policy benefits until s/he turned 25 years old.
Easily manageable 
Discounts
Fixed premium
Top 5 Child Health Plans In India
| | | |
| --- | --- | --- |
| Insurance Plans | Minimum Entry Age for Children | Sum Insured |
| | 91 days | 3 Lakhs to 6 Crores |
| | 16 days | 1 Lakh to 25 Lakhs |
| | 91 days | 5 Lakhs to 50 Lakhs |
| | 91 days | 3 Lakhs to 75 lakhs |
| | 91 days | 3 Lakhs to 1 Crore |
How To Choose The Right Child Health Policy?
1) Be clear about what kind of policy you are looking for. Double-check the terms and conditions related to the policy like the sum insured, diseases covered and so on.
2) Clear all your queries and ask as many questions as you want. Check the claims settlement ratio of the company as well as the premium and decide whether you can manage it with your monthly/yearly expenses.
3) Know in detail about the exclusions of the policy. Make sure that the policy you are going to buy covers all your desired health expenses.
Bottom Line
Investing in child insurance policy could prove to be the best decision for the parents who are worried about their child's health expenses. But before buying child insurance, do check the details of the plan. Your family's financial future depends on it.