Planning to buy Health Insurance? Well, understanding certain terms, payment methods, costs, etc. can be confusing. That is why prior to investing in health insurance, it is necessary to get the basic knowledge of some of its features that may help you understand when and how much you need to pay for your health care.
Co-payment and Deductible are two such features that are associated with health insurance plans. They both are types of cost-sharing, which means that a part of your health care expense is paid by you and another part will be paid by the insurer. 
What is Co-payment?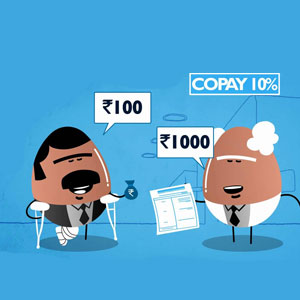 A co-payment is a fixed percentage that the insured agrees to bear in the event of a claim, and the rest is paid by the insurer. The co-payments usually vary depending on the nature of treatment and medication. The ratio and fluctuations of the co-payments and the premiums depend on each other. Like, if co-payments are high, the premium is less and vice versa. The feature of co-payment can prove to be of great relief to the insured as well as the insurer.
For example:
If your health insurance policy has a co-pay clause of 10% and your medical expenditure has cost you Rs.1,00,000, you need to pay only Rs. 10,000. The rest of 90% will be paid by the insurer under the co-payment norms.
What is Deductible?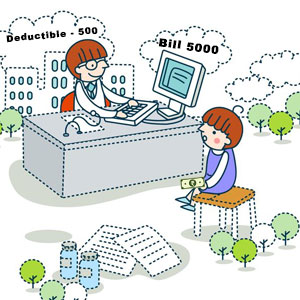 A deductible is a fixed amount that policyholders need to pay every year before their health insurance benefits begin to cover the costs. It is the most common feature of health insurance and is paid within the mentioned period. The amount paid under a deductible is non-refundable even if the policyholder doesn't make a claim. 
For Example:
You have a deductible of Rs. 5000/year. You get sick and have to get hospitalized for the treatment, which will cost you Rs.20000. In this situation, Rs. 5000 will be paid under deductibles and rest will be payable by the insurance company.
Read: Grace Period in Health Insurance
What Are The Similarities Between Co-payment & Deductibles?
Both Co-payment and deductible are an essential feature of Health Insurance. The payment in both of them is fixed, which means that none of them will change regardless of the total of your healthcare costs.
What Is The Difference Between Co-payment and Deductibles?
The main difference between co-payments and deductibles is the amount that the policyholders have to pay. Deductibles are generally higher than co-pays but are paid only once a year. On the other hand, co-payments are ongoing. Policyholders have to pay each time they apply for a claim, no matter how many co-payments they have paid during the year. Also, co-payment is only a part of health insurance, but the deductible plays a part in health and general insurance.
Important: No Claim Bonus in Health Insurance
To sum it up...
Co-payment is an agreement between an insurer and insured, where the insured needs to pay a fixed percentage of hospitalization expenses out of his/his pocket while the remaining amount will be given by the insurer as per the terms of their health plan. On the other hand, a policyholder has to pay a deductible (an out-of-pocket amount) before the insurance starts paying anything for his/her health costs.