By the time you reach a certain age, you will require long term care plans which cannot be paid regularly from your own pockets, most of the people have not planned for their financial future which leads to poor health care facilities in the age when one needs the best quality treatment, checkups, and medicine to overcome a type of disease or illness.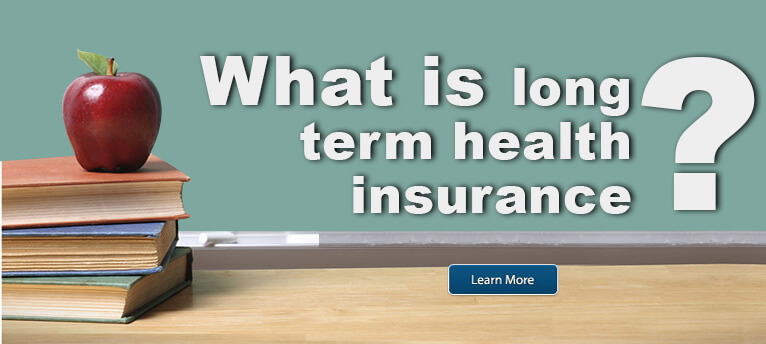 Expenses such as hospitalization, daily care, room rent, ambulance and medicines for the critical disease can cost you so much that you may get bankrupt or stop focusing on health due to less financial stability. Whether for your health or your parents, it is better than you choose long-term health plans that are recommended by all the insurance companies and industry experts.
What is a Long Term Insurance Plan?
Long term health insurance plan is designed similar to the plan that covers the financial future. With the increasing advancement of modern medicine, most of the people are at high risk of getting chronic diseases and disability. Just as the name refers these plans are available to keep for a long time or let's say forever. This means that the policyholder would not change the plan even if the other plan offers lower premiums or better benefits in the same period. The main reason to get a long term plan is the premium stability which helps the policyholder to live a stress-free life as far as the health expenses are concerned. 
Benefits of Getting A Long-Term Health Plan 
Cost-Effectiveness
The first and the most important reason to buy long term health insurance plans is their cost-effectiveness in the long period. This forever kind of feature brings along many advantages, some of which an individual has never even thought of. The premiums are much lower than the other plasma if calculated overall. 
Protection for A Long Time
Every health insurance plan differs when it comes to pre-existing conditions. Any form of health issues that occurred throughout the progression of your current policy, and for which you have taken medicine and consultation would be considered under a pre-existing health condition by the current insurer. Some of the pre-existing conditions include diabetes, cancer, blood pressure, and fertility issues.
In your new health insurance plan, such as pre-existing health conditions are excluded from your features and covers which means that you will not get any compensation for the treatment of these conditions. However, in such a situation the best, and most cost-effective option is to choose quality, long term health insurance plan. Moving under such a plan suggests that the insurer is bound to cover for any of the medical circumstances that you have diagnosed during the plan. 
Continuous Benefits
For people aged 60 - 65, it gets challenging to buy health insurance, especially as you are more likely to develop chronic diseases. Another critical point is that some insurers, usually those that offer local plans, which gives insurers the right to reject revision if you have made too many applications or developed a new health condition have made the site more difficult for senior citizens.
Hence, long term health plans are designed to offer lifetime protection where you can decide if you want to cancel the policy or continue with the plan but the insurer cannot. This allows you to maintain your health coverage plan. So, even if you regularly need doctor's appointments due to whatever medical condition, you can have it without any hassles and that makes it a must-have plan.
Premium Stability
Premium is the most important part of any policy which everybody wants to know most about. While some less popular, or regional insurers may offer economical premiums, the bonuses cover and boundaries will be inadequate to meet all your medical care and financial needs.
A low premium may sound great for saving money initially but the price will be sustainable. The medical expenses decide the premium and low premiums, in the beginning, will always be readily extended to compensate for the insurance company's losses. This may force you to switch plans sooner or later and lose your coverage for any pre-existing diseases, and lead you to expensive medical charges in the future.
Now that you know how important it is to get a stable premium with policy, you can understand the benefits of a long term health plan.  Being ready to manage for your premiums and be assured that they will increase affordably is what makes long term health plans an excellent option. And at first, the premiums you pay for your quality long term health plan might seem high but are mostly to be stable during the term of your plan, making it a  cost-effective option for you and your family. 
Plan Portability
This is the time when everybody is traveling due to work, personal reasons and much more. Hence, it does make sense to get a health plan that is valid almost everywhere you are. This may be a fact that having a local plan is chapter and can offer you coverage in your country, but that is only an option when you are sure about not moving to countries, but if yes you'll need a new policy, which again, might not give coverage for any pre-existing health conditions. Also, you may pay for a health plan double because if you want to move to another country, you will end up paying for two policies at the same time. Imagine how costly it can get for a middle-class family.
By getting an international long term, plan, you don't have to bother about your health coverage at all no matter whether you are changing the location due to work, pleasure or holidays. You can have full access to clinics and hospitals globally at no additional charge. Most importantly, you can enjoy the coverage benefits to permanent diseases all over the world without any lengthy documentation or hassles. 
Additional Benefits Of A Long Term Health Insurance Plan
These plans give financial freedom reducing the need to borrow capital for long-term care.
Allow a family member to determine where he gets care.
Benefits such as home care, friendly visitors programs, and routine service and allowance services for caretakers.
Some Popular Health Plans With Term Options 
Plan Name

Long Term Coverage Option

Premium

Claim Settlement Ratio

Highlights of The Plan

ICICI Prudential Smart Health Cover

10 - 30 years

It starts from Rs. 2400

97.88%

● protection against 34 critical illnesses

● Lump-sum protection against untimely death

● Guard against disabled due to accident

● Maximum Critical Illness Benefit of  25 lakh.

 

 

1 or 2 years

Based on one's age

(Sum insured from 1 lakh to 5 lakhs)

 

 

52.58%

● 6,000 Network hospitals

● Faster Claim Settlement:

● lifetime renewability

● Pre-existing diseases will be covered after 36 months of coverage

● Cashless claim network

 

 

 

 

2 years.

Rs. 3 Lakh – Rs. 50 Lakh

89%

● In-Patient Hospitalization

● Daycare procedures

● Wide family floater coverage

● Pre-Hospitalization and Post-Hospitalization Coverage:

● Organ Donor Expenses

● Additional Cover for Critical Illness

 

 

Max Bupa Health Companion Plan

 

 

1 year

2 years

Sum Insured Options: Rs. 5 Lakhs, Rs. 7.5 Lakhs, Rs. 10 Lakhs & Rs. 12.5 Lakhs

 51.96%

 

● Direct claim settlement, cashless facility, and assured plan renewal for life

● A discount of 12.5% in the second year's premium

● Pre and Post Hospitalization

● Day Care, emergency ambulance ad organ transplant

● Tax benefits and unlimited features

 

Bajaj Allianz Family Floater Health-Guard

 

 

Policy term option of 1, 2 and 3 years

 

 

Sum insured from 1.5 lakh up to Rs. 50 lakhs

92.04%

 

 

● 1.5 lacs up to Rs. 50 lakhs

● Covers Pre and Post hospitalization expenses

● Lifelong renewal option

● Access to a cashless facility at over 6000+ impaneled hospitals

 
How to Choose The Right Long Term Health Insurance Plans?
There are so many benefits you can get from long-term insurance only if you consider these points that may help you buy a suitable long-term insurance policy:
Do your Research
Before heading to any long-term plan you need to research the quality,  reliability, and features of the insurance company you have chosen. It is always recommended to consider comparing the plan online and see if the plan is meeting your requirements or not.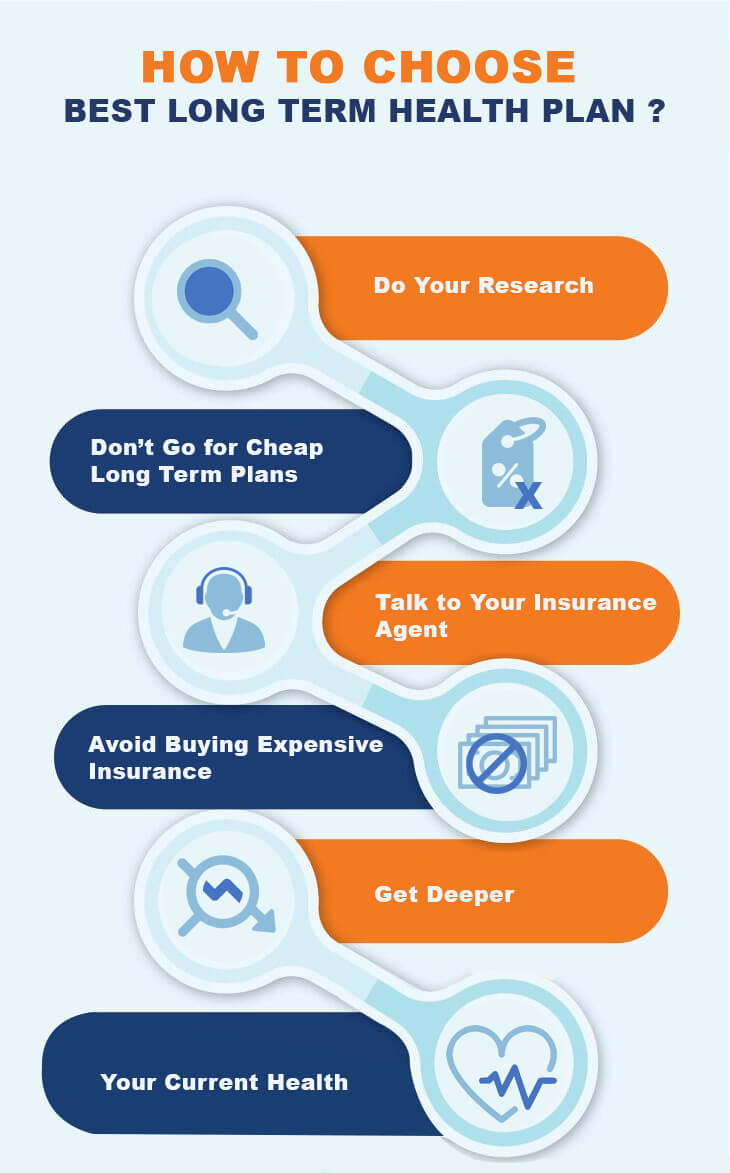 Don't Go for Cheap Long-Term Plans
Even if you have bought a long term health plan, what would you do if there is no coverage of the illness you recently diagnosed with? Always remember that nothing is more important than having a plan which helps you overcome financial burden when you need.
Talk To Your Insurance Agent
Before finalizing your decision, it is better that you have a detailed conversation with your insurance agent to clarify every aspect of the policy. There is a difference between gaining knowledge online and on paper. Also, your agent can match the prices and service quality of the plans you have shortlisted.
Avoid Buying Expensive Insurance
Just like a cheaper insurance plan you should also not consider buying expensive plans as it can affect your savings which you can use for additional health care and expense. There are hundreds of good quality long term plans available for quality health care so choose among them carefully.
Get Deeper
This simply means to examine each policy you are taking into consideration and check if the benefits are aligned with what you need. Always remember that the policy you are purchasing should meet your future requirements no matter how the press and expense have changed or increased.
Well, this may be not possible for most people but if you are a younger one reading this, get yourself covered as soon as possible, because the plans for younger people are much cheaper than for the senior ones, If you have to take a long term plan by the time you get 60, why not today at a lower price?
Your Current Health
Qualifying for a long term plan also depends on your health situation. Most of the companies demand an individual to pass a medical examination before he or she is offered health coverage benefits. Also, here the preexisting conditions which are not  covered by most of the insurance companies:
Alzheimer's disease
Mental Illness
Multiple Sclerosis
Parkinson's disease
Stroke
Hence, before you go to purchasing a plan, it's essential to read and comprehend the entire health policy to avoid any surprises in the future. Plus, the insurance agent from the company should show you an outline of coverage, explaining the policy limitations, and benefits properly.  It not only helps you to compare the policies but make a decision that suits you in the best possible manner.
A Wide Range of Options
In addition to all the above-mentioned factors, another important thing to consider is the company's large collection of plan options, which can make you more confused even if you have decided on your budget and requirements. While this series of possibilities is something a buyer love but it may leave you feeling overwhelmed if you are not a pro in such matters. Make sure you stick to what you want despite any bigger opportunity to grab another policy or else.
How PolicyX Can Help You?
Now that you know what are the benefits of long term insurance plan and what needs to be looked at while buying a long term health plan, all you need to do is to find the right insurance company and plan that meets your health care requirements in the best possible manner and let you live a hassle-free life for years to come..
No need to get confused between two of the best plans available within your budget, we at PolicyX can help you with a reliable and honest policy compare platform specially designed to lead you the best decision within a few minutes.
Just fill your details,  requirements or preferences related to a long term plan and compare the plans to make the most suitable decision with PolicyX.
Long term plans can be very beneficial for people looking for a permanent solution to their health expenses in the future. Buying insurance is about eliminating financial risk from your life so make sure you are going with the right insurance company and with the right long term health insurance plan.