No Claim Bonus is offered by the insurance company for not availing the claim during the policy year. It is one of the most important aspects of health insurance. It totally depends on the health insurance company how they want to offer this bonus.
Either they can provide the no claim bonus (discount) during the tenure of the policy, or can offer an increased amount of the sum insured.
Types of No Claim Bonus
Be it private or public, every insurance company offers NCB to the eligible policyholders.
There are two types of No Claim Bonus that are offered in a health insurance policy. Let's find out more about them.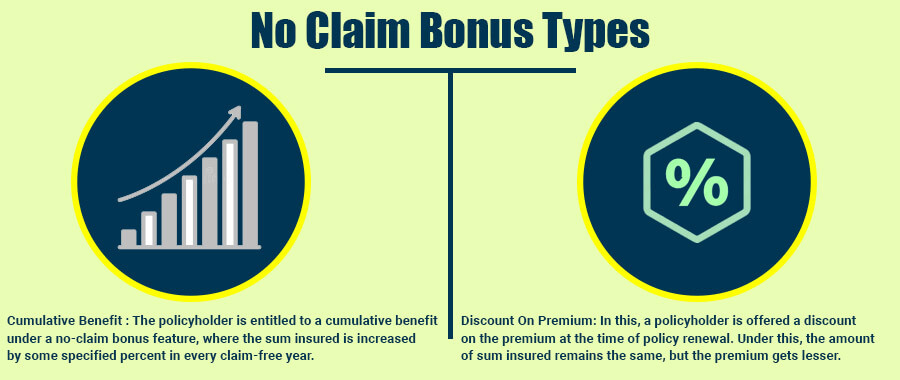 Cumulative Benefit: The policyholder is entitled to a cumulative benefit under a no-claim bonus feature, where the sum insured is increased by some specified percent in every claim-free year.
Discount On Premium: In this, a policyholder is offered a discount on the premium at the time of policy renewal. Under this, the amount of sum insured remains the same, but the premium gets lesser.
In a Health Insurance Policy, How Does No Claim Bonus Work?
Medical insurance helps the families to get the reimbursements of their hospital bills. At times when policyholders do not make a claim during their policy tenure, they will be eligible to avail the benefits of No Claim Bonus. The reason for not making a claim could be that they managed to stay fit and saved themselves from expensive hospital bills, or they decided to pay the minor bills themselves. In both of the cases, the policyholder is entitled to No Claim Bonus. 
Example of Cumulative Bonus
Mr. A has a health insurance policy worth Rs. 10,00,000 and he does not raise a claim during his policy tenure. Then, while renewing the plan, the insurance company will offer him a boost in Sum Insured by 10%.
That makes his sum insured to Rs. 11,00,000. If Mr. A does not raise a claim next year as well, the Cumulative Benefit will again kick-in and the sum insured will rise to Rs. 12,10,000.
* In the case of Cumulative Benefit, there is a limit of 50%, which means that the additional sum insured can't increase more than 50% of the original value. Also, different insurance companies have their own policies and can offer this benefit from 5-50%.
Example of Discount on Premium
Mr. A has a health policy worth Rs. 10,00,000. The premium cost is Rs. 10,000. There is no claim raised during the policy period, and the insurance company offered him a discount of 10%. With this discount, Mr. A has to pay Rs. 9000 to renew his plan. He saved Rs. 1000.
Benefits of No Claim Bonus
There are many benefits associated with No Claim Bonus. Some of them are:
The No Claim Bonus encourages the policyholders to stay fit and healthy.
It minimizes the cases of unnecessary claims and frauds.
It provides additional coverage and adds a financial cushion during the rising healthcare costs.
It can be easily transferred during the portability.
Summary
A No-Claim Bonus in Health Insurance is one of the key features that every policyholder should consider before purchasing a policy. In today's time, when the stress, pollution, and lifestyle is taking a toll on one's life, it is better to start prioritizing your life, stay fit and avail the benefits of No Claim Bonus.
Frequently Asked Questions
Ques 1. Will my benefit of No Claim Bonus lapse if I don't renew my policy?
Ans. Every insurance policy has a fixed tenure, after which it needs to be renewed. In case, if a policyholder fails to renew their policy before the expiry date, the policy would lapse. 
In such cases, the policyholder will not be entitled to the benefits that come with the renewal of health policy. Long story short, if the policyholders fail to renew their policies, they will not get any benefit of No Claim Bonus.
Ques 2. How much discount can I expect while renewing my health policy?
Ans. Every insurance company has its own policies. The amount of discount provided by your Insurance Company is based on its discretion.
Ques 3. Can I increase my No Claim Bonus?
Ans. Yes, if you wish to increase the percentage of your No Claim Bonus, you can purchase a No Claim Bonus Add-on.
Ques 4. Is a discount on premium better than Cumulative Bonus in Health Insurance Policy?
Ans. It totally depends on the preference of a policyholder. Some policyholders prefer sum insured to be increased based on the Cumulative Bonus in health insurance while others prefer availing a discount on the premium.
Ques 5. When to renew my Health Insurance Policy to avail the benefit of No Claim Bonus?
Ans. Generally, in order to avail of the benefit of No Claim Bonus, the policy needs to be renewed within 30 days of the due date for renewal.