Having a backup plan for every step of your life is surely a smart choice as life is full of surprises and possibly uncertainties too. Medical emergencies are one such example of uncertainties which no one wants to come across in their life. However, one can always go for the health insurance plan earlier to prevent dilemmas of financial needs in such uncertainties of life.
Health insurance is one of the most considerable support in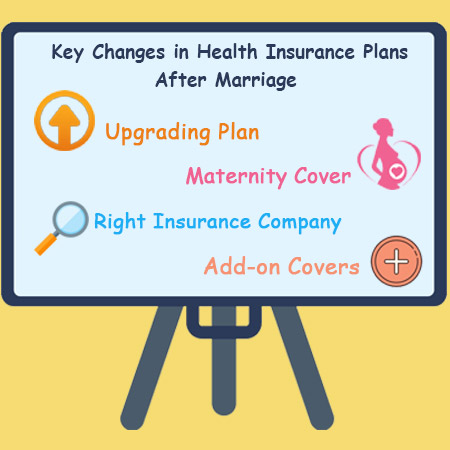 the case of medical emergencies. This is why securing a health insurance plan earlier is probably the best investment in your future. However, one goes through several phases of life among which financial needs change from time to time. One such important phase of life is a marriage which will surely require some essential changes in the budget management plans to fulfill every requirement.
Life changes in a drastic way after marriage, beginning with the perception of lifestyle to increased responsibilities and thus increase of financial needs as well. No wonder that a financial backup or a proper budget management plan plays a major role to lead a tension free life with your companion.
Therefore, one should make a few key changes in their health insurance plan that they have availed earlier to get the benefits from their investment in it.
The Chosen Plan Type or Cover Type
Health insurance plans are not just a single type and they vary based on the chosen package. First, take a look at your present health insurance coverage and whether it will be enough after marriage. Once you have a clear cut idea about your insurance plans and the coverage of it, you can either increase or decrease the coverage of the plan as per your needs
Increasing or decreasing the coverage of your health insurance plans will probably depend on your previous type of plan and its assured coverage. However, one should upgrade their plans after marriage and the same should be done to their spouse too.
Analyze The Health Requirements 
The requirements for health insurance coverage will change based on the state of the health of couples while getting married. This is because of several considerable factors such as the age of both people while getting married and probably their present health conditions as well.
A casual health checkup once in a while is for sure the smart thing to do to keep track of the health conditions after the marriage. This is because any change in the state of your health may not cover the needs that it could have covered in the past.
Change of lifestyle is also a significant change that is witnessed after the marriage and thus also influences the financial backup too. You can buy the plans suiting your lifestyle in the future too.
Upgrading The Individual Insurance Plan To Family Ones
Getting married probably means that you are having your own family which is why you can also upgrade to the family health insurance plan as well. Other family members besides your spouse can also be included in this family health insurance plan and can get the cover for them too. Senior citizens who never had dedicated health insurance plans in their past can also be included in this plan.
The most beneficial thing about the family insurance plan is that all family members can extend their coverage with a single premium. You don't have to pay different premiums for all members as all of them will be covered at a time.
Furthermore, family insurance cover also comes with the tax benefits as per the conditions mentioned in section 80D which makes it most preferable over other options.
Acquiring Maternity Cover At The Earliest Point of Time
It is quite obvious that maternity health insurance cover comes with 0 to 4 years of the waiting period. One can get the benefits of cover only after the waiting period is completed which a point of anxiety can be for married ones. This is why a married couple could take the maternity cover as early as possible before the time of pregnancy.
Choosing The Right Health Insurance Company
Besides upgrading your plans and covers to suit your requirements you can also change your insurer if their services or plans are not meeting your expectations. Several options on the market can offer more benefits than other companies to sustain the heavy competition of the market. Search for the better insurer which can provide you with more benefits and good coverage which can meet your needs after marriage. Compare different insurers and their service-related features to find the best insurer for you.
Compare Different Aspects From The Internet
Not only a single aspect, but there are also several considerable aspects of health insurance that can altogether give the best coverage plan. Types of health insurance plans based on coverage, types of health insurance plans based on the waiting period and benefits from the insurance plans are some of the factors which can be considered and compared. Consulting an insurance expert or going through an expert guide that compares and ranks different insurance plans as per different requirements is surely helpful to a great extent. Furthermore, out of pocket costs for the health insurance plans after marriages should also be compared.
Go For Add-on Covers If Felt Necessary
Add-on covers for health insurance plans strengthen the promise to protect you and your family in case of medical emergencies. Avail add- on covers for your chosen health insurance plans after marriage so that you can get every kind of benefits that were claimed for your coverage. There are several benefits of availing add-on covers which also include critical illness cover, personal accident cover and top-up covers to upgrade the base cover above your present health plan.