Hypertension is one of the leading reasons for seeking medical attention in India. Hypertension stems from a variety of different factors including unhealthy eating habits, fast lifestyle, work pressure, lack of physical activities all of which contribute to stress.
The repercussions of hypertension result in chronic illness like kidney disorders and heart diseases. The treatment of hypertension at a typical primary health centre in India can cost at least 20 lakhs annually. Therefore, health insurance is indispensable for those who suffer from hypertension. 
Need for Health Insurance for Hypertension Patients
Here are some key reasons to consider investing in health insurance for hypertension patients.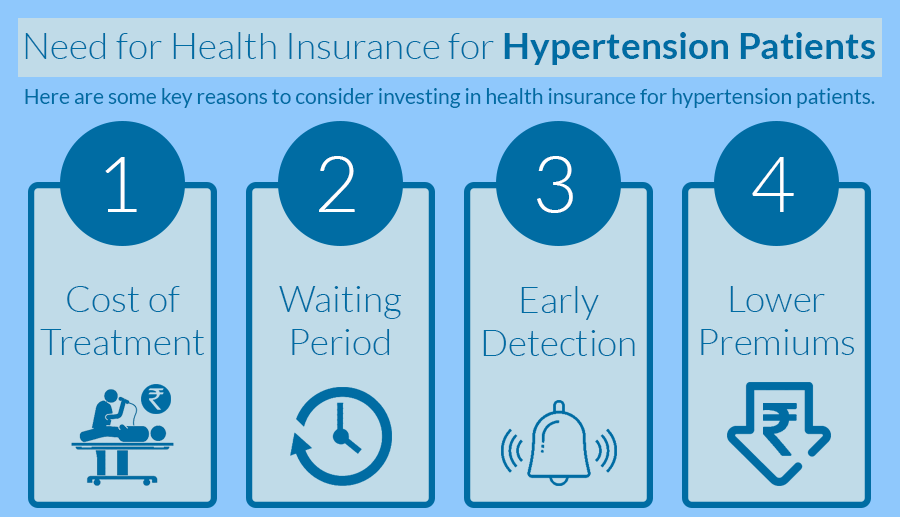 Cost of Treatment
Hypertension patients are usually easy prey to a variety of grave ailments in the long term, the treatment of which can put them in a precarious financial position. The healthcare sector in recent years has witnessed inflation in the cost of treatment, which makes it even taxing for hypertension patients to fund long-term treatment for hypertension. Having an adequate health insurance plan for hypertension will let you have the financial elbow room to fund the diagnosis, treatment and the cost of medical expenses.
Waiting Period
Most of the health insurance plans for hypertension come with the waiting period clause. The waiting period in health insurance is the predefined duration of time that the insured must wait out before receiving the benefits of health insurance coverage. The waiting period usually varies from 2 to 4 years, depending on the terms and conditions of the particular health insurance plan. To be able to receive the benefit of the coverage, you must home in on a health insurance plan of your choice at the earliest. This will ensure that you get necessary financial support in the period of a medical emergency.
Early Detection
Hypertension is one of the leading causes of death around the globe. Since the penetration of annual health check-ups is not very encouraging in India, Hypertension in patients can quickly escalate to a deadly disorder. For better treatment and management of hypertension, early diagnosis is imperative. Many health insurance service providers offer complementary health check-ups, which makes it easier to detect this health condition and prepare for the recovery. Therefore, the sooner you zero in on a health insurance plan, the better your chances to overcome the disorder comfortably.
Lower Premiums
The amount of premium of health insurance plans that cover hypertension depends on the age of the insured. The lesser the age of the insured, the lower are the premiums. Investing in health insurance plans for hypertension early comes for a very low premium amount against comprehensive coverage.
Best Health insurance Plans for Hypertension Patients
Now that you know the need for health insurance plans for hypertension patients, let us study some of the best plans for hypertension available in the market in detail.
1. Care Freedom Health Insurance (Formerly known as Religare Care Freedom Health Insurance)
---
Care Freedom Health Insurance Plan is available for individuals and corporate. Under the Care Freedom Plan by Care, the insured is covered for all expenses pre and post hospitalization, treatment (not including hospitalization), an annual health check-up. The coverage is also extended towards pre-existing diseases such as hypertension, diabetes and cholesterol.
The plan does not require the buyer to undergo a pre-policy medical check-up. Also, the waiting period for pre-existing diseases is only two years. Other features of the health insurance coverage include lifelong renewability of the policy, cashless treatments at leading hospitals, coverage for domiciliary expenses, and tax benefit under Section 80D of the Income Tax Act.
The policy details are given below:
Age at Entry

Minimum: Child- 91 days & Adult- 18 years

Maximum: Child- 24 years & Adult- No limit

Sum Insured

Plan 1: Rs. 3 Lakhs & Rs. 5 Lakhs

Plan 2: Rs. 7 Lakhs & Rs. 10 Lakhs

Policy Tenure

1/ 2/ 3 years
The values may change as per the chosen plan option
2. Aditya Birla Health Insurance Activ Health Platinum- Enhanced
---
The Activ Health Enhanced Plan by Aditya Birla extends Day 1 coverage against various chronic illnesses including hypertension. The plan offers up to Rs. 2 Crore as the sum insured and offers lucrative rewards to the customers in the form of Health Returns. The plan covers the cost of transportation, post-hospitalization costs up to 180 days, and in-patient hospitalization without room rent or limitations of disease covered. The plan comes with an initial waiting period of 30 days and a specific waiting period of 2 years. Restoration benefit (up to 100% of SI), Ambulance Cover, Actual ICU Charges, Second Opinion on Critical Illness and Worldwide ICU Charges are some of the key features of the plan.
The policy details are given below:
Age at Entry

Minimum: 91 days

Maximum: No limit

Sum Insured

Rs. 2 Lakhs to Rs. 2 Crores

Policy Tenure

1/ 2/ 3 years
3. HDFC ERGO Energy Plan
---
The HDFC ERGO Energy Plan is specifically designed for diabetes patients but it also caters to the insurance requirements of patients with hypertension. Under this plan, you will be offered Day 1 coverage for your health condition (coverage for diabetes and hypertension). Active Wellness Program for health management, Health Check-up Benefit, No-Claim Bonus, reward points to stay healthy and restore benefits are some of the key features of the plan.
Age at Entry

Minimum: 18 years

Maximum: 65 years

Sum Insured

Minimum: Rs. 2 Lakhs

Maximum: Rs. 50 Lakhs

Name of plan variants

Silver & Gold plan
Conclusion
Hypertension patients can easily manage their condition by taking health insurance as the pre-emptive measure. With early diagnosis and hassle-free treatment from network hospitals, one can easily manage to alleviate the condition and climb up the health ladder.