Personal Accident Insurance
Personal Accident offers financial protection to the insured/family in case of any mishap caused by an accident resulting in death, bodily injuries, and total/partial disabilities. The personal accident reimburses medical costs and secures your family financially in critical times.
Why Should You Buy Personal Accident Insurance?
Lately, the Indian roads have become accident-prone like never before. Many studies and statistics support this daunting reality. Some of the references are:
In India, road accidents claim one life every 4 minutes.
As per the World Health Organization (WHO), in India, more than 1,47,000 people died in road accidents in the year 2017.
These statistics are a matter of worry. To ensure proper protective measures against the financial losses that arise due to a road accident, having a sound insurance policy has become a must. Compensating a human life is in no way a possible deal, but through a personal accident policy, the insurance companies intend to offer some financial help to the individual or the dependent.
What Are The Features & Benefits of Personal Accident Insurance?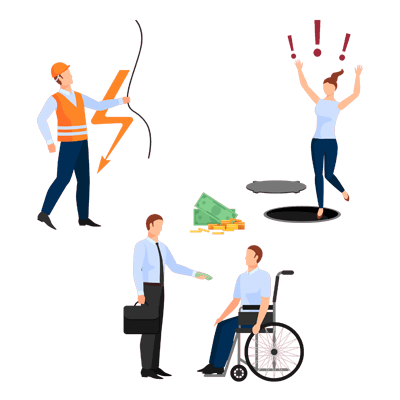 Personal Accident insurance comes with various features and benefits for the insured/family. Let's have a look at it:
Accidental Death
In case the insured suffers an accidental death, the insurer offers compensation against the same (as stated in the terms and conditions of the insurance policy). His/her family can file the claim and avail of claim benefit upon producing the necessary documents. The percentage of the benefit may be up to 100% of the sum insured.
Permanent Partial Disablement
If an insured is a victim of permanent partial disability (loss of one eye/leg/hand/ear), the insurer compensates the concerned person as per the percentage of the total sum insured stated in the insurance policy.
Temporary Total Disablement
In case an individual has sustained some bodily injuries or temporary impairments due to an accident, a certain amount is paid as a percentage of the sum insured. This amount can be fixed on a daily or weekly basis (subjected to terms and conditions of the policy).
Permanent Total Disablement
The insurer offers financial cover to individuals who have suffered permanent disability due to an accident. The injury is considered a permanent disability if there is no chance of treatment or recovery. A disability certificate from the central or state government may also be needed to file the claim.
Transportation Benefit
Several insurers waive off expenses incurred on transportation of the insured from his/her residence to the hospital or from the hospital to the cremation/burial ground.
Hospital Cash Benefit
Policyholders can avail of cash benefits for each completed day of hospitalization. It might happen that some of the insurers might exclude the date of admission and date of discharge.
Education Grant
In case of the demise of the insured in an accident, the education expenses of the dependent child are covered (up to a certain limit) under the policy.
Cumulative Bonus
For each claim-free year, the insurer offers a cumulative bonus under which you can get a certain percentage of increase in capital sum insured, which is subjected to a maximum of 50% (depending upon the insurer).
Family Discount
Some of the insurers offer family discounts based on the terms and conditions of the policy.
Worldwide Coverage
Personal accident insurance comes with worldwide coverage and round the clock financial protection to the insured.
Burns
If the policyholder sustains burns because of an accident, the policy offers a percentage of SI (as entitled under the plan).
Addition Advantages Offered By Personal Accident Insurance
Minimal documentation with no medical health reports.
Optimum cover at the lowest premium costs.
Customization options are also available.
Easy and reliable claim process.
24/7 customer support.
What Are The Types of Personal Accident Insurance Plans?
Generally, insurance companies offer two types of personal accident insurance:
Individual Accident Insurance
An individual can avail of this policy to get financial protection against bodily injuries, death, and disabilities caused by an accident.
Group Accident Insurance
This type of insurance is designed for employers who are willing to provide their employees with financial cover against accidental injuries on the site. In this insurance, companies generally offer a discount on the premium (depending upon the size of the group), which makes it suitable for small and mid-sized companies.
Best Personal Accident Insurance Plans 2020
Insurance Company Name
Name of the Plan
Entry Age
Sum Insured (Maximum)
Policy Term
HDFC ERGO
Personal Accident Insurance Policy
18-70 years
Rs.15 lakhs
1 year
SBI General
Individual Personal Accident Insurance Policy
Adults: 18 years - 65 years
Children: 3 months- 23 years
Rs.1 crore
1 year
ICICI Lombard
Personal Protect Policy
18-65 years
Rs.25 lakhs
NA
Max Bupa
Personal Accident Care Insurance Policy
18-65 years
Rs.2 crores
1-3 years
Care (Formerly known as Religare Health Insurance)
Secure-Personal Accident Insurance Policy
91 days-70 years
Rs.50 lakhs
1-3 years
Future Generali
Personal Accident Insurance Suraksha Policy
Adults: 18- 70 years
Children: 3-25 years
144 times the monthly income of the insured
1-3 years
Bajaj Allianz
Personal Guard Policy
Adults: 18-65 years
Children: 5-21 years
Rs.25 lakhs
1 year
Table Data updated on 19-11-2020
What Are The Inclusions & Exclusions of Personal Accident Insurance?
Just like every other insurance, a personal accident policy also has a list of inclusions and exclusions. Let's check it out.
| | |
| --- | --- |
| Inclusions | Exclusions |
| Accidental Death | Natural Death |
| Personal Total/Partial Disability | Pre-existing Disability or Injury |
| Accidental Dismemberment | Pregnancy or Childbirth |
| Hospitalization Charges/Miscellaneous Expenses | Self-Injuries or Suicide |
| Child Education Coverage | Non-Allopathic Treatments |
| Life Support Benefit | Influence of Drugs & Intoxicants |
| Ambulance Charges | Mental Disorders, Committing a Criminal Act, |
| Burns and Broken Bones | Participation in adventurous activities like sports, naval, air, or military forces, etc. |
| Daily Allowance in case of Income Loss | HIV/AIDS, Sexually Transmitted Diseases |
| Terrorism Attack | Involvement in War Activities and so on |
What Factors Should You Consider Before Buying Personal Accident Insurance?
Premium: The earlier you purchase a plan, the lesser premium you'll have to shell out to avail of its benefits.
Insurer: The reputation of the insurance company (including CSR and the number of years of operation) is one of the foremost things individuals should keep in mind before buying a policy.
Exclusions: It is important to read exclusions of the insurance policy and compare them with other insurers to reap maximum benefits.
Worldwide Coverage: Accidents can happen anywhere in the world. It's good to have personal accident insurance that offers coverage even when traveling outside your home country.
Difference between Health Insurance and Personal Accident Insurance
| | |
| --- | --- |
| Health Insurance | Personal Accident Insurance |
| It offers compensation for medical expenses for the treatment of injuries and illnesses. | It offers compensation towards any mishap caused due to an accident resulting in death or disability. |
| Additional benefits include room rent waiver, critical illness, hospital cash, personal accident, top-up, and so on. | Additional benefits include hospital daily allowance, burns, broken bones, ambulance allowance, funeral expenses, and so on. |
| Death and disability are not covered. | Pre and post hospitalization expenses are not covered. |
How To Buy Personal Accident Insurance From PolicyX.com?
PolicyX.com has streamlined the buying process of personal accident insurance to give utmost comfort to the customers. Let's check it out.
Go to the top of this page and look for 'Get Instant Quotes'.
Fill up the details and click on 'Continue'.
A list of quotes will appear in front of you. Choose the desired plan and check its details.
Make the premium payment and the policy documents will be shared on your email address.
Claim Process of Personal Accident Insurance
The claim process of Personal Accident insurance may differ from provider to provider. However, there are some basic steps that you should know about. Let's take a look at it.
Intimate the insurer about the occurrence of the accident in the specified time frame.
Submit all the required documents to the insurer.
The concerned authority will scrutinize the file and may call for investigation or inquiry in case any fraudulent activities are found.
After a successful investigation, the insurer will pay the claim amount directly to the registered bank account.
Documents Required for Filing Personal Accident Insurance Claims
Given below are the lists of documents required for filing personal accident insurance claims:
Death Claims
Original Death Certificate.
Post Mortem Report.
Inquest report.
Accident report.
FIR/MLC copy.
Hospital records.
News Paper cuttings(if any).
The latest IT return to show proof of annual income.
Succession order/legal heir certificate/legal documents to establish the identification of legal heir in the absence of nomination under the policy.
Claim form.
Original hospital bills.
Advance and final receipts (all receipts shall be numbered, signed, and stamped).
Test Reports, X-Ray, Scan, ECG, and other films (including doctor's advice demanding such tests).
Cash memos/bills for medicines purchased from outside.
Education Grant School Identity Card or certificate from the educational institution and age-proof of the child in respect of whom this benefit is claimed.
Others requested by the company.
Disablement Claims
Duly completed claim form.
Photo of the amputated site.
Certificate from a government doctor (not below the rank of the civil surgeon) confirming the percentage of disablement in respect of permanent disablement claims.
Certificate from the treating doctor for the period of rest in respect of TTD / weekly compensation claims.
Employee certificate (leave certificate) for the disability period, wherever applicable.
Others requested by the company.