Personal Accident Insurance
Personal Accident Insurance is the shield that keeps you financially protected during times of adversities, i.e., whenever you met with an accident this insurance policy will take care of all the medical expenses needed. The personal accident insurance provides coverage against physical injuries, death, permanent or temporary disability, hospitalization that caused due to accidents.
Importance of Personal Accident Insurance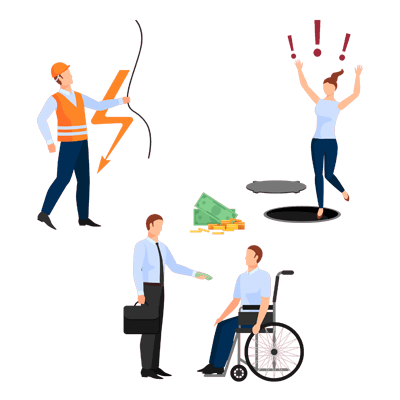 Prevention is always better than cure! As per a recent study, the roads of India have become highly accident-prone like never before. Not only road accidents but personal accidents in any place whether at home or on the way to office, etc. is also increasing day by day. Some many studies and statistics support this daunting reality. Some of the references are:
In India, road accidents claim one life every 4 minutes.
As per the World Health Organization (WHO), in India, more than 1,49,000 people died in road accidents in the year 2018.
The death rate due to accidents in India has risen significantly from 7.6% to a whopping 14% in just 3 years.
According to the National Crime Records Bureau (NCRB), on an average of 377 people die every day in the nation because of road accidents.
These statistics are a matter to worry about full of insecurities and stepping out on the roads may occur in life-threatening situations. Not only minor injuries but one might have to face major consequences of a road accident including death. To ensure that you have a protective shield against all the financial repercussions that arise due to any road accident, having a sound insurance policy has become a must.
Compensating a human life is no way a possible deal, but, through a personal accident policy, the insurance companies intend to offer some financial help to the individual or the dependent.
Features of Personal Accident Policy
To help you understand the features of Personal Accident Policy better we have divided them into two sub-heads:
Accidental Death
The policy document sets that amount of money to be paid to a person or his/her dependent that passes away in an accident or sustains serious wounds. Upon producing the necessary documents, one can claim the amount as per the company process.
Permanent Partial Disablement
The payment, in the case of bodily injuries because of an unfortunate event that results in partial impairment of the policyholder, the compensation is paid as a percentage of the total benefit amount. This percentage may be up to 100% of the benefit amount.
Temporary Total Disablement
In case a policyholder, due to an accident, sustains some bodily wounds or temporary impairments, a certain fixed amount is paid as compensation. This can be fixed on a daily or weekly basis and is subject to the maximum limit as per the policy terms.
Primary Features
Personal Accident Policy is premeditated to offer compensation to an individual or group as per the terms and widely cover accidental demise or impairment (permanent or temporary) the results because of any of these four events.
Permanent Total Disablement
In case a person sustains life-long total disablement due to an unfortunate event the advantages/ compensation as per the policy plan is paid to the policyholder.
Benefits of Personal Accident Insurance
Let's picture a situation where even after being physically disabled you are effectively looking after your family, fulfilling their needs and leading a satisfying life. Yes, it is possible but only if you have a personal accident policy in hand. Here are some much-appreciated benefits that you would enjoy with the policy:
Hospital Cash Benefit
In the case of hospitalization as a result of an accident, the injured person is offered a fixed amount of medication. The number of days for such payments are however mentioned in the policy plan.
Repatriation of the Mortal remains
In case a person passes away in an unfortunate accident, the cost of transportation of his mortal remains from the demise site to the hospital or cremation ground or home is covered under a Personal Accident Policy.
Education Advantage
In the case of the demise of the policyholder in an accident, the education expenses of the dependent child are covered under the policy up to a certain limit.
Ambulance Expenses
The charges paid to an ambulance to ferry the injured person to the nearest hospital are waived off under the policy.
Broken Bones
There is a provision of a fixed amount paid for broken bones resulted because of an accidental mishap.
Burns
If the policyholder sustains burns because of a mishap, the policy offers a percentage of benefits as entitled under the plan.
Addition Advantages Offered By Personal Accident Insurance Plans
Minimal documentation with no medical health reports is required.
Optimum cover at lowest premium costs.
National and international coverage.
Options applicable to individual and group insurance.
Customization options are also available.
Easy and reliable claim process.
24/7 customer support.
All legal, as well as funeral expenses, covered.
Child education coverage.
Indemnity on a dual basis in case of demise or impairment due to an accident while traveling in public transport.
Types of Personal Accident Insurance Plans
Insurance companies offer a range of products to their customers and that is why categorized the policy into two types of plans by keeping in mind the basic insurance needs of the people.
Individual Accident Insurance
In the occurrence of any intentional or unintentional mishap, Individual Accident Insurance defends an individual. The result of any such incident may include impairment, permanent or temporary disability or/and demise.
Group Accident Insurance
This insurance is usually availed by employers willing to provide their employees with insurance cover against any road/rail/air accident. Insurance usually offers a discount on the premium amount of such insurance policies depending upon the size of the group. Thus, such policies can be easily availed at a lower price which makes them affordable for small organizations & businesses. However, unlike individual plans, Group insurances offer basic coverage. An IRDA approved Group insurance widely covers impairment, permanent or temporary disability or/and demise.
Best Personal Accident Insurance Plans 2019
Insurance Company Name
Name of the Plan
Age at Entry
Sum Assured (Maximum)
Policy Term
HDFC Ergo Health
Personal Accident Plan
91 days-69 years
Standard Plan: Rs. 50 lakhs
Premium Plan: Rs. 5 crores
1 year
SBI General
Individual Personal Accident Insurance Policy
Adults: 18 years-65 years
Children: 3 months-23 years
Rs. 1 crore
1 year
ICICI Lombard
Personal Protect Policy
18 years-80 years
Rs. 25 lakhs
1 year
Max Bupa
Personal Accident Care Insurance
18 years to 65 years
Rs. 2 crores
(1-3) years
Care (formerly known as Religare Health Insurance)
Secure-Personal Accident Insurance
91 days-70 years
Rs. 50 lakhs
(1-3) years
Future Generali
Personal Accident Insurance
Adults: 18 years-70 years
Children: 5 years-25 years
144 times the monthly income of the insured
1 year
Bharti Axa
Personal Accident Insurance
18 years to 65 years
Rs. 30 lakhs
1 year
Bajaj Allianz
Personal Guard
Adults: 18 years-65 years
Children: 5 years-21 years
Rs. 25 lakhs
1 year
Table Data updated on 14-10-2020
What Personal Accident Insurance Covers?
Personal Accident Policy offers the following coverage:
Accidental Disability
Such plans cover partial or complete disabilities that result due to a mishap
Terrorism Attack
Some insurance companies also include accidents due to terrorist activities.
Accidental Dismemberment
In case an individual suffers dismemberment of any body part (hand/leg/eye) due to an accident and thus is eligible to claim for reimbursement
Daily Income During Hospitalization
In the case of income loss, the policy offers a compensatory allowance to an individual to fulfill the requirements of the individual and the family.
Inclusions & Exclusions
It is highly recommended that you understand the terms and conditions of personal accident insurance before you go for it. These are the most critical and intimidating features associated with a plan. To understand them better, here we offer you a quick list of major inclusions and exclusions:
| | |
| --- | --- |
| Inclusions | Exclusions |
| Accidental death | Natural death |
| Permanent total and/or partial disability | Pre-existing disability and/or injury |
| Accidental dismemberment | Pregnancy or/and childbirth |
| Hospitalization charges/ Misc. medical expenses | Self-injuries or/and suicide |
| Child education coverage | Non-Allopathic treatments |
| Life support benefit | Influence of drugs & intoxicants |
| Ambulance charges, Burns & broken bones | Mental disorders, committing a criminal act, involvement in war activities and more |
| Daily allowance in case of income loss | Participation in adventurous activities like sports, naval, air or military forces, etc. |
Need For Personal Accident Insurance
While buying personal accident policy, one must assure that it in effect covers all sorts of injuries i.e. from minor injuries to death and offers appropriate reimbursement as per the case.
Thinking about the fate of your family/dependents, in case you met with an accident and become permanently disabled, send chills down the spine. How will your family survive without you, with no money in hand and all the savings drain in trying to provide you with the best medical aid?
A personal accident policy proactively covers incidents like death, impairment, temporary/permanent disability, bodily hurts or mutilation that occurs due to visible, violent, hazardous or from any foreign material.
The incidents which are covered in this insurance plan are road, air, and rail, injury because of any collision or fall, drowning, burn injury, etc. Such policies diligently safeguard you and your dependents from severe financial repercussions in case of any unfortunate events.
There would be several expenses (EMIs, medical expenses, and miscellaneous expenses) but no source of income; even the savings will be long gone.
Personal accident insurance policy is one efficient tool that offers aid to the individual and/or the dependent in case of unfortunate occasions. It successfully covers medical expenses, compensation in case of demise as well as any loss of income that occurs due to an accident. To avail the benefits of a personal accident policy, one must understand the features of this policy well. Though all these plans are available online, without an understanding of impairment, injury or demise in detail, optimum utilization is not possible.
Personal Accident Insurance Claim Process
The claim process of a Personal Accident Policy is chosen by the provider of the policy. It may differ from provider to provider. However, there are some basic steps of the policy that you must know to make the right buying decision.
Intimating the provider: The first step is to intimate the provider about the occurrence of the accident in the company specified time frame. You will need the following documents while filing the claim form:
Contact numbers
Policy details like the number
Details of the accident like date, time & location
Details of the injured person like name & contact number
Brief details of how the accident happened
Degree of loss
In the case of death due to an accident, you need to submit the following documents:
Death certificate
Post-mortem report
FIR Report
Medical Certificate
Medicine bills
Tax Benefit Of Personal Accident Insurance
Section 80D of the Income Tax Act of India, 1961 does not offer any rebate on the premiums paid for the fulfillment of this policy that offers insurance against demise or any other physical impairment due to an accident. However, this shall not be considered as a point to analyze the importance of this policy
How Can PolicyX Help You?
We at PolicyX help you prepare for the most unfateful times of your life by assisting you in buying the best personal accident policy. Availing such a policy ensures that you or your dependents have an assured financial assistance source in case of an unfortunate mishap. We offer you insights into many policies under one roof along with honest reviews and recommendations. All policies listed on our website are the Insurance Regulatory and Development Authority (IRDA) approved and thus offer you the most legitimate and reliable assistance in case of need. We also facilitate you throughout the buying process as and when required.